TANJONG JARA RESORT
Unmistakably Malay
By Hiranmayii Awli Mohanan
In dire need of respite for the body, mind nd soul, we found ourselves at Tanjung ara Resort, Terengganu. Cradled by the uoise waters of the South China Sea and idyll, verdant backdrop, this resort is a sanctuary of traditional luxury and well-being steeped in age-old Malay traditions.
The Malay architecture trope of 17th century palaces is revealed as soon as you slink into its gateways and continues as you are swept through its sprawled, tree-fringed grounds. Centred around the concept of sucimurni which emphasises purity of spirit, health and well-being, this secluded hideaway encourages true rejuvenation.
Hushed pathways lead from the lobby to the accommodations, restaurants, spa and other facilities. If you tread the grounds further and follow the call of crashing waves, you will find yourself a sweeping view of the emerald ocean, as far as the eyes can see.
Furnished in local timber and rich fabrics, each of Tanjong Jara Resort's rooms commands a view of the South China Sea or the resort's tropical landscaped gardens.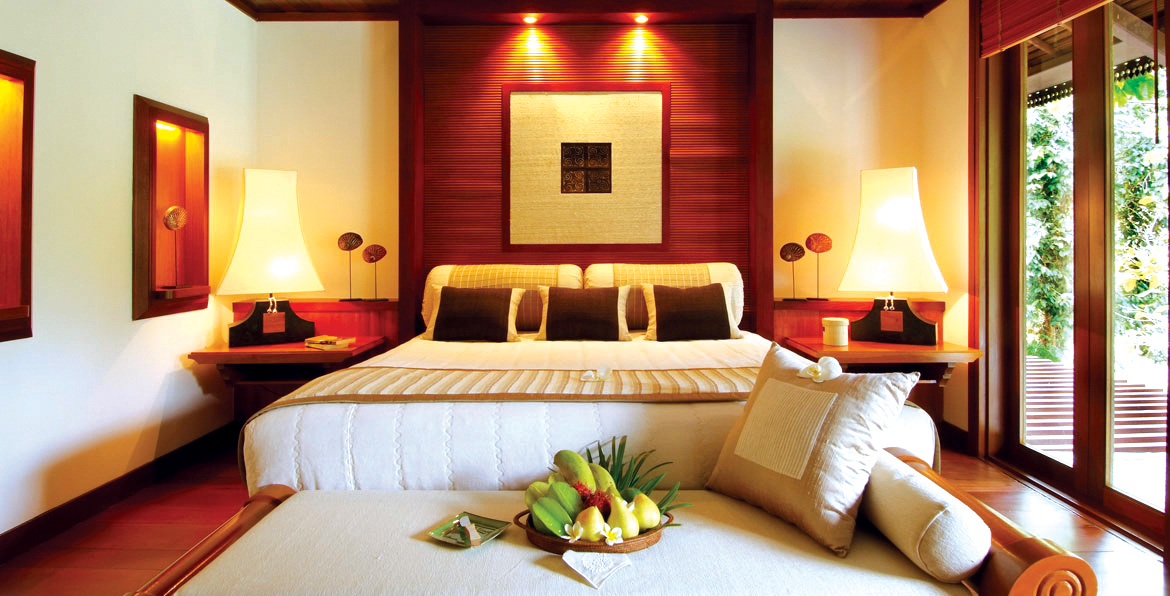 Warm hues and wooden panels bedeck the interior of the rooms. Expect plush bedding, a day bed to relax on, a large open en- suite bathroom with an oversized bathtub, separate shower and two vanity units, and an outdoor verandah to soak in the scene.
It's a rare thing to discover a resort that embraces and practises the local culture as rigorously as Tanjong Jara Resort. Robust with weekly activities, each day offers an exciting adventure. We delved into the Secrets of Malay Kitchen which gave us insight into the wonders of traditional Malay home cooking with a trip to the local wet market and subsequently cookedup a storm with the guidance of a local culinary master.
Another ritual practised here every Saturday evening is the Kampong Sucimurni Lifestyle – a true festival for the senses. Tantalising aromas fill the air as local delicacies are doled out for guests to indulge and discover the rich traditions offered by Terengganu.
Di Atas Sungei and Nelayan, Tanjong Jara's resident restaurants will whet your appetite with their offerings of traditional local fare and a medley of Western cuisine. Translated to over the river, Di Atas Sungei literally sits over a river, under the East Coast skies. Its buffet of local delicacies allows an experience of flavours from every part of Terengganu. Nelayan, on the other hand, is helmed by Chef Wai who focuses on sustainable fishing practices and freshest ingredients. The romantic, seaside setting makes for a perfect date night or to culminate a beautiful day.
Address: Tanjong Jara Resort
Batu 8, Off Jalan Dungun,
23000 Kuala Dungun, Terengganu.
Tel: 09-845 1100