MOHD KHAIRUL IZHAM
A VEHEMENT, VISIONARY ARTIST
By Hiranmayii Awli Mohanan
The gifted and young contemporary artist, Mohd Khairul Izham was born in 1985 in Maran, Pahang. With a clear direction of his life path, he pursued a B.A. in Fine Arts (Painting) at Universiti Teknologi Mara (UiTM) in Shah Alam, Selangor and graduated not long after. He has participated in a number of exhibitions including the Malaysian Emerging Artist Award (2011), Deceitful Truths (2011) and Dischromatic (2010). His recent show, Neo Baroque – A Malaysia Reinterpretation, was a group exhibition in collaboration with Core Design Gallery. Khairul Izham lives and works in Kuala Lumpur.
Khairul started with the use of lines as his signature stroke since he graduated from UiTM in 2010. In his first solo exhibition, 'Chronicle of Lines' in 2012, he was exploring how from a single line it grows organically to form complex compositions of images. His line drawing itself is like a performative act which transfers raw expressions of the mind to the gestural moves of the hands to mark on the surface. In his two recent works, Khairul attempts to push the limits of lines with metal wires to flesh out his own self- portraits. Khairul is not attempting to create a three-dimensional sculpture, instead he is celebrating the use of two-dimensional planes and lines to give expression and intensity to the form. He approaches the broad subject of past and memories with complex layering and conscious masking, leaving the audience with residue from the process of recollection. Khairul is known to produce a dark, mysterious and elusive mood in his subjects. His brushes of colour create rough silhouettes in an expressionistic manner with details, contours and crevices accurately captured.
HIS STYLE
It is the artist's hallmark that his works boast outlining objects in light grey or vivid colours against a dark background. Khairul presents what is almost a literal visual board filled with sketches and drawings. As the artist puts it, "It is the primary visual language and essential to our existence as intelligent beings." It is a common notion that many artists are influenced by other legendary artists. In Khairul's case, he turns to the late Datuk Ibrahim Hussein and his works. Khairul's works possess an ethereal quality to them, each crafted with pastel hues or against a dark background to bring forth certain subjects. The artist's favourite themes — trees, butterflies and dragonflies to name a few are ones that are almost never absent from his works.
Some of his pieces, while may seem like a collection of random objects, in fact evoke nostalgia and memories for the viewers. One might discern that the assemblage of various objects in Khairul's artworks are his recollection of the past and he brings viewers along for the journey through his eyes. For the artist, his artistic style involves a process in which the starting point begins with a line. This then connects to another line that subsequently creates shapes and forms. An artist seeks inspiration through many forms and many aspects, and for Khairul, his inspiration is derived from everything and anything, from nature, people to the experiences in his daily life. His family – wife and daughter — are his muses every day, and in different aspects. Music is the catalyst of creativity for Khairul. It puts one in a creative mood and ideas just flow.
In Khairul's eyes, art is an instrument that artists use to create a story or share an idea and translate it onto a canvas. To him, art can be things that we see in our daily lives. The meaning behind Khairul's works are multiple, varying depending on subject and stimulus. According to the contemporary artist, "My artworks are about creating lines and turning them into a story or ideas on a canvas…"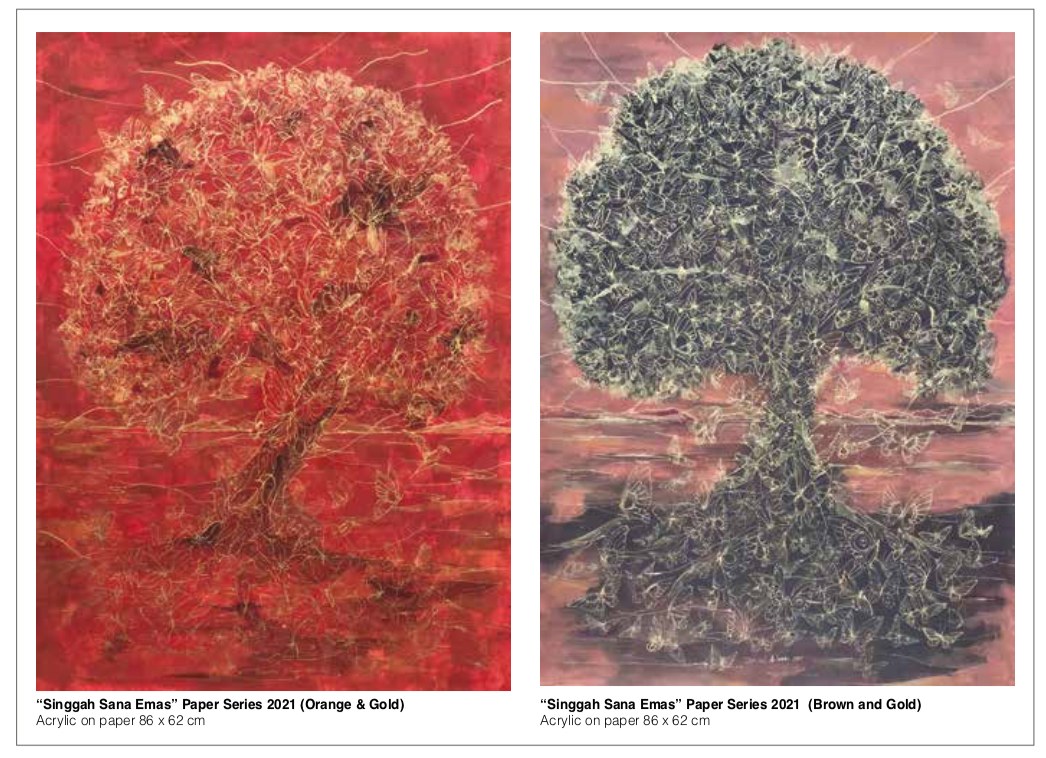 HIS ARTWORKS ON PAPER
In the 15th century, artists like Leonardo da Vinci developed drawings on paper to explore ideas in preparation for creating paintings and sculptures. At the outset of the 20th century, paper would become not only the support, but also the medium itself, as Pablo Picasso and Georges Braque explored collage, layering numerous fragments of paper onto paper to create dense compositions. Khairul's artworks on paper are beautifully crafted, just as with his works on canvas. While these are not as mammoth in size compared to the canvases, they are still sizable and would make a great addition to one's home. The artist's latest works, the 'Singgah Sana Emas Paper Series', 2021 emanate similar subjects as his works in the past — trees blanketed by butterflies in some and birds on other, all lined out with gold hues against a mountain range in the far end and vivid monotone background. The employment of gold lines to make up the tree makes it stand out and commands the attention of viewers. When viewed from a distance, one could easily mistake the birds and butterflies for flowers.
---
KHALIL IBRAHIM'S EARLY EAST COAST SERIES
THE INIMITABLE MAESTRO
By Hiranmayii Awli Mohanan
Khalil Ibrahim was a multifaceted artist who forayed into many art mediums and excelled in each, proving his legendary status. Aptly named as a multifaceted maestro, Khalil was born in 1934 In Kubang Kerian, Kelantan. He was one of the earliest Malaysians to receive a full scholarship to study art at the prestigious Central St Martins School of Art and Design in London, in 1964. Throughout his long career, Khalil had held a number of solo and group exhibitions in Malaysia, Singapore, Indonesia and Switzerland. His masterful skills in drawing, watercolour and acrylic, are styles that move from the almost real to the almost abstract. Owning a piece of his artwork is truly a gift of beauty through the artist's eyes. Khalil's preference for the human figure and his deep affection for the East Coast had led him to create iconic images of men and women in the East Coast Malay fishing villages against stark backgrounds of blues and greens and watercolour landscape of villages.
EARLY DAYS
Khalil's rich Malay cultural background in the East Coast and the discipline of Islamic values that he learnt at the Pondok school shaped his primordial artistic journey. These values stuck with him which then merged with the freedom of expression that he encountered later on through his formal education at St. Martins in London. Though he did not receive any formal education during the early years in Kelantan, Khalil's awareness of modern art was cultivated through a period of colonialism and the experiences of pioneering artists from the Nanyang Academy. With an innate passion for making wayang kulit, his artistic talent flourished. He would make the wayang kulit by drawing on a big leaf with the addition of a cardboard, which would then be used to play with his friends. Khalil took this newfound interest and competed in events and shows held almost every month. Unfortunately, his mother disapproved of his interest while his father urged him to become a teacher. Despite his parents' disapproval, Khalil remained steadfast to his passion.
KHALIL'S EAST COAST PAINTINGS
Prior to birthing the East Coast series on canvas, the artist first experimented with the East Coast subject on batik and it was during this period when some of the earliest works in the batik medium were produced. The hallmark of Khalil's works and his unending muse had always been the East Coast. Him growing up amid the serene landscape allowed the artist to be an artistic composer to create variation upon variation of this theme. His subjects were the laymen — fishermen and farmers, as well as the colours of nature, as depicted in most of his works. Despite colour and texture becoming Khalil's primary fascination, he stayed true to — firstly, the human figure albeit fragmented and secondly, his people of the East Coast. While depicted in a romanticised gesture encapsulated by vibrant hues, one can discern that the stance of the subjects suggests the hardships to make ends meet and the struggles in their lives. Khalil's reaction to people was most often tied to a place. His excursions to the East Coast were always a sensual experience for him, from the sights, sounds and smells to the way he viewed people he encountered. With his innate flair, Khalil shared his experiences and his relationship with the East Coast, as well as the land and sea through an authentic and captivating visual story.
EAST COAST POP ART
It was at St. Martins School of Art and Design in London that Khalil Ibrahim began what would be a flux in his works, which wasl part of his process of experimentation and discovery. The next year of Khalil's enrolment, British pop artist Peter Blake joined St. Martins and lectured in the school while Khalil was studying there. In addition, David Hockney, a venerable English painter and important contributor to the pop art movement in the 1960's used to drop by to give the budding art students lectures and Khalil were among the attendees. Perhaps these artists paved the way to the artist's introduction to pop-esque East Coast paintings. Students at St. Martins were encouraged to visit museums and art galleries which were experiences that not only intrigued Khalil, but allowed him to study the works of great European masters and be inspired by them.
Khalil's 'English' or post-St. Martins artworks revealed a relatively different style from his earlier landscapes and portraits. Influenced by his peers, lecturers and his foreign surroundings,
the early 1960's saw him experimenting with abstraction in works like 'Destruction', 'Destruction II' and 'Abstract I'. The artist would experiment with abstract forms drawn into his sketch book and demonstrating his attempt at bringing portraiture and concepts of abstraction together. Khalil's art works were still in flux as he sought styles and methods which spoke of his own unique journey. Like many aspiring artists, Khalil participated in numerous group exhibitions organised by St. Martins as well with the Malayan Art Circle and at Malaysia Hall.
Khalil's interest in painting abstraction in various methods was evident throughout his artistic career, especially in works such as the Airbrush Abstract,1981 – an oil on canvas work with a red background over-sprayed with blue, with small red bands at the top and a lighter blue band at the base. The artist continued to play with Abstract Expressionism through paintings such as the 'East Coast Ladies', 1993 where starkly saronged figures in silhouetted vivid colours were painted against a predominantly light green background, rendering a more graphic and pop feel to the work. Over the span of his career, the artist's abstractions were somewhat overshadowed by his other, more naturalistic works. There was a continuance of the East Coast series, not only in watercolour but also in acrylics and others in oils. Paintings such as the East Coast Series, 1982 were inspired by life on the East Coast of Malaysia. 'Bali/ East Coast Series,1970' is another acrylic on canvas work that highlights Khalil's tendency towards abstraction. These take Khalil's movement towards abstraction one step further, leaning in the direction of a purer form of abstraction and more in keeping with the artist's previous penchant for Expressionism and Expressionistic abstraction. Khalil Ibrahim was the happiest, engaging with the colours and forms found on the East Coast of Malaysia and rendered his own vibrant Malaysian Expressionist or abstract style to engage the viewers.