MALAYSIAN WOMEN WHO ARE CHANGING THE WORLD
Who Run the World? Girls!
---
BY HIRANMAYII AWLI MOHANAN
1. Datin Vivy Yusof
Datin Vivy Yusof is an entrepreneur and the co-founder of FashionValet and The dUCk Group. Vivy is also a blogging veteran of 10 years, sharing insights into her life and entrepreneurial journey through her personal blog, www.proudduck.com. She has had many accolades, locally and internationally, and was listed in Prestige Magazine's 2015 List of Top 40 Under 40. She was also listed on Forbes as one of Asia's Top 30 Under 30! What is even more impressive is that she worked closely with Her Royal Highness Princess Sarah of Brunei Darussalam to produce The Royal dUck, a special headscarf collection that carries messages of empowerment for every woman. Besides helming her empire, Vivy is also a doting mother to her children and a loving wife.
2. Neelofa
Neelofa is the master of all. She is an actress, a television presenter, commercial model and an entrepreneur but essentially, she is a queen. Her skyrocketing success landed her on Forbes as one of Asia's Top 30 under 30, together with Vivy. Neelofa is the founder of her hijab brand, Naelofar Hijab, that had everyone in a frenzy, selling in more than 30 countries including Brunei and Australia. This entrepreneur is also backed by big brands including Swarovski Jewelry, Titan Jewelry, Lancome Cosmetics and also FashionValet. Neelofa made waves when she was appointed as AirAsia's new nonexecutive independent director. The world seems to be her oyster.
3. Tan Hooi Ling
It comes as no surprise that a woman is behind the leading ride-hailing platform in Southeast Asia, now known as Grab and she is Tan Hooi Ling. She co-founded Grab with her partner Anthony Tan, and their Grab empire now sprawls over 60 cities in seven countries. Grab was derived from Tan's plight in hailing taxis to commute every day and one day, they had a light bulb moment and the rest is history. The app was designed in a way that ensures trust and safety for the consumers, especially if they were lone ladies or travelling at odd hours. Tan believes that this system is a win-win situation for both drivers and customers because Grab was created for people to generate another source of income while keeping with the times too. We owe our hassle-free commute to Tan Hooi Ling.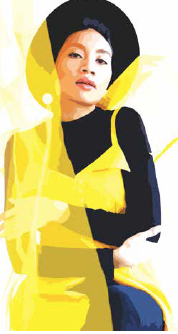 4. Yuna
Malaysia's pride and joy, Yuna has achieved great heights locally and internationally. This hijabi beauty with a melodic voice is a singer, songwriter and businesswoman. Now based in the United States, she has progressed from an independent singer-songwriter to a world-class performer, collaborating with well-celebrated names such as Usher, Pharell Williams and Jhene Aiko. She was the recipient of the National Youth Icon Award in 2012 for her stellar achievement in arts. In 2017, Yuna became the first Malaysian singer to be nominated for BET Awards (US), for "Crush", her duet single with Usher. Apart from her music career, Yuna is also the founder of her own brand, November Culture, which recently ceased operations. 14Nov by Yuna Zarai is also her baby, selling clothes and scarves that are designed by Yuna herself. She started introducing this brand in the US by promoting it in fashion shows (Fashion Fighting Famine or #FFFShow) in California. Besides that, she also opened a pop store in New York as well as in Los Angeles. Recently, Yuna launched a new collaboration with Malaysian designer, Hatta Dolma
5. Felicia Yap
Felicia Yap was a scientist who decided to pursue writing, specialising in thriller novels and is making her way up in the thriller book industry. She is notorious for her debut novel titled, 'Yesterday', which has surpassed the expectations of many and has been getting rave reviews internationally. Felicia then came up with her second book titled, 'Memory Game' and her third installation is 'Today'. Look out for her books.
6. Deborah Henry
Deborah Henry started modelling at the age of 15 and moved to London to pursue this career after high school. She was Miss Malaysia World 2007. She is also the co-founder of Fugee School, a non-profit charity organisation that provides basic education to refugee children. In this respect, Deborah was included in Forbes' list of top Asian philanthropists. Besides being a beauty, she is also World Vision's child's rights advocate, and was appointed as Louis Vuitton and UNICEF's local ambassadors together with Datuk Nicol David.
7. Nandini Balakrishnan
According to her Says profile, Nandini is a mathematically-challenged writer who loves politics, cheese, and old books a little too much. Nandini made waves when she debuted herself in videos, tackling sensitive topics in an avant garde manner. She embraces her identity and culture and essentially shines in front of the camera. Her latest video that shed light on the 'beg packing' trend among Westerners, landed her on BBC's World News. "If you want to explore the world, do it with your money. Stop expecting locals to fund your trips – the very same people who may never even set foot on a plane". She tells like it is and that's why we love her.
Follow us on Facebook and Instagram