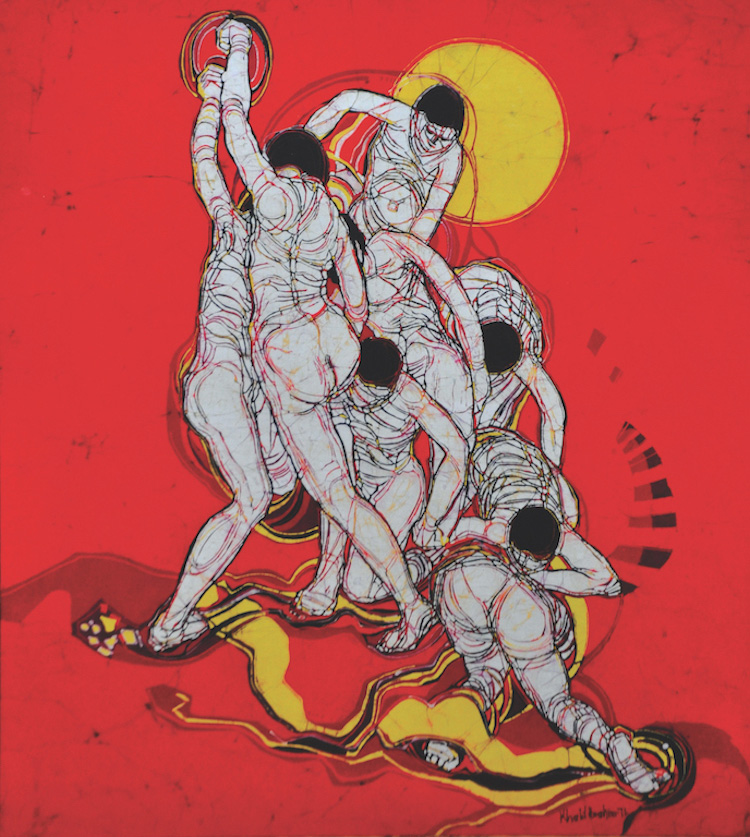 LOT 66
KHALIL IBRAHIM
B. Kelantan, 1934
Movement in Red, 1971
Signed and dated Khalil Ibrahim 71" on lower right
Batik
91 x 81 cm
Provenance
Private Collection, Kuala Lumpur
Illustrated on page 286 of "KHALIL IBRAHIM The Art Journey" exhibition book
Published in 2015 by KL Lifestyle Art Space
SOLD
RM 56,360.00

Combining both his love for batik and fascination for the nude human body, Khalil Ibrahim pieces together this beautiful batik composition of various figures in different poses, each showcasing the contours, shapes and lines of the nude body. Slightly different from his usual earthy, warm, brawny tones, Khalil ventures into a more invigorating, stimulating and attention grabbing hue and atmosphere, with contrasting colours of yellow making an appearance every now and then.
Born in 1934 in Kelantan, Khalil Ibrahim is one of Malaysia's most influential artists. He is one of few Malaysians to have received art training at the prestigious Central St. Martins School of Art and Design in London during the 1960's. He is well known for being a versatile artist using mediums that range from ink on paper to watercolour and acrylic. Using acrylic, oil, water colour and batik, his preference for figuration has led to memorable images of men and women from the east coast Malay fishing villages dramatically set against stark backgrounds of blues and greens and water colour landscapes of east coast villages.
Khalil has drawn to observe and depict the hard working lives of ordinary people influenced by his East Coast of Malaysia upbringing. From his earliest works of Pahang fishing villages, thatched roof dwellings, fishermen hauling their catch, to more enigmatic and stylish beach works, he is definitely in touch not only with his own humble origins but with the heart and soul of the country he loves. He is one of the few Malaysian contemporary artists who have successfully worked using batik as a medium. Gadis painted in 1968, a portrait of a young girl, is a good example of Khalil's batik work, made shortly after his return to Malaysia, while Pantai Timur II painted in 1985 is a very provocative and strong piece using muted colours, but demonstrates the artist's command of line and detail, in his chosen medium.
Due to his affiliation with MAS (Malaysian Airlines) in the 1980s, Khalil became actively involved with the Malaysian Watercolour Association, which has held successful exhibitions around Asia, including Hong Kong, Japan and Korea. He continued producing watercolours like Beach Vista in 1990, Sunset in 1991, Berserah in 1994, Kota Bharu and the East Coast Series in 1995. In his brief look at Malaysian art, in Modern Malaysian Art – from the pioneering era to the pluralist era (1930s – 1990s), Dr. Muliyadi Mahamood suggests that 'The early 1990s also witnessed a revived interest in the watercolour medium that was first introduced in the 1930s'. He goes on to remark that Khalil Ibrahim was amongst the 'serious' water-colourists who used 'spontaneous brushstrokes' and 'many thin and transparent layers of colour through the wash technique'.