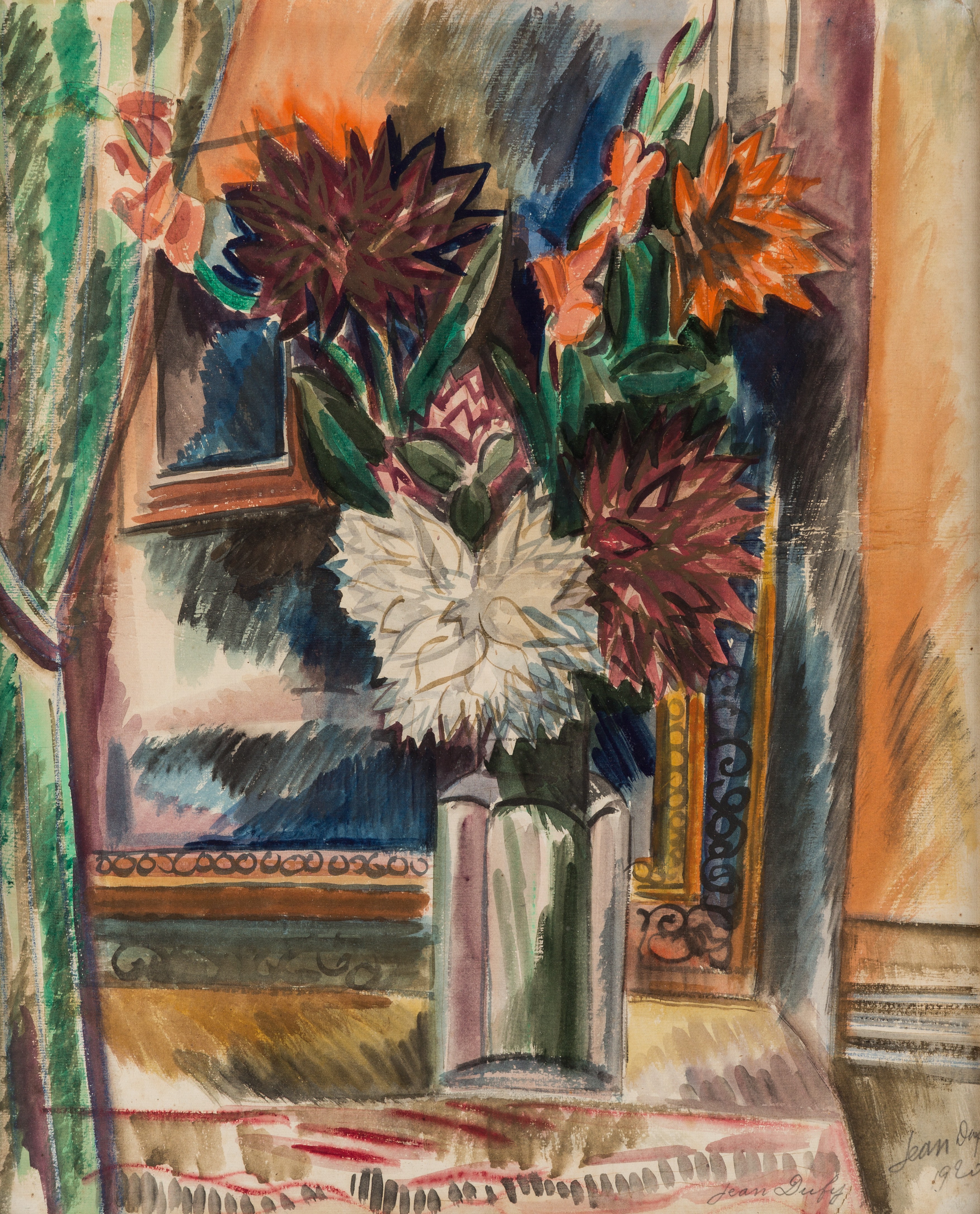 LOT 58
JEAN DUFY
B. France, 1888 – 1964
Bouquet de Fleurs, 1920
Signed and dated "Jean Dufy 1920" on lower right
Inscribed Jean Dufy by a later hand (lower right, left of the original signature)
Pencil and watercolour on paper laid down on board
56.8 x 46.3 cm
Provenance Private Collection, USA
In the 1900's, Jean Dufy (1888-1964) decided to pursue a career as a painter after visiting an exhibition put on by the "Cercle de l'Art Moderne" in Le Havre. There, he discovered the works of Picasso and Derain, with whom became friends years later. After receiving formal training at Le Havre's École des Beaux-Arts where both his brother, Raoul Dufy and Georges Braque had studied. His brother was an established artist in Paris and he took Jean under his wings in 1912. Jean had his first show in 1914 at Galerie Berthe Wall where he presented his watercolours for the first time.
Following the favourable response from his first exhibition, he went on to work intensively on his paintings of flowers, landscapes and animals. During the post war period, Jean's painting and unusual choice of canvas; porcelain style bold and vibrant colours that exude a romantic feel. Capturing everyday Parisian life was a clear passion for Jean Dufy but he never missed an opportunity to reflect his impressions in his work after the 1950's.
In 1925, Jean Dufy won a gold medal at the L'exposition Internationale des Arts Décoratifs for his porcelain designs, which focused on florals, and animal designs that were commissioned by Theodore Haviland in Limoges. His expertise in combining his loose decorative approach to colours and line during the early years of the 30-year association with Limonges is reflected in his artwork series called the The Bouquet de Fluers. It is a tasteful piece to add to a fine art collection especially since it is by a reputable Parisian artist who has greatly influenced the post expressionism style.