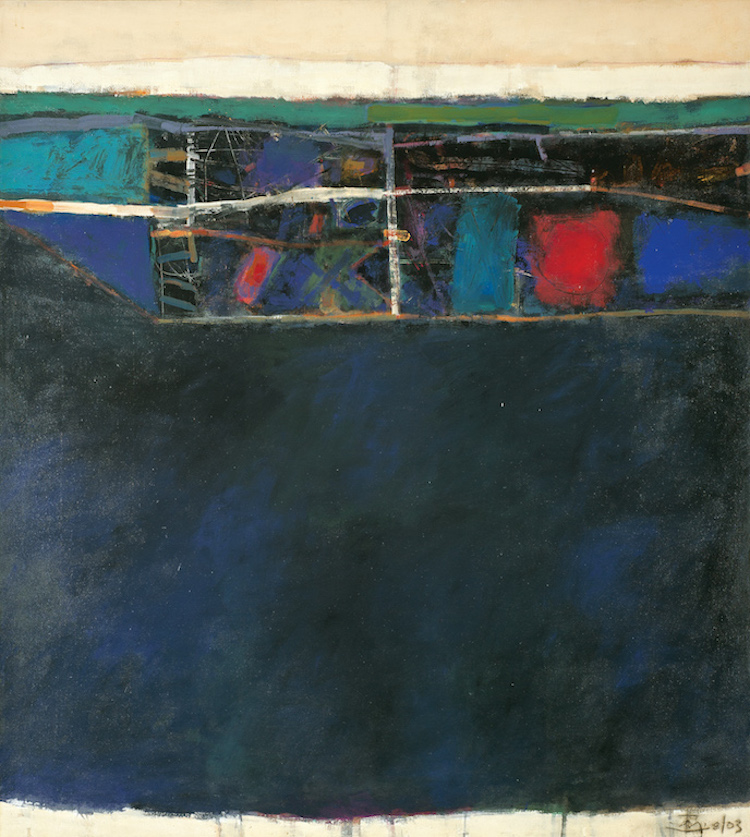 LOT 52
TAJUDDIN ISMAIL, DATO'
B. N. Sembilan, 1949
Blue Landscape, 2003
Signed and dated "Taj 8/03" on lower right
Signed, dated and inscribed "BLUE LANDSCAPE" on the reverse
Oil on canvas
153 x 137 cm
Provenance
Private Collection, Kuala Lumpur
SOLD
RM 29,307.20

This artist's training in Graphic Design, Interior Architecture and Fine are heavily influenced his 'boxscapes' and 'gridscapes' works in the early 70s and 80s. While they seem more architectonic in form and character, they still revolve around conversations with nature, in spite of their more 'urbane' feel.
Any layout or any landscapes for that matter have their own grid systems, as they are integral in composing any work. These dictate the arrangements of forms and spaces, and that caught Tajuddin's interest, as something so ordinary has the ability to be so exceptional and he demonstrates that through this piece, tinted in his usual choice of subdued colours.
"A simple square can be exciting. In the early days I used squares and boxes to create my works. That's why I called them boxscapes (a landscape of boxes). They were all based on the grids, on lines. How lines confine space, build space and break free from space. In such simple exercises, we can create something poetic out them too," said Tajuddin.
Art should never be too direct. It becomes boring. It really needs to challenge the perception and not be too literal, otherwise there is nothing more to engage in. It should engage the viewer in so many ways.
A former student of UiTM, Tajuddin Ismail studied Graphic Design at the Art Centre College of Design in Los Angeles in 1974 before venturing into Interior Architecture at the Pratt Insitute in New York. He is the recipient for various awards such as the 1977's National Drawing Competition, the Major Award, the Minor Award, 1978's National Graphic Arts and the 1979's Salon Malaysia Award.