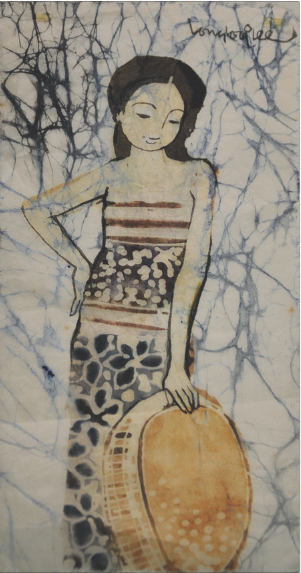 LOT 39
LEE LONG LOOI
B. Kedah, 1942
Girl with Basket
Signed "Lee Long Looi" on upper right
Batik
35 x 16 cm
Provenance Private Collection, Canada
RM 1,000 – RM 1,500

This batik masterpiece illustrates a woman enjoying a quiet and tranquil moment of rest after a whole day's work.
Done in Lee Long Looi's usual style of elongating the features of women, imaginative detailings were painted in the background, from the mist-like shadow to the intricate batik patterns against which the woman rests. Lee Loong Looi creatively brings a mundane scene in life to a whole new level by blending vibrant and fresh colours, making it a visual treat altogether. All the colours, shapes and use of space work harmoniously together, unified and pleasing to the eye. The artwork is the epitome of simplicity at its best.
Born in 1942 in Kedah, Malaysia, Lee Long Looi graduated from the Nanyang Academy of Fine Arts in Singapore and moved to New York to further his studies at the Art Students League and thsen at the Pratt Institute. He combines both elements of his Asian heritage and Western techniques in his paintings, and his works are displayed in Citibank, ABC Television, the Gulf Bank of Miami and many more.