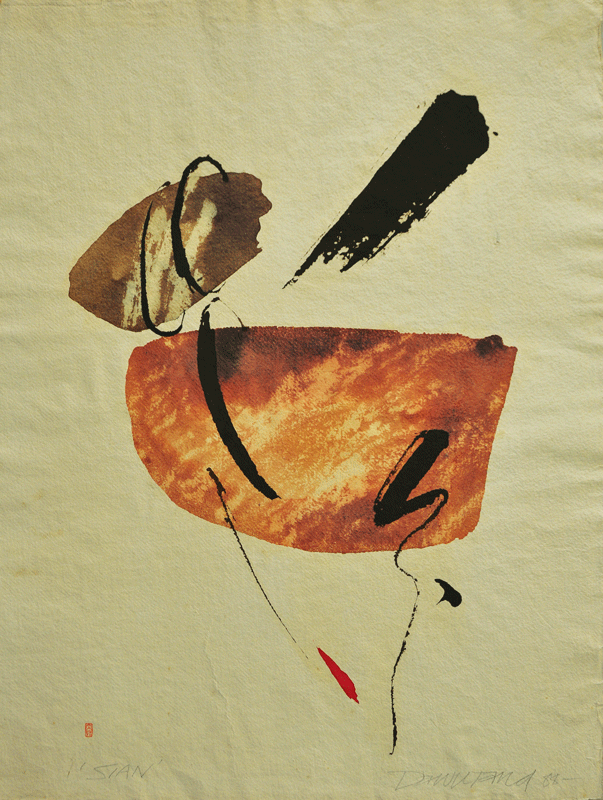 LOT 21
TANG DA WU
(B. Singapore, 1930)
Sian, 1988
Signed, titled and dated
"SIAN DA WU TANG 88" on bottom of paper
Ink and watercolour on paper
70 x 52 cm
Provenance
Private Collection, Kuala Lumpur
SOLD – RM 8,400

Through his drawings, sculptures, paintings, performances and installations, this multifaceted artist explores various themes of the social and environment kind, subtly remarking on distressing subjects such as the endangerment of animals, deforestation and modernization.
His paintings are a narration of various issues, a union between motion and energy with his use of ink, water and paper – proving that Chinese ink painting is not merely an outdated medium restricted to paintings of still-life and landscapes. As demonstrated in this piece, the ink blends and seeps into another, the ensuing monochromatic tones creating silhouettes that are candid yet sophisticated.
Tang Da Wu received a BA in sculpture from the School of Fine Art, Birmingham Polytechnic and advanced his studies at Saint Martins School of Art and then received an MFA from Goldsmith's College, University of London. He then ventured into performing arts and co-founded the Artists Village (a collective group committed to promoting experimental art through the provision of studio and exhibition space). He was the recipient Visual Arts Award from the Arts Council of Great Britain in 1978, the Artist Award from the Greater London Arts Council in 1983 and the 10th Fukuoka Asian Culture Prize in Arts an Culture.