CAREY NG
EMPOWERING WOMEN EVERYWHERE
Beautiful, beauty queen, emcee, social media star and mum of two are the few words that promptly come to mind when describing Carey Ng. However, upon meeting and interviewing her with her two daughters in tow at Sofitel Kuala Lumpur Damansara — our photoshoot and interview spot, we learn that she's so much more. She's kind, ever with a hearty smile, resilient, views working out as therapy, fiercely loves her family and leads with her heart. As a tribute to Mother's Day, for the May issue, we speak to Carey Ng on all things motherhood and learn about her journey as she continues to navigate through the throes of being a mum.
---
How are you and how has life been for you lately?
I think that's an interesting question. Because we came out of the pandemic. And I think the last two years were really about progressing, you know, building the busi- nesses and really getting used to what life has to offer post pandemic. So we've been travelling a lot, which is great. But there are also new challenges in adapting to the faster pace that we were probably so blessed to not have doing the whole pandemic. But it is great, you know, we're, we're kind of getting our feet off the ground and loving life spending a lot more time together as a family and you know, travelling, making new connections, which is great for the kids who have been, you know, in hiding for way too long. Back to School, which is great. I think it's just nice that we are finally getting to the speed that we want in our lives and seeing progress and growth. So I would say I'm good, or maybe more than good.
Could you talk us through your daily routine as a mum of two?
I try not to keep my routines too similar day to day. I kind of like the spontaneity and I think my kids will love yesterday. They're their school, which is a constant, you know, so they spend the first half of the day away from me and I have that time to myself. And then in the afternoons, we usually have family activities together. And once they go to bed, it's alone time with the husband. And we tried to keep our weekends pretty fluid and focus on experiences we can do as a family, maybe meet some friends and, you know, other family friends that we have. So we're actually quite fluid as a family. You know, we just want to be able to be productive and, you know, create memories together.
Tell us more about the Curious Child Centre and what's in store for the future?
I would say that Covid definitely impacted the Curious Child Centre, like any other kindergarten and nursery. It was tough to keep it going while servicing the families with us by continuing education at its standard through alternative platforms such as Zoom. However, post Covid, the expansion of our little centre is going great. Curious Child Centre is basically a pre-school where we prepare children for international and public schools. Given that we're now back to normalcy, we want to focus on getting the kids who were lacking behind during Covid back on track and ready for primary school. My kids actually fall in that category. My oldest, Shaelyn will be starting what she calls 'the big girl school' in August. So our jobs at the Curious Child Centre is to equip them in academics so they can ease through the formative years of education. The idea of establishing this kindergarten and nursery goes back about six years when I was still pregnant with Shaelyn. It was a transitional period for me personally, as I was thinking of expanding my repertoire to something that was more sustainable, meaningful and grew in tandem with my life. The idea was also supplemented by my peers who had kids and were daunted by choosing a proper pre-school to care for their children. It's scary. I related to that and that passion translated into the business. I'm lucky to have support from my mum and husband who are the key people in shaping this business. I'm very happy to say that Curious Child Centre has been thriving for the past five years since its inception. At the heart centre, we foster creativity and a child's love for learning, which I believe sets them for primary school.
Besides the Curious Child Centre, do you have any projects in the pipeline?
Well not so much since my sole focus is definitely on the school. I don't have an education background so I knew that I wanted to put 100% effort into it in order for it to work. The other projects that I do are mainly for fun — things that give me some fulfilment, like hosting. I used to be an introverted kid. Just like how Beyonce has an on-stage persona, hosting is the same for me it brings me out of my shell and I feel like I don't do enough these days. Hosting reminds me of the courageous, extrovert that I can be if I put my mind to it. I do try to take those jobs once in a while. On top of that, social media and creating content for it is a project of its own. The goal is definitely to create content that speaks to me a little more. Actually, I recently lost my best friend and it's probably the hardest thing I've had to go through, but it has put a lot of things into perspective. I do truly want to work on relationships that I have. I guess this year's plans would have to make a shift but that's life right? It's never what it's planned to be.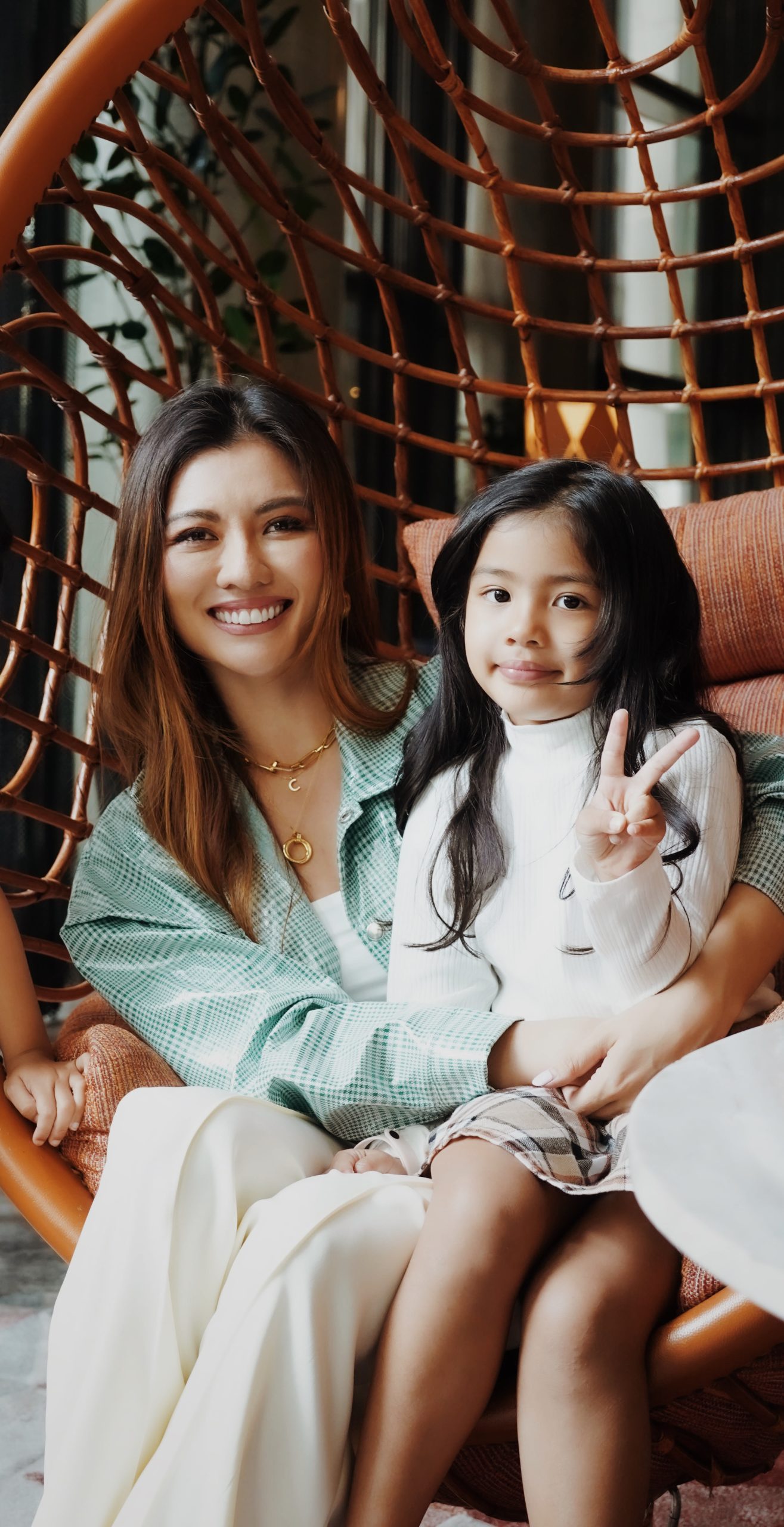 How has becoming a mother changed you as a person and your view of the world?
Wow. I think everything changed. It's scary, to feel like the two most important people in your life that came from you are just living out of your, your heart. You know, like anything could happen to them. And I think, this recent incident with the passing of my best friend has really taught me that you can't have full control of everything — to love and to have family and people close to you. It's all about doing your best and not feeling like you fear losing them. I think it's a scary thing for sure. You wanna do all you can to keep them safe. So, I think the biggest thing is really the balance of not trying to be paranoid about everything. Don't live with that fear in your mind, you know, and that nothing is perfect. Every parent is still learning. No one is doing as well as they portray themselves to have done. We all don't know what we're preparing ourselves for, because the generation to come have their own challenges that we can't even fathom, but all we can do is help navigate them through. So, I think that it has really taught me to not live inside my head too much, and rather, live in the moment; not plan too much and not worry about what's gonna happen in the next 10 years. You know, planning is great up to a certain point, and then, you just gotta go with the flow.
How has becoming a mother changed you as a person and your view of the world?
Mum Guilt *laughs*. I think every mom would agree with me that, no matter how much time you spend with them or how little time you have for them, you'd still feel that guilt, like you're not doing enough. I guess that's it, right? You feel like you're not giving your best sometimes, even though I think we all are trying our very best. I just think that no matter what, you have to create that balance. I also think that you should put yourself first, because without happiness, self-love, self-care, you can't be happy. And when I'm not happy, I can't love my husband as well as I should, I can't be patient with my children when they're bickering or throwing tantrums or having relationship problems with each other.
My girls are very, very close and love each other very much. But that also comes with the territory of them wanting the same thing and wanting you, and this takes a lot of patience. I spend a lot of time with them because they're in my business — they're in every aspect of my life. For example, if I go out with my friends, I try to include them. I want them to experience social settings and whatnot. So my boundary is finding some 'me time' or time with my husband. It's always a blur and I'm still trying to manage that for sure. I believe that women are made to be nurturers of the family, and you can only nurture when you feel nurtured. So you gotta take care of yourself first. For me, it's working out. I love my workouts — it clears my head. The more pain, the better *laugh*. I'm striving, giving myself what my body needs and challenging myself. That's my own personal goal. A lot of people doubt and think how does that help? But honestly, it's therapy for me. When I'm physically stronger, I feel like I'm able to be more present.
Can you share a particular moment or experience that has been the most rewarding or fulfilling as a mother?
Just being their number one. You find so much joy knowing they have so much love for you and teaching them so many things like kindness, how to be empathetic and being a good person. I feel like I've done good and reflect on your journey as a mum. It's nothing like having their love, whether they say it or not.
What has been your biggest learning experience as a mother so far?
I see my flaws a lot as a mother. I think that children are reflections of who we are — your biggest fears and the worst. And that's the hardest thing, to see your biggest fear or flaw in your kid and to have to deal with that. That's the toughest part, along with the steep learning curve that is motherhood. I'm still on that path and I won't try to sugarcoat it. I know I speak on behalf of a lot of people that we grew up with a generation of parents who sacrificed everything for us. But like any other Asian parent, they're not very PDA or expressive. So, we've been through life knowing our parents sacrificed for us but we lack dealing with emotions, conflict and difficult situations in a relationship. There are instances that motherhood has forced me to ponder. I am who I am today because of my parents but I've got to work on myself and my triggers for my children suffer. I feel like navigating through infancy and learning to balance motherhood and self is indeed hard, but it's just the tip of the iceberg. Everything below is all the trauma we've suffered during childhood and how we relate to parenting. That's what I hear whenever I talk to other.
What advice would you give to new mothers who are struggling to find balance and prioritise their own needs while caring for their child?
You're not alone and don't allow yourself to be alone. Find your drive or people you can relate to in terms of principles of motherhood or friends. That allows and helps you be better. Find your tribe who'll support you to take care of yourself first before anything. It's very isolating for new mums to be facing motherhood alone. Find your tribe, find people you can talk to. Motherhood is a long journey and the first few years can be intense so we, mothers should be there for and encourage each other.
How do you navigate parenting in the public eye and protect your children's privacy?
This is going to be an ongoing conversation. I've honestly thought hard about it, posting about them or not. But I also want to be authentic and family is a huge part of me. I don't post every nitty gritty about my children and family but I do involve them and keep it light. I'm just hoping to create a separation between what's on social media and what's not and that would create some sort of privacy for them. They're still young so they're not really on social media but I know once they grow up, it will be a challenge to create a boundary for them when they have the liberty to control their own social media. But I feel we can't avoid having privacy because that's the way the world works. It's just really asking yourself what you need for yourself and where do you draw the line. It's okay if they don't want to be on social media either because I don't want them to ever feel like they're obligated to.
How have you taught your children about self-love and body positivity in a world that often promotes unrealistic beauty standards?
For one, at home, we don't really talk about how we look. We talk about hygiene, being fit and healthy, and all that feeds into the bigger picture. It's not about being fat or thin or the physicality of it, but what it represents. It's important to feel healthy and strong. So we don't really talk about size. Moreover, children don't really notice that and skin colour, which is really beautiful and we want to encourage that. I also feel really encouraged by ads and brands that are more inclusive these days. For example, we work very closely with Adidas and body positivity is very evident in their campaigns instead of unidealistic body types portrayed in every picture. It's very inclusive and I hope they keep at it and will realise that's the way to go and our children will reap from that awareness. But yeah, we don't talk discriminatingly at home and we hope that our daughters will follow in our footsteps.
What kind of legacy do you hope to leave for your children?
My husband and I both always talked about financial security a lot and what we are going to leave our children with so they'll be protected and they can be comfortable in life. But I think leaving a legacy behind is related to the relationships you have, be it with yourself or people you love and the kindness you spread. I want people to remember me, at least, by this positive feeling and the only way to do that is just being kind. It can be a hard practice especially when the world is unfair and some people can be cruel and so much to combat. If I can teach my daughters to be kind and be good people above all else, that'll be the proudest and biggest legacy I leave behind. We don't know when your last day on earth is, and one thing is for certain, people will remember how you made them feel. Like my late best friend for instance, I don't remember her from all she's achieved, and she has, but it's really how she was there for everyone. I want that for me and my children.
Follow us on Facebook and Instagram