JIM DINE
ARTIST VIRTUOSO
BY HIRANMAYII AWLI MOHANAN
Jim Dine, born on June 16, 1935 in Cincinnati, Ohio is an American artist whose oeuvre extends over sixty years. Dine's work includes painting, drawing, printmaking (in many forms including lithographs, etchings, gravure, intaglio, woodcuts, letterpress and linocuts), sculpture and photography; his early works encompassed assemblage and happenings, while in recent years his poetry output, both in publications and readings, has increased.
Dine has been associated with numerous art movements throughout his career including Neo-Dada (use of collage and found objects), Abstract Expressionism (the gestural nature of his painting), and Pop Art (affixing everyday objects including tools, rope, articles of clothing and even a bathroom sink) to his canvases, yet he has actively avoided such classifications. At the core of his art, regardless of the medium of the specific work, lies an intense process of autobiographical reflection, a relentless exploration and criticism of the self through a number of highly personal motifs which include: the heart, the bathrobe, tools, antique sculpture, and the character of Pinocchio (among flora, skulls, birds and figurative self-portraits).
Dine's approach is all-encompassing, incorporating his entire lived experience: "Dine's art has a stream of consciousness quality to its evolution, and is based on all aspects of his life—what he is reading, objects he comes upon in souvenir shops around the world, a serious study of art from every time and place that he understands as being useful to his own practice."
Exhibitions
Dine's art has been the subject of more than 300 solo exhibitions, including retrospectives at the Whitney Museum of American Art, New York (1970), the Museum of Modern Art, New York (1978), Walker Art Center, Minneapolis (1984–85), Frederik Meijer Gardens & Sculpture Park, Grand Rapids, Michigan (2011) and Museum Folkwang, Essen (2015– 16). His work is held in permanent collections including the Art Institute of Chicago; the Metropolitan Museum of Art, New York; the Musée National d'Art Moderne, Centre Pompidou, Paris; the National Gallery of Art, Washington, D.C.; Solomon R. Guggenheim Museum, New York; Tate Gallery, London; Tokyo Metropolitan Art Museum, Tokyo; and Yale University Art Gallery, New Haven, Connecticut.
Motifs:
Since the early 1960's Dine developed and refined a selection of motifs through which he has explored his self in myriad forms and media, and throughout the different locations/ studios in which he has worked, including: London (1967–71); Putnam, Vermont (1971– 85); Walla Walla, Washington (since 1983); Paris (since 2001); and Göttingen (since 2007), in a studio adjacent to the premises of Steidl, the printer and publisher of the majority of his books. Dine's major motifs include the bathrobe, the heart, Pinocchio, antique sculpture and tools.
Bathrobe
Dine first depicted bathrobes in 1964 while searching for a novel form of self- portraiture at a time when "it wasn't cool to just make a self-portrait"; he thus conceived an approach without representing his face. Dine subsequently saw an image of a bathrobe in an advertisement in the New York Times Magazine, and adopted it as a surrogate self-portrait which he has since depicted in varying degrees of realism and expressionism.
Hearts
Dine initially expressed this motif in the form of a large heart of stuffed red satin hung above the character of Puck in a 1965–66 production of William Shakespeare's A Midsummer Night's Dream at the Actors' Workshop in San Francisco, for which he designed the sets (his original introduction to the motif had been a series of red hearts on white backgrounds he had seen as a student). In time, the heart became for Dine "a universal symbol that I could put paint onto" and "as good a structure geographically as any I could find in nature. It is a kind of landscape and within that landscape I could grow anything, and I think I did." The formal simplicity of the heart has made it a subject he could wholly claim as his own, an empty vessel for ongoing experimentation into which to project his changing self. The heart's status as a universal symbol of love further mirrors Dine's commitment to the creative act: "…what I was in love with was the fact that I was put here to make these hearts—this art. There is a similar sense of love in this method, this act of making art…"
Pinocchio
Dine was first introduced to Pinocchio at the age of six and recognised very early on the relevance of the tale as an allegory for the capricious struggle of making art and for the unpredictable existence these works of art lead after they leave the artists studio and enter into the world beyond. Pinocchio himself endures many harrowing situations. He is eaten by a fish, transformed into a donkey, forced into hard labor, and narrowly escapes annihilation in nearly every chapter of the story. While Dine most certainly is aware of these scenarios, he has not included them in the works on display in 'Pinocchio as I knew him this Year'. Rather, he has constructed his own translations on the novel's subject and underlying theme, and in emphasising the transformative nature of art (by giving Pinocchio new life on paper, canvas, and wood), has underscored the relationship between material and maker.
---
YOSHITOMO NARA
DEPICTING CHILDREN RIDDLED IN AMBIGUITY
BY HIRANMAYII AWLI MOHANAN
Yoshitomo Nara is a pioneering figure in contemporary art whose signature style—which expresses children in a range of emotional complexities from resistance and rebellion to quietude and contemplation — celebrates the introspective freedom of the imagination and the individual.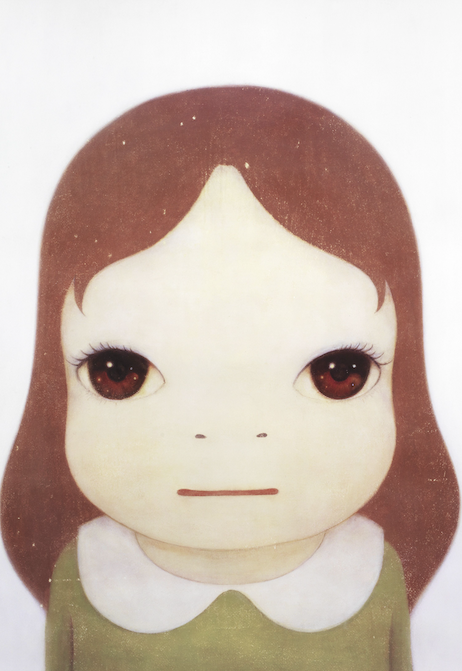 Yoshitomo Nara graduated from Aichi University of the Arts with a master's degree in 1987, completing further studies at the Kunstakademie Düsseldorf, from 1988 to 1993, before settling in Cologne in 1994. This period of time was a pivotal influence on Nara, during which he began synthesizing Japanese and Western popular culture, as seen in Nachtwandern (1994), and when he arrived at his mature style, as seen in Pony Tail (1995) and Haze Days (1998). Nara's paintings enact a fleeting presence between the figure and the ground—a result of several layers of paint in subtly varied if subdued pigments that he applies throughout the painting process—in which the figure pops out of or floats in a space that appears to exist outside the constraints of time.
A year after Nara's return to Japan in 2000, his seminal solo exhibition titled 'I DON'T MIND, IF YOU FORGET ME' was
mounted at the Yokohama Museum of Art and displayed Nara's extensive multidisciplinary approach to artmaking. In addition to stuffed animals, sculptures, paintings, and drawings, the artist presented Fountain of Life (2001), a ceramic sculpture featuring running water, and Time of My Life (2001), his "drawing room" installation built out of plywood, lit with bare lightbulbs, and filled with drawings on paper and various ephemera.
This installation would anticipate a series of collaborations with the design collective graf, such as Yoshitomo Nara + graf: Torre de Málaga (2007), a site-specific installation at the Centro de Arte Contemporáneo de Málaga in Spain. Torre de Málaga, a towering house, was built out of industrial and waste materials collected from the city and included the work 1.2.3.4, Change the History (2007), which Nara painted on site and mounted onto the tower. Evoking Nara's spirit of collaboration and existential introspection, the exhibition carried an implicit criticism of the effects of industrialisation and globalisation.
The figures in Nara's paintings are the result of the artist facing the deepest part of his soul; with colour and composition based in painting theory, repeatedly layering and erasing colour from the canvas, so that what remains in the end is only the most earnest part that could not be pared away. In contrast, his drawings are distanced from theory. Using materials with which he feels a familiarity, such as torn-off note paper or used envelopes, he bares his emotions and thoughts. In his three-dimensional works, for which he has varied his media over the years, Nara gives familiar items new life through a meditative dialogue with the materials. His photography has begun to have fully-fledged presentations in recent years. For these photographic works, he discovers raw beauty in everyday landscapes and moments from his work or travels that could easily be overlooked, and records them as something precious.
Nara's works contain everything that he encompasses. Memories etched into the depths of his soul; and the music, paintings, literature he encountered organically by following his curiosity, that inspired his spirit and sensibilities — these are all accumulated in countless layers. For example, he has been greatly influenced by the music he began listening to at 9 years old. Most of it was in a foreign language, but young Nara used his imagination to overcome the language barrier. He recreated the landscape of the music within himself using the record jackets, and sought to understand the piece as if he himself lived in that world.
Nara creates his works directly and freely, bound by nothing. These works transcend barriers of language, cultural backgrounds, and eras; they are beloved by many people. The artist confronts the true essence of people and things, and is invariably honest; resulting in works that are like mirrors that reflect the viewers' hearts back to them. In recent years, he has actively sent out his message on Twitter and Instagram, and regardless of where he may be in the world, he is connected with his friends in real time. And Nara is a traveler, in the truest sense of the word. At times he sets out on a voyage seeking his own roots. At other times, feeling a strong attraction to the spark of cultures that have persisted through the trials and tribulations of history, he visits and explores their lands. Treasuring the human relationships he has built through these encounters, he visits all kinds of places without being confined to the paradigm of art; like a traveling bard, he creates and presents his work for friends across the world.