Tossing to Prosperity
Places to Purchase Your Lunar New Year Yee Sang
BY HIRANMAYII AWLI MOHANAN
---
Hop Into the Lunar New Year with W Kuala Lumpur
It's that time of year to toss your Yee Sang as high as you can! Who knew all things auspicious could taste so good. Toss to abundance, good health, and fortune with W Kuala Lumpur's Lucky Toss Yee Sang varieties. Choose from the Premium Jelly Fish Yee Sang, Korean Snow Pear, Red Palm Oil priced at RM168 for half portion (for 2-6 persons), RM278 for full portion (for 8-10 persons), Norwegian Salmon Fish Yee Sang, Air Dried Szechuan Fish Chips, Crispy Salted Egg Fish Skin, Red Palm Oil priced at RM188 for half portion (for 2-6 persons), RM298 for full portion (for 8-10 persons), Crispy Lobster Meat, Soft Shell Crab Yee Sang, Red Palm Oil priced at RM228 for half portion (for 2-6 persons), RM368 for full portion (for 8-10 persons) and Premium Caviar, Gold Flakes, Truffle Oil, Abalone Yee Sang, Red Palm Oil priced at RM288 for half portion (for 2-6 persons), RM468 for full portion (for 8-10 persons). Take it home, send it as a gift and TOSS, TOSS, TOSS away. Packed in a oh so vibrant circular shaped box that looks like a candy, featuring bold and daring colours befitting of the W brand, the Lucky Toss Yee Sang W2GO is representative of the bold, full flavours of the choice of your Yee Sang.
https://lunarnewyear.oddle.me/en_MY/
---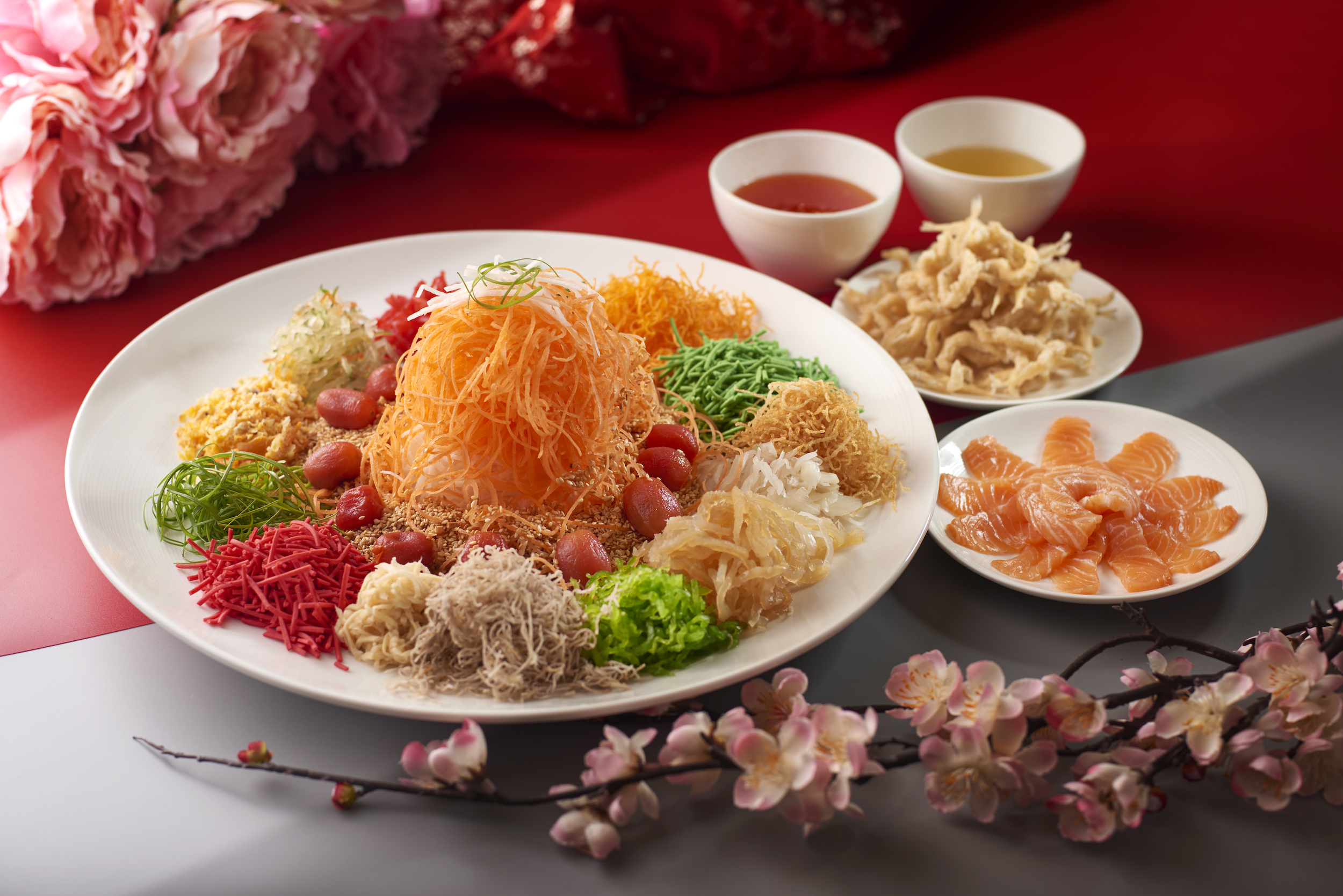 Auspicious Chinese New Year at Sofitel Kuala Lumpur Damansara
To usher in the Year of the Rabbit, Sofitel Kuala Lumpur Damansara is offering an array of delightful Chinese New Year treats from Jan 3 until Feb 5, 2023. Guests are invited to share the festive joy with family and friends and enjoy a sumptuous feast of authentic Cantonese delicacies and auspicious dishes to usher in good fortune, excellent health, prosperity, luck and happiness. Wan Chun Ting, the hotel's Chinese restaurant offers Yee Sang and festive set menus for family get-togethers. In regards to the Yee Sang, there are various renditions on offer, from Vegetarian Yee Sang RM88+ (half portion) RM178+ (whole portion), Deep fried soft shell crab Yee Sang RM108+ (half portion) RM218+ (whole portion) to Scallop with Snow Pear Yee Sang (advance order) RM108+ (half portion) RM 218+ (whole portion) and the 10 head abalones Yee Sang RM148+ (half portion) RM288+ (whole portion). As for the Chinese New Year Auspicious set menu, there are three renditions to choose from, namely the Prosperity set menu, Fortune set menu and Wealth set menu.
Yee Sang with baby abalone and Hokkaido scallops and snow pears | fish bone soup with fish maw and fresh shrimp wanton | steamed tiger grouper sliced with superior light soy sauce | steamed stuffed eight treasure chicken | wok fried spicy prawns served with Chinese twisted rolls | braised 10 head abalone with sun dried oyster | dried scallop and bean curd sheet with garden greens | fragrant fried rice with wax meat in Homemade spicy sauce | combination of duo Chinese New Year cake with yam | chilled snow's nest with ginseng and ginkgo nuts | premium Chinese tea.
Call +603 2720 6648 or email jasmine.yap@sofitel.com
---
Splendid Lunar New Year at Le Méridien Petaling Jaya
The quick, elegant yet gentle rabbit is hopping into 2023 with more hope and prosperity. Le Méridien Petaling Jaya takes this opportunity to celebrate the Lunar New Year with a big celebration to delight your palate. Splendid China, the hotel's 8-course luxurious dinner over an elegant line- up of Oriental Shanghai dance, Ribbon Sleeve dance, lion dance and so much more is set to enthral guests. Available through Jan 2 to Feb 5, there are three Fortune & Prosperity Yee Sang Menu to choose from, including the Prosperity Smoked Salmon Yee Sang priced at RM168, Abundance Tuna Maguro Yee Sang priced at RM188 and Longevity Abalone Yee Sang priced at RM238.
Call +603 7682 0000 or book at www.lemeridienpetalingjaya.com
---
THE FOR-TU-NES OF CHINATOWN
Chinese New Year is the most anticipated festival of the Chinese calendar, a time to reconnect with family and loved ones, and to share precious moments together. Inspired by the locale surrounding Four Points by Sheraton Chinatown and its flavours, Executive Chef Gerald Chong and his culinary team unveiled Quan's Kitchen's Lunar New Year offerings that emphasises on traditional street fare and local favourites. This year, Quan's Kitchen presents the Prosperity Golden Yee Sang priced at RM98+ (half portion for 5 persons) and RM188+ (full portion for 10 persons), featuring Panko Prawn Chicken Floss, Passion Fruit Pearls, Aroma Truffle Chips, Kelulut Honey & Preserved Lemon Sauce. For a more luxurious bite, add on Braised Australian Abalone (10 heads) at RM288+. These are available for dine-in and takeaway. Continue the celebration with the CNY For-tu-ne Buffet that includes the Prosperity Golden Yee Sang, "Bak Kwa" Roasted Chicken, Kam Heong Roasted Lamb Leg, and Steamed Nian Gao with Desiccated Coconut.
---
Exquisite Chinese new Year Celebrations at The St.Regis Kuala Lumpur
Usher in the Year of the Rabbit at The St Regis Kuala Lumpur with a myriad of dining experiences specially designed for family reunions, friend gatherings and company events, to celebrate good health, hope, happiness, and a prosperous new year. The St. Regis Kuala Lumpur's Prosperity Yee Sang is a recipe handed down from generation to generation of its owning family, Puan Sri Sharon Chua's ancestral kitchen. With the intention of enticing her children to eat their greens, the secret to the St. Regis Kuala Lumpur's special Prosperity Yee Sang lies in an undisclosed final ingredient. It's made with a base of finely chopped and sliced fresh fruits and vegetables accompanied with assorted nuts, seeds and sauce. Guests will be able to add on slices of Abalone & Crispy Soft Shell Crab, Prawn & Jellyfish, Salmon & Jelly Fish or opt for a Vegetarian version. Puan Sri Sharon Chua hopes her family's recipe brings much longevity, prosperity and abundance to all.
Whatsapp +6012 280 1303 or email dining.kualalumpur@stregis.com