The Loaf Bites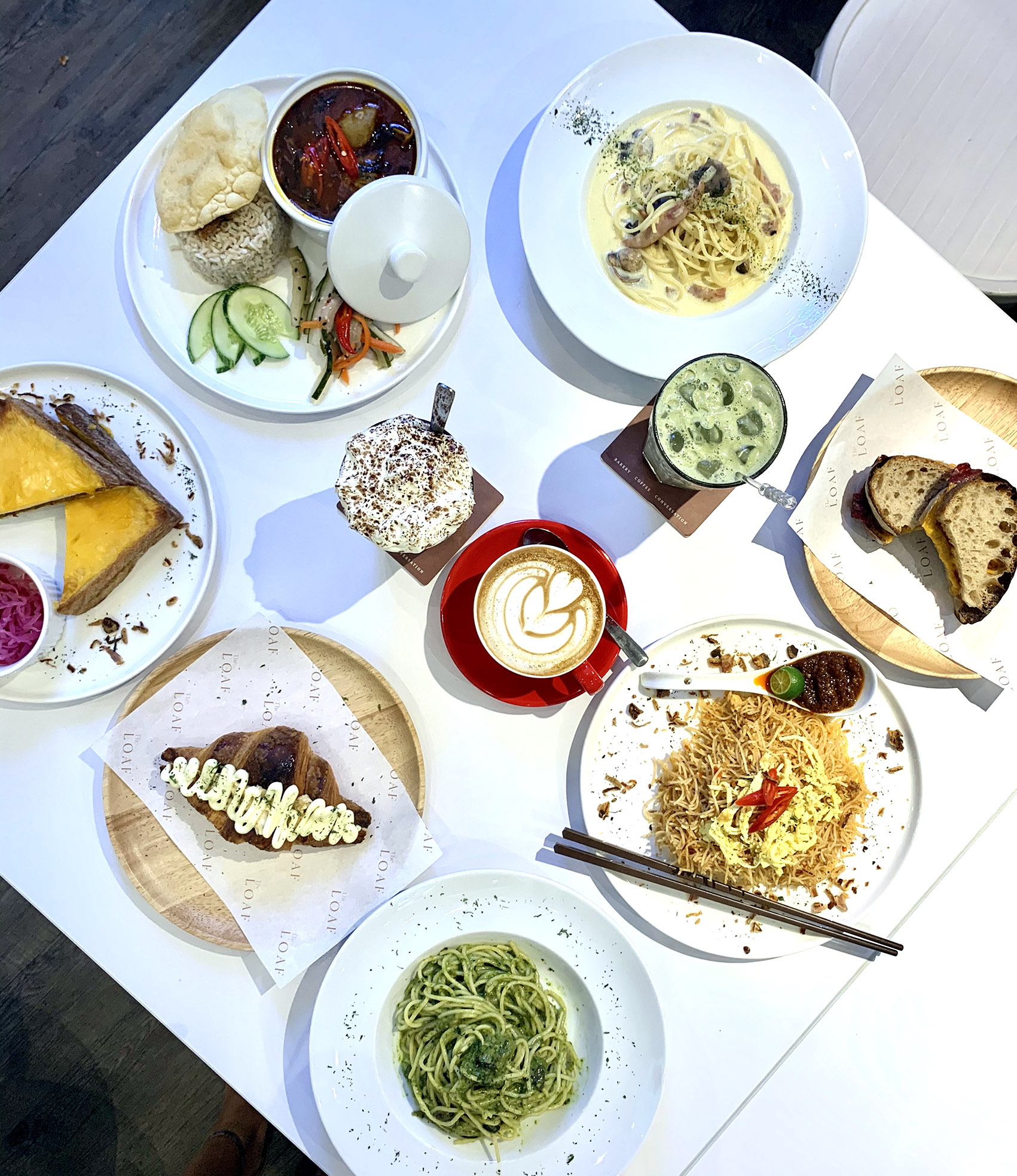 "The Loaf Bites highlights that include Murtabak Cheese, Mee Siam, Caramel Latte, Matcha Latte, Supreme Mocha, Ayam Assam Pedas and Spaghetti Carbonara to name a few."
If The Loaf concept store is a leisurely dining experience among family and friends, the Loaf Bites specialises catering to the bustling, on-the-go metropolitans. Nestled under The Loaf umbrella, The Loaf Bites also emerges fresh off a facelift, being accessible at convenient locale for white-collared workers to grab and go. Contrasting to the concept store, this restaurant embodies minimalism — splashes of white hues enveloping its space, highlighted by attractive neon logo. New, reinvented recipes make up The Loaf Bites' extensive menu, spanning Asian delights to international favourites. That said, the crowning glory of the eatery remains its homemade, additives-free artisanal bread.
Murtabak Cheese
To begin, the M rtabak Cheese, crafted from white toasted bread delivers a light, crisp exterior and envelops a moist, tender middle from the cheddar cheese. The centre is what surprised us — chicken curry filling coated with egg wash. It is perfectly balanced in flavours yet offering a little indulgence for those who seek it.
Croissant Chicken
Freshly-baked croissant followed suit, boasting a heart of generous chicken mayonnaise filling. Be it a decadent morning breakfast paired with The Loaf Bites Caramel Latte or serving as a light yet indulgent lunch, it will suit many palates.
Mee Siam
So simple, yet so delectable. Stir-fried vermicelli or simply known as mee hoon, is crowned by shredded chicken breast, bean sprouts and fried in chef's specialty paste. To truly enjoy this dish, mix the vermicelli with the homemade 'sambal' that comes on the side for a wave of comfort and nostalgia.
Ayam Assam Pedas
The Ayam Assam Pedas is a must order at The Loaf Bites. While the usual rendition of Assam Pedas uses fish, the head chef of The Loaf decided to put an interesting twist towards the dish — chicken. It might pack a bit of heft but the amalgamation of spicy and sour gravy with brown rice will have you ordering seconds.
Spaghetti Carbonara
From the international segment comes crowd- favourite, Spaghetti Carbonara. Creamy and comforting, al dente spaghetti is tossed with chicken slice and mixed mushrooms drenched in in-house cream sauce. Relish in each bite for satisfaction of the highest order.
Address: The Loaf Sunway Pyramid
LG2.72, Sunway Pyramid, No 3, Jalan PJS 11/15,
Bandar Sunway, Selangor
Tel: 03 5612 1101
Address: The Loaf Nu Sentral
G41, Ground Floor,
NU Sentral Shopping Mall, Jalan Tun Sambanthan,
Brickfields, 50470 Kuala Lumpur
Tel: 03 2276 0030
Address: The Loaf IOI City Mall
Lot G-K6, Lebuh IRC, IOI Resort City, 62502
Putrajaya, Sepang, Selangor
Address: The Loaf Langkawi Cenang Plaza
Cenang Plaza Hotel Langkawi, Lot 2606, Jalan Pantai Cenang,
Mukim Kedawang, 07000 Langkawi