The Best Danish Designs
---
OX DENMARQ
O TABLE
Frame made in stainless steel, powder coated steel or brass (steel with brass surface). Marble tops are to be screwed on to the metal frame. Glass tops can be clicked onto the frame. Leather tables will be delivered assembled. Table tops in Carrara Marble, Black Marquina, Green Indio, Grey Italian (mat) and Brown Emparador will exhibit natural variations in terms of colour, drawings and patterns characteristic for each type of marble. As for Carrara Marble, small cracks can sometimes be found on the polished surface. This phenomenon known as "taroli" is a natural characteristic of the stone, which cannot be eliminated completely. Leather is handmade by skilled craftsmen using high-quality 100 % vegetable tanned aniline leather with a general thickness of 3 mm or more. Natural imperfections on leather surface must be accepted.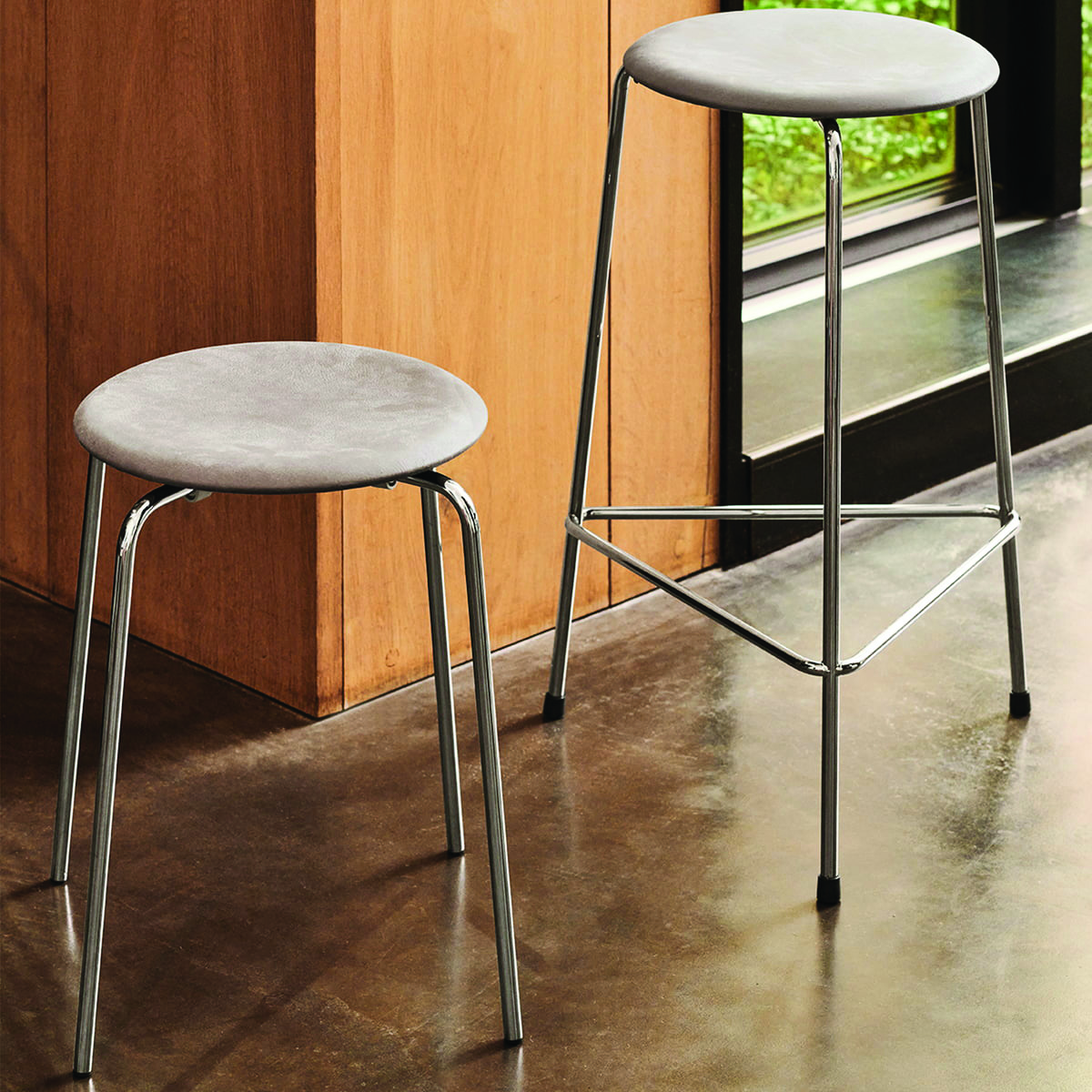 FRITZ HANSEN
JACOBSEN DOT STOOL
The Jacobsen Dot, model 3170 was developed by Fritz Hansen in the 50's around the same time as Arne Jacobsen created the Ant chair. While creating the Ant, Arne Jacobsen spent lot of time at the Fritz Hansen factory testing, refining and finalizing his project. During this process the Dot caught his interest and he included it in his work. The result of the collaboration was presented to the market in 1954 as a three legged stool in veneer. In 1970 the stool was revitalized as we know it today, with four legs.
SOFTLINE
EDEN CHAIR
Refreshingly new, with stitching inspired by sports cars, combined with classic virtues in the form of a stylish wooden frame. The main features of this spacious chair are a soft and very comfortable seat and backrest that allow for various seating positions. The design builds a bridge between many elements, such as the soft and the masculine, innovation and tradition, and private and public spaces.
HOUSE OF FINN JUHL
FINN JUHL SIDEBOARD
After Finn Juhl's rise to stardom in the American design circles around 1950, he became increasingly inspired by his American colleagues – Charles Eames in particular. Up until then, wood had predominantly been his preferred material but at this time he gradually started experimenting with steel as well. This newfound simplicity with its straight lines became evident in his designs of desks, dining tables, coffee tables, benches, sideboards and sofas for the Danish furniture manufacturer Bovirke. These designs, with their burnished steel frames and wooden toes, were Finn Juhl's response to the criticism he had received in terms of his artsy sculptural designs and exclusivity. Finn Juhl's simple and beautiful sideboard from 1955 combines exclusive wooden materials with the colours from Goethe's colour wheel.
LOUIS POULSEN

PANTHELLA FLOOR LAMP
Created in 1971, Verner Panton's Panthella is one of his more popular designs. The basic light principle aimed to create a lamp in which the base as well as the shade would act as a reflector. The lamps light source is hidden under a milky-white, hemispheric acrylic shade and a white, trumpet-like base contributes to a beautiful distribution of light and a well balanced form.