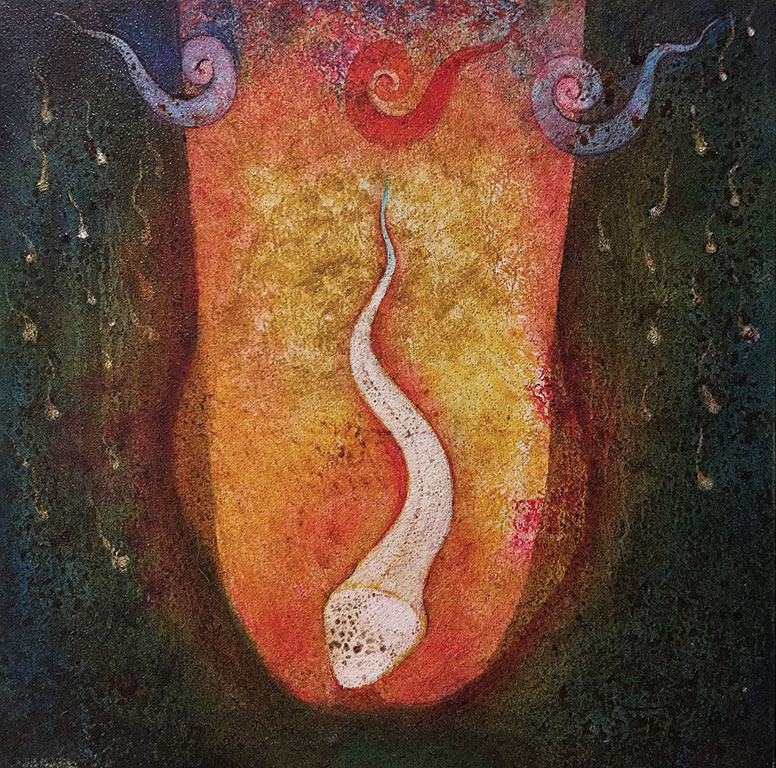 LOT 86
SYED THAJUDEEN
B. India, 1943
Male Energy, 2001
Signed and dated "Syed Thajudeen 01" on lower right
Oil on canvas
31 x 31 cm
Provenance
Private Collection, Selangor
Illustrated on page 123 of "Syed Thajudeen RETROSPECTIVE" book
Published in 2015 by Penang State Museum & Art Gallery
SOLD
RM 5,636.00

At first glance, this piece undoubtedly emanates a mood that is a mixture between sensuality and biology. Syed's unique style and aesthetic sense draw inspiration from the Bauhaus art of Paul Klee and his Indian education background fused with Malay cultural elements. A distinctive stylisation, romantic treatment of subject matter and the rich colours
as in the Ajanta cave paintings of Maharasthra and of the Mughal (enriched from the wealth of Indian mythology) are apparent in his works.
His works, as individualistic as they are, attempt to evoke a state of rasa, or heightened mood that belongs to a larger tapestry and sensibility of Asian artistic traditions. In many instances where his favourite subject matters deal with women and love, they share the same archetypal symbols and metaphors.