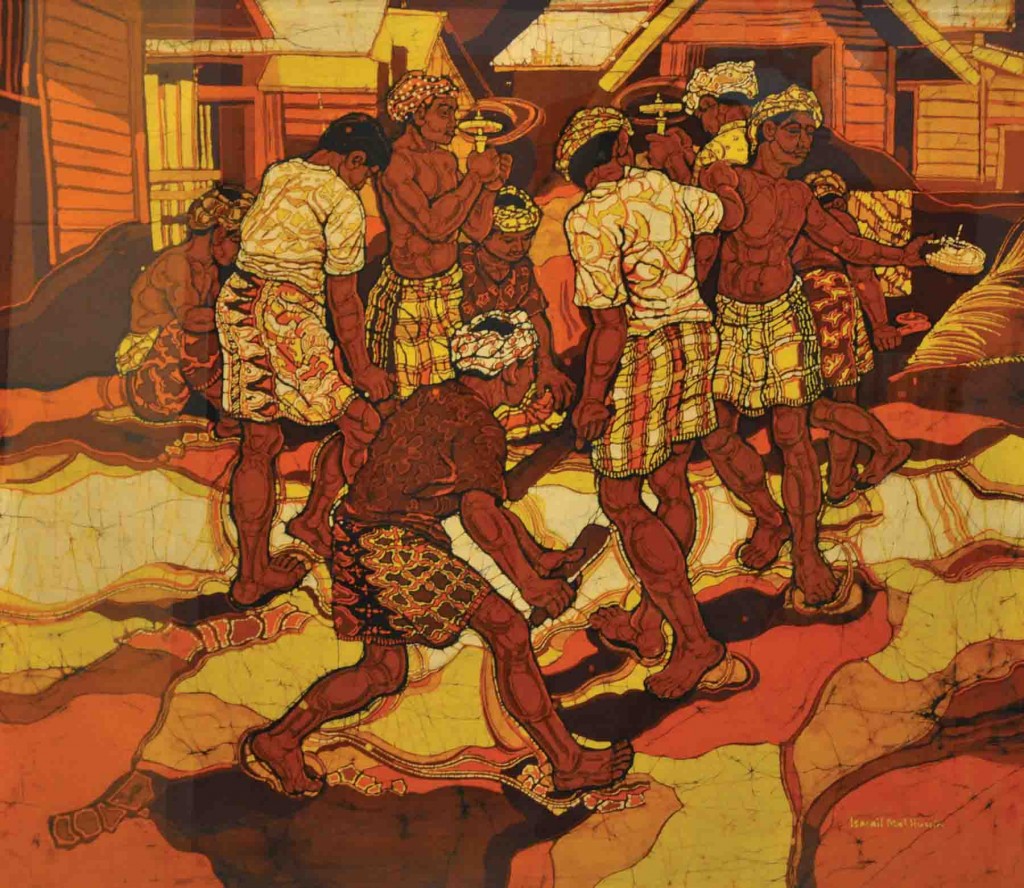 LOT 72
Ismail Mat Hussin
B. Kelantan, 1938 – 2015
Playing Gasing, 1982
Signed "Ismail Mat Hussin" on lower right
Batik
92 x 105 cm
Provenance Private Collection, Kuala Lumpur
Illustrated on page 20 of "Mosaic XIII" exhibition book
Published in 2013 by KL Lifestyle Art Space
RM 26,000 – RM 38,000
This piece evokes a familiar feeling.It seems to be emanating warmth and noise that accompany a good time under the sun with friends in the past.
In his usual browns and energetic yet earthy tones he illustrates a group of villagers and friends bedecked in comfortable attire and barefoot and they are all occupied with the traditional game of gasing. Ismail's piece comes alive as if it has its own spirit, or perhaps it is Ismail's fondness for the East Coast that got manifested into something tangible. The colours used in Ismail's works are often described as being pleasant, steady and modest – something that resonates with the life and people in the countryside, someone like Ismail Mat Hussin himself as well.
Ismail Mat Hussin's mentor was renowned artist Khalil Ibrahim. Despite learning batik skills and the art of picturing human figures from him, Ismail Mat Hussin's work – especially the depiction of humans – is more realistic compared to Khalil Ibrahim's -like appearance. Ismail's painting's can be found in various galleries, a few being PETRONAS, Bank Negara, ESSO, Maybank and the National Art Gallery of Kuala Lumpur.