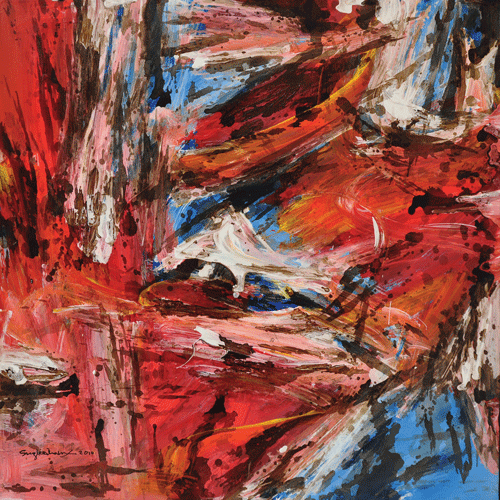 LOT 07
SUZLEE IBRAHIM
(B. Terengganu, 1967)
Ombak Monsoon VIX, 2009/10
Signed and dated "Suzlee Ibrahim 2010" on lower left
Signed, titled and dated on verso
Acrylic and oil on canvas
91 x 91 cm
Provenance
Private Collection, Kuala Lumpur
SOLD – RM 8,736

Suzlee Ibrahim's works can be likened to that of a riot – a riot of colours, movement and emotions. His Ombak series were his childhood memories of the seas around which he grew up in Kuala Terengganu. The brushwork here is thorough and it dances arbitrarily throughout the canvas, capturing the movement of every living thing – hence, the riot. The inspiration for this series came from the sound of the waves and their motion, and in this piece striking reds and yellows bedecked with hints of greens and blacks makes this piece the canvas version of the rough waves that Suzlee is so familiar with.
Spontaneous, uninhibited and free, the splashes and spatters of colours across the canvas became a style that Suzlee Ibrahim identifies himself with; as he has mentioned that he referred to Jackson Pollock, de Kooning and Franz Kline before finally reaching his ultimate style, as observed in this piece.
Suzlee Ibrahim studied at UiTM, Shah Alam and graduated in 1987. He majored in Fine Arts. Since then, he has been involved with the Persatuan Pelukis Malaysia, Angkatan Pelukis Semenanjung and the International Society of Assemblage and Collage Artists in USA. He has received a number of awards such as the "In Recognition of Outstanding Creative Excellence", Emaar International Art Symposium Dubai and International Honarary Artistic Committee Award in Greece.