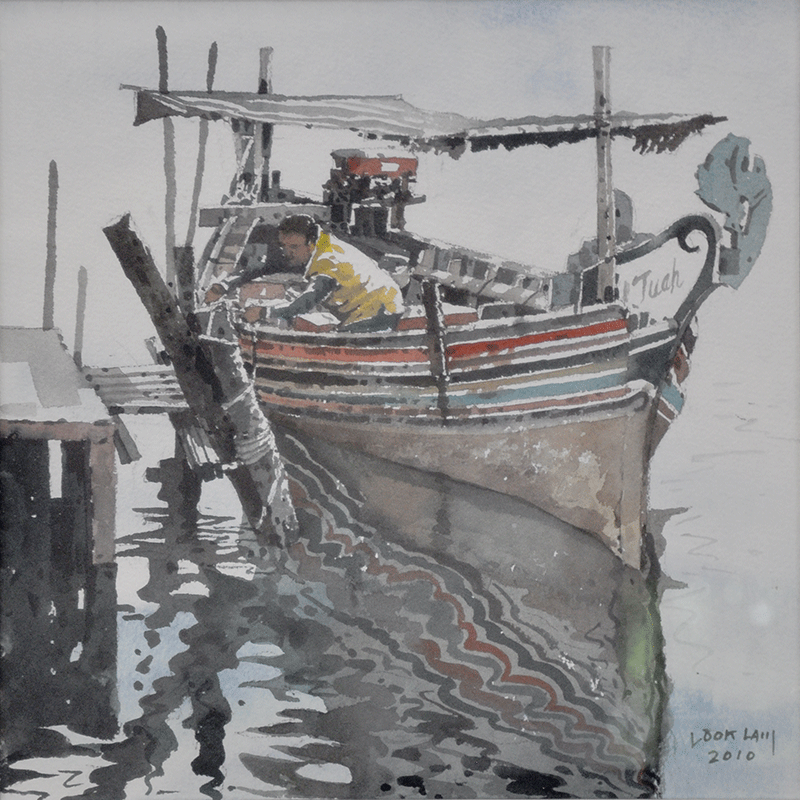 LOT 66
YONG LOOK LAM
(B. Selangor, 1962)
Fishing Boat, 2010
Signed and dated "LOOK LAM 2010" on lower right
Watercolour on paper
26 x 26 cm
Provenance
Private Collection, Kuala Lumpur
SOLD – RM 2,016
Known as the "Kampong Boy" of the art scene, the artist loves to create close interpretations of culture and the village community, and this time is no different. In his works, he normally explores Malaysian culture and traditions, usually through the depictions of fishing boats, rural life, local flora and fauna and other indigenous aesthetics. Among all that, Yong seems to have a special, unbreakable bond with fishing boats. To create such pieces, he escapes the urban lifestyle to a fishing village, to find the true Malaysian soul to put into painting.
Elegantly composed and designed in such a way that it makes the Malaysian rural lifestyle look even more charming, he keeps the watercolour tradition alive at the same time. Depicted here is a man mooring his boat, done elegantly in watercolour in a minimalistic yet effective manner.
Born in Klang in 1962, Yong Look Lam is a well established fine artist in Malaysia. He graduated in 1982 with a Diploma in Fine Art from the Kuala Lumpur College of Art and a year later he completed his Diploma in Watercolour. He is one of the founding members of the Malaysian Watercolour Organization where he has been involved in numerous exhibitions in around the world. He is the recipient of the Malaysian Watercolour Society Award in 1987 as well as the Pemandangan Malaysia Award in 1994.