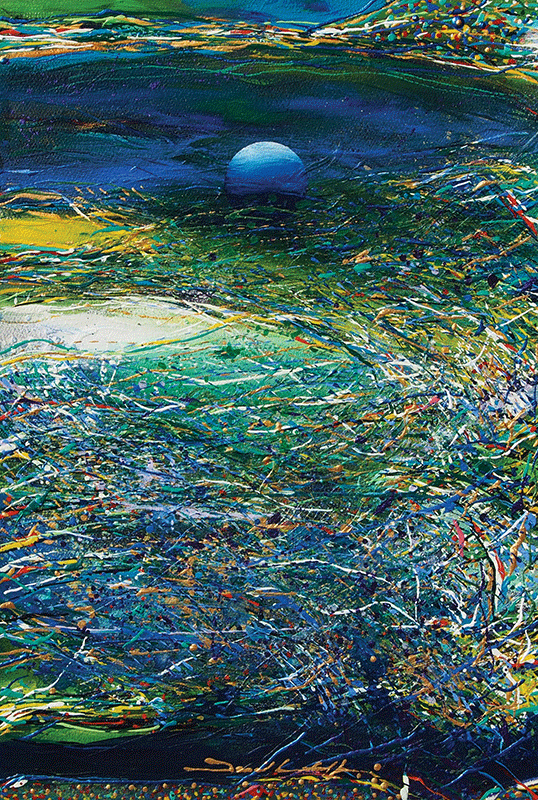 LOT 62
ISMAIL LATIFF
(B. Melaka, 1955)
Magical Landscape, 2002
Signed "Ismail Latiff" on lower middle
Acrylic on paper
56 x 38 cm
Provenance
Private Collection, Kuala Lumpur
SOLD – RM 9,296
Anybody familiar with Ismail Latiff's works may even describe him to be an artistic wizard, and by wielding a brush, he creates magic on canvas. The colours seen here are in a fantasy twirl, moving about here and there, floating and breezing through the canvas as if Ismail Latiff was showing the viewer a magic show, or opening a window to peer into his beautiful imagination.
His works are based on nature and solitude, some sort of paradise, as seen in this painting. He once mentioned, "I embarked on a conquest of inner space, texture and colour, bringing the beauty of the natural world indoor, which is transformed onto paper and canvas."
The bursts of vibrant colours and the exuberance with which they flow make it all the more like an experience than just a viewing, as it is heavily saturated with an aura of wonder.
Ismail Latiff is a Melaka-born artist who trained formally in arts at MARA Institute of Technology. His artworks of both the mystical and abstract kind are known locally and internationally. Having started off his career in advertising before switching to fine arts, his philosophy of life and work is "Art is Life and one of the best introduction to art is Nature."