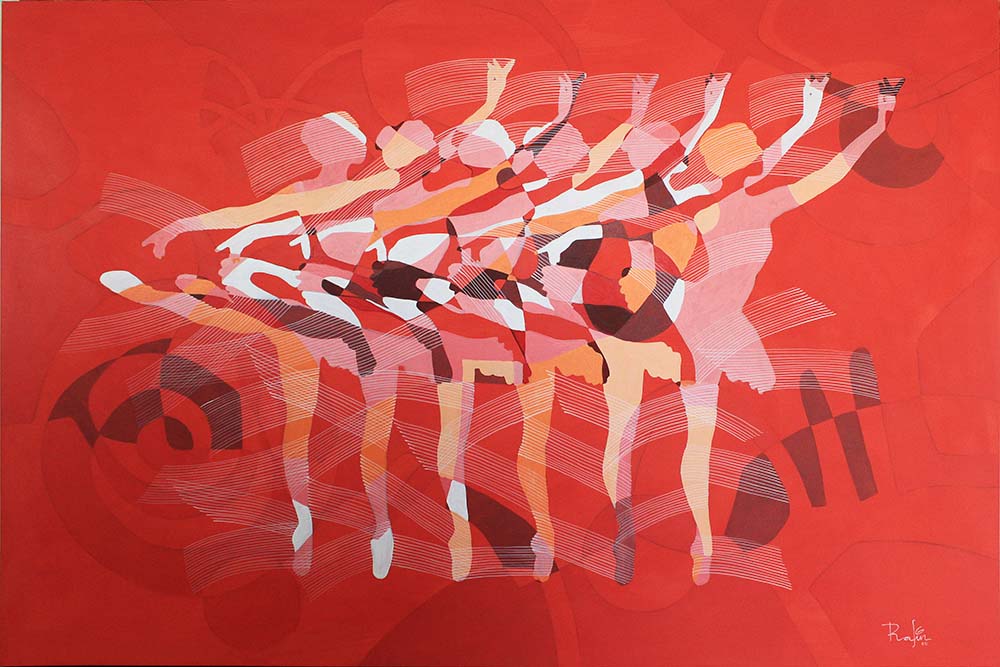 LOT 55
Nik Rafin 
B. Selangor, 1974
Ballerinas Series "Arabesque", 2016
Signed and dated "Rafin 416" on lower right
Acrylic on canvas
120 x 180 cm
Provenance Private Collection, Kuala Lumpur
RM 10,000 – RM 15,000
In ballet, the Arabesque is a term used for a posture in which the body is supported on one leg, with the other leg extended horizontally backwards. This is the exact movement and stance that Nik Rafin was mesmerised by and subsequently chose to pay homage to. A group of ballerinas are lined up, sporting the same bearing – a show of discipline and flexibility against a background of spellbinding red.
This piece is a flawless showcase of Nik Rafin's flair for details, design and illustrations – as not even the computer screen or sophisticated design software will outmaneuver looking at a real piece of art face-to-face, such as this one.
Nik Rafin studied Advanced Photography in the USA and pursued a Minor in Fine Arts at the Milwaukee Institute of Art and Design. He was an illustrator for Milwaukee's newspaper, The Marquette Tribune, before Walt Disney offered him a seven-year contract to work as a graphic designer and illustrator. However, he turned it down after his father insisted he return home and contribute to Malaysia instead. Nik captures his subjects through his camera lenses first before reinterpreting and reinventing them on canvas.