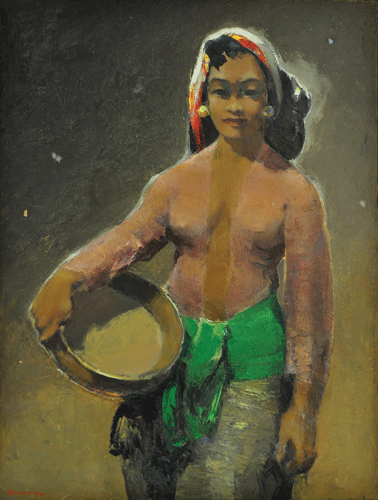 LOT 54
GERARD PIETER ADOLFS
(B. Netherlands, 1897-1968)
A Flower of Madura, 1953
Signed "Adolfs" on lower left
Signed, titled and dated "Adolfs 53 54 59 Kembang
Madoura A Flower of Madura" on verso
Oil on canvas
80 x 60 cm
Provenance
Private Collection, Kuala Lumpur
Sotheby's France and Sotheby's Singapore labels affixed to the back of frame
SOLD – RM 16,800

Amongst those who have brought drawings and paintings from the Dutch East Indies , G.P. Adolfs stands out on account of the striking frankness of his style. These are not the aperçus of a typical Dutch painter seeking to achieve atmosphere and tone at all costs; but neither is there any forced exoticism in the style.
He knows how to inform us directly and spontaneously of the atmosphere of a particular location – both in his paintings and in his sketches and water-colours. He tells us about the special mixture of the intimate and the fantastic in an old quarter of Surabaya and about the phantasmagorical might of a tall temple gate topped with a monstrous idol; he tells us about the epic quality of the lakes with proa boats sailing on them; and about the graceful indolence of local people leaning against broken walls.
He has the unpretentiousness of true inspiration, and some of his compositions – the one with the temple gates and the one with the well – convey a strong and strange enchantment to the observer. —De Telegraaf, De Telegraaf, Amsterdam, 2 June 1929
Dubbed the "Wizard of Light", Adolfs was born in Semarang, Central Java. He studied architecture in Amsterdam and went back to Java after graduating, where he started to design houses in Yogyakarta, Solo and Surabaya. The main subjects of his work were scenes of Java, Bali, Japan and North Africa.