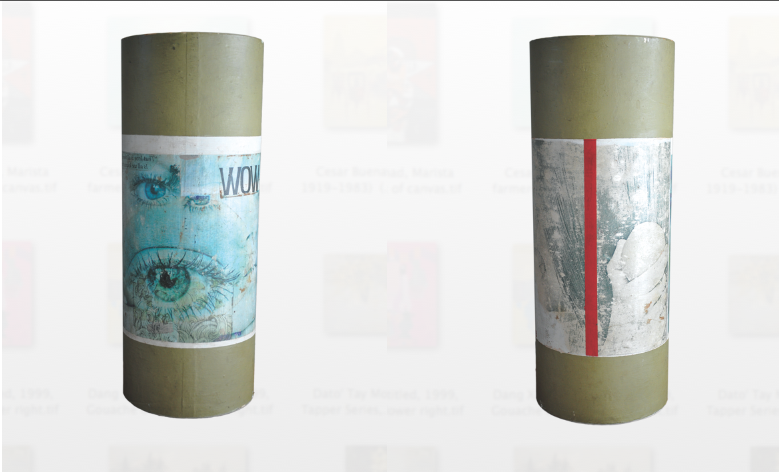 LOT 45
IBRAHIM HUSSEIN, DATUK
B. Kedah, 1936-2009
Untitled, Undated
Montage
14 cm (Diameter) 36.5 cm (Height)
Provenance Private Collection, Kuala Lumpur
RM 12,000 – RM 18,000

"Futuristic, and it is through a distinctive ordering of lines that he expresses differing complexities of form and dimensions." Chu-Li, art analyst.
Datuk Ibrahim Hussein (or more affectionately known as Ib) was famous for his own devised medium, one that he called "printage", which was a combination of printing and collage. His art pieces revolve around his life, humanity, personalities and events that he spins into a tale, resulting into a unique vision of a masterpiece. He once mentioned that his life was made
of points, textures, colours, shapes, darkness and light, mass, weight, planes, volumes, sounds, smells and warmth – all of which are expressed in his work.
Ib was born in Sungai Limau, Kedah, in 1936. He studied at the Nanyang Academy of Fine Arts in Singapore in 1956 and then moved to London, where he continued his studies at the Byam Shaw School of Art and the Royal Academy Schools. He travelled to France and Italy after being awarded an Award of Merit scholarship. He also founded the Ibrahim Hussein Museum and Cultural Foundation in the Langkawi rainforest, which is a non-profit foundation and museum committed to promoting,
developing and advancing art and culture.