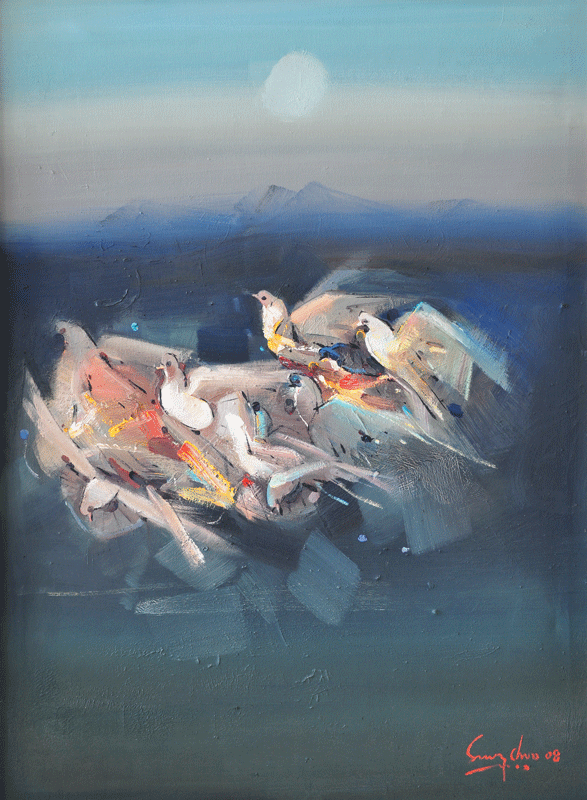 LOT 40
KENG SENG CHOO
(B. Kedah, 1945)
Doves Nesting, 2008
Signed "Seng Choo 08" on lower right
Oil on canvas
75 x 55 cm
Provenance
Private Collection, Kuala Lumpur
SOLD – RM 6,160
Keng Seng Choo is noted for his paintings that seem to exude a glow and quiet radiance. It is not demanding nor is it invasive, but it attracts attention nonetheless. The canvas is smooth and seamless, the colours softly flowing into each other, creating a cool, calm atmosphere.
Illustrated here are a group of doves nesting, although the painting gave the illusion of birds in flight due to Keng Seng Choo's expert blending and mixing of colours. It comes off as romantic and lyrical, and the artist captures beautifully the serenity that comes with doves, which happen to be the symbol of purity and peace. The moon looks on behind, providing a little bit of mystery to the already gentle piece.
Born in Kedah in 1945, Keng Seng Choo was educated at the Nanyang Academy of Fine Arts in Singapore. He participated in various art exhibitions in Malaysia and Singapore and was also the recipient for the silver medal at The New York International Art Show and the first prize at Pastel in Malaysia competition in 1988.