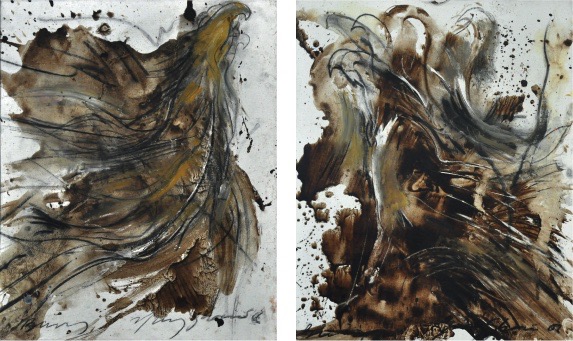 LOT 4
YUSOF GHANI
B. Johor, 1950
Biring Series, 2006
Signed, titled and dated "Biring Yusof Ghani 06" on lower edge of each
Mixed media on canvas
59 x 48 cm x 2 pieces
Provenance
Private Collection, Kuala Lumpur
RM 14,000 – RM 20,000

In a flurry of earthy colours, Yusof Ghani portrays another haunting painting of cockfights. It is disordered, aggressive and he expresses this extraordinarily well with harsh brushstrokes, demonstrating the tension, chaos and hostility of this act as the roosters fight valiantly for their lives.
The artist manages to create motion in this scene, as the audience can imagine feathers and wings beating around in fast motion. Biring departs from Yusof Ghani's paintings of masks, forms and nature as he concentrates on cockfighting, using it as a symbol of courage and conflict among Man.
Former graphic artist-turned-painter, sculptor, writer, professor and curator Yusof Ghani's career has spanned over three decades which resulted into a diverse series that deals with Southeast Asian motifs with an Abstract Expressionist approach. Born in 1950 in Johor, his works blend painting and drawing into a visual entity with controlled play of sculptural and collage elements. Currently, his mature works deals with contemporary issues concerning Malaysian society such as social issues regarding famine and injustice, the nation's history, distortions of Asian motifs and depiction of visual energy. His works are currently exhibited at public collections in the USA, Singapore, Malaysia, and Japan, while he has also done group and solo shows in Indonesia, China, Spain, India, Iraq, and the U.K, among others.