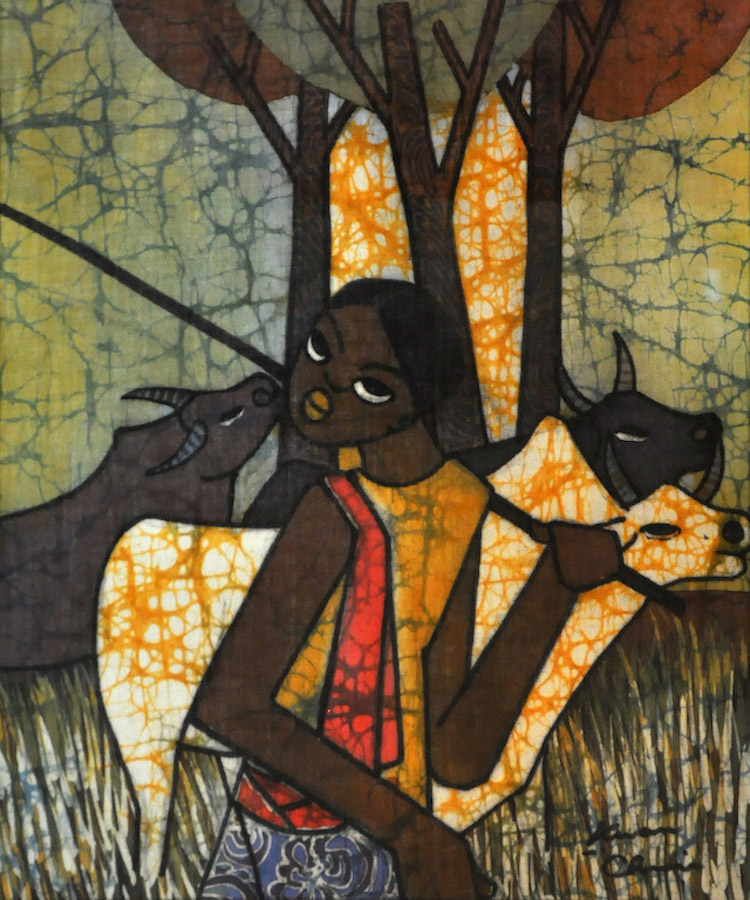 LOT 24
KWAN CHIN
B. Kuala Lumpur, 1946
Shepherd Boy, 2011
Signed "Kwan Chin" on lower right
Batik
45 x 54 cm
Provenance
Private Collection, Kuala Lumpur
SOLD
RM 3,156.16

There is something very charming and likeable about this piece. It is friendly, comforting and it captures innocence eloquently.
Illustrated here is a young shepherd boy, rounded features a la Kwan Chin with a patterned sarong material around draping over his lower half. He is surrounded by nature, and behind him are a herd of cows out grazing in the fields. This piece puts a smile on the viewer's face as they gaze upon this longer, from the amiable boy to the endearing cattle behind him. This is the personification of the countryside gems – its people, its animals and its nature.
Born in Kepong, Kuala Lumpur in 1946, Kwan Chin attended the Nanyang Academy of Fine Art in Singapore during which he learned how to use traditional art materials. Shortly thereafter, he delved into the world of advertising but once he was introduced to batik, it instantly changed his career path. His batik pieces are rich in colour and his work is known around the world, having been exhibited in London and Miami.