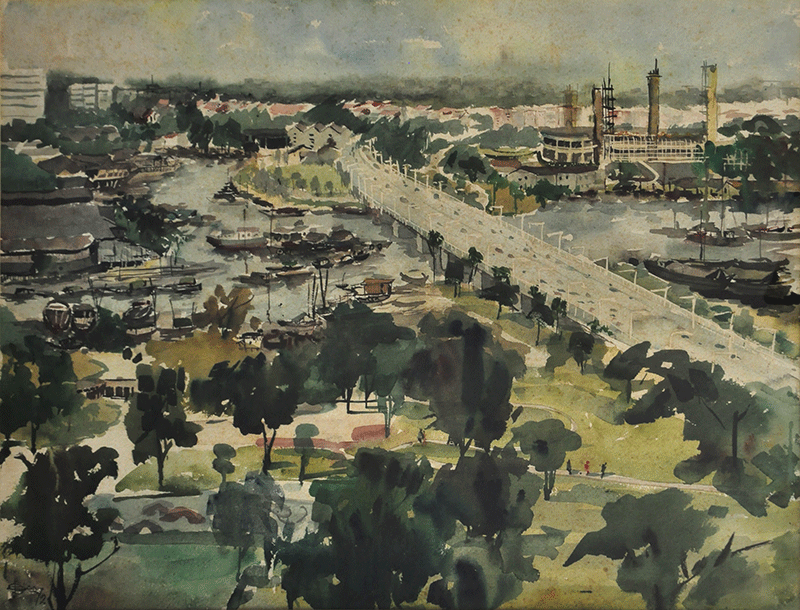 LOT 18
LEE CHOON KEE
(B. Singapore, 1944)
Singapore Causeway, 1972
Signed and dated on lower left
Watercolour on paper
51.5 x 75 cm
Provenance
Private Collection, Kuala Lumpur
AVAILABLE – RM 10,000 – RM 16,000
Lee Choon Kee's work displays the artist's personal preference and emphasis on on-the-spot painting. His style captures the details of the scene in front of the artist, drawing us into the mood and feel of the very subject, largely through the use of freehanded strokes and play of colors. While watercolor as a medium is easy to pick up, it is difficult to master – requiring perseverance to reach a level of perfection in the artist's skills, knowledge and expression.
Through his daily travels and painting adventures overseas, Lee Choon Kee has developed his unique, unrestrained and expressive style of portraying landscapes. His dedication towards seeking one-of-a-kind sceneries has seen him spend months on end on overseas painting expeditions, including a 2-month stint around USA on a bicycle. Lee Choon Kee's paintings are truly one of a kind, first-hand from the artist's interpretation. In his later work, Lee Choon Kee employs a simplified approach towards his painting style making the landscape come alive in dramatic forms.
He is one of the founding members of the Singpaore Watercolour Society. His passion also led him to be part of the founding members of the Nanyang Academy of Fine Arts Alumni Association. As the Honorary member of the Old Watercolour Society Club (UK), Australia Branch, his works reflects his experiences in the use of the medium. He is also a member of the China Association (Yang Zhou) and the member of Hanzou Watercolour Association (China).