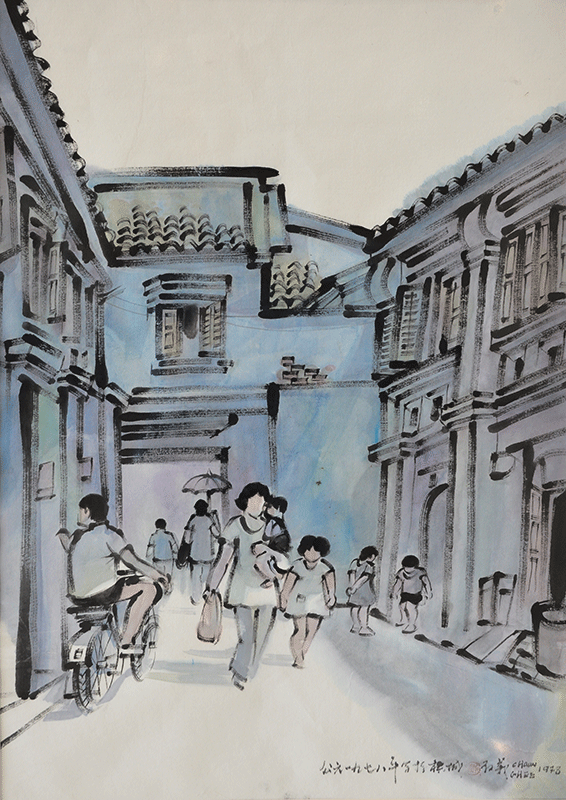 LOT 16
TAN CHOON GHEE
(B. Penang, 1930-2010)
Cannon Street, Penang, 1978
Signed and inscribed in Chinese
"1978 Cannon Street, Penang"
with seal on lower right
Chinese ink and watercolour on paper
67.5 x 44 cm
Provenance
Private Collection, Kuala Lumpur
SOLD – RM 7,950

Tan Choon Ghee has always been inspired by and passionate about the streets of old Penang – its buildings, the shops, trishaws and the like.
Infusing the British watercolour approach with the Chinese classical paintings' calligraphic brushstrokes, Tan Choon Ghee's resulting artpieces are well-regarded, coveted and imitated by many. Adorned with striking and lovely colours that showcase the Chinese temple's architecture and its vibrancy, the faint mist-like glow to it gives the entire composition a nostalgic ambiance.
Tan Choon Ghee was considered one of the most established Malaysian artist. He obtained his training in art from the Nanyang Academy of Fine Arts in Singapore in 1951, before continuing to his studies at the Slade School of Art in the United Kingdom in 1958, where he was awarded scholarships from the West Germany Government and Australian Broadcasting Commission.