LIGHT FOR YOUR SKIN
All You Need to Know About LED Light Therapy
BY HIRANMAYII AWLI MOHANAN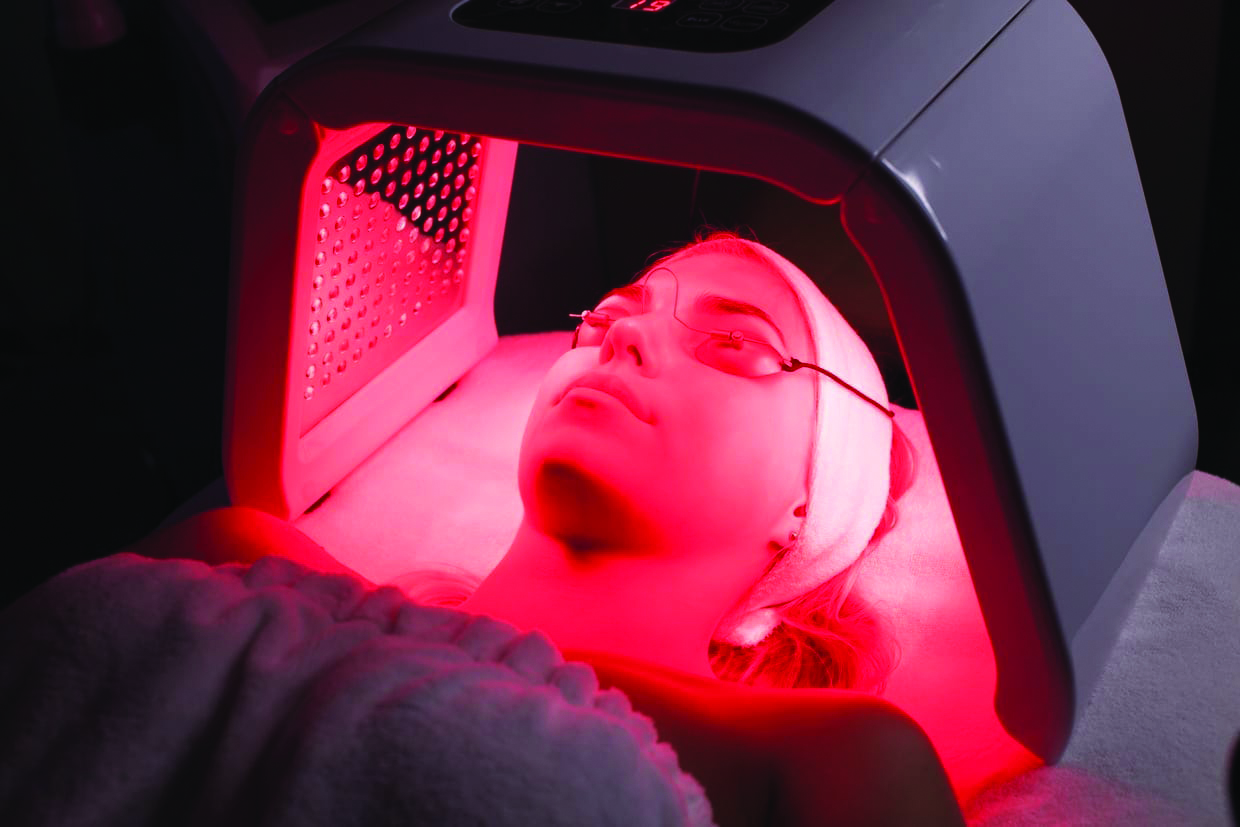 Sweared by the Kardashians and Kate Moss, LED light therapy is getting all the buzz for its promise (and results) in fighting against acne and the signs of ageing. What was once confined to the four walls of beauty and aesthetic centres have now made its way to the mainstream market, with several industry heavyweights offering LED face masks that one can use at home with performative results.
WHAT IS LED LIGHT THERAPY?
An abbreviation of light-emitting diode, LED works by emitting infrared lights (causing heat) in different wavelengths or spectrums, which results in varied skincare benefits. The amber light stimulates collagen and elastin while red light is commonly used to promote blood circulation. White light penetrates the deepest and works to tighten and reduce inflammation while blue light kills bacteria.
# WHAT DOES IT DO FOR YOUR SKIN?
Numerous research have proven that LED face masks have the ability to effectively target and treat a multitude of skin concerns. It is particularly successful in boosting collagen production and management of mild to moderate acne. One study has even discovered that green light therapy shows promise when it comes to fading melasma and hyperpigmentation — conditions that are famously tricky to tackle. According to renowned dermatologist Dr. Dennis Gross, the benefits of LED light therapy are plentiful and include treating acne, regulating natural oil production, stimulating collagen and elastin, and minimising redness and wrinkles. Certain wavelengths have even been shown to reduce dark spots and uneven skin tone.
# AT HOME VS IN SITU LED LIGHT THERAPY

With at-home LED devices becoming more and more accessible, treating the aforementioned skin problems can be done on your own. While at-home LED devices are easier and always available (you don't need to book any appointments), the intensity of the treatment isn't the same as going to a facialist. These devices are usually a fraction of the in-office cost and can be beneficial in adding incremental benefits to your existing treatment. For first- time users, insitu treatments are always recommended as those take the complication out of using a device. You don't have to do much except lie there. The treatment is pretty much painless, and the colours can be quite relaxing. Eye protection is also placed to protect your eyes and the treatment will last for about 15 to 20 minutes. You might experience some warmth at first but don't worry, it doesn't cause any burns or skin damage.
WHAT LED COLOUR SUITS YOUR SKIN'S NEEDS?
RED
The majority of at-home LED masks offer a red light setting. At the lighter end of the spectrum, red light works to soothe inflammation and redness, while deeper shades penetrate the skin further to prompt cellular repair and circulation, resulting in a plumper, more vibrant complexion.
BLUE
This antibacterial light is used to kill the bacteria that causes breakouts, making it ideal for treating acne-prone skin. Blue light also helps purify the skin and regulate the oil glands. It's commonly combined with red light in at-home devices, and can often be found in targeted pens, which are ideal for bringing down breakouts.
AMBER
Less common in at-home devices, this colour works to revitalise the skin, reducing any swelling and increasing radiance.
INFRARED
Invisible to the naked eye, this light penetrates deeper than any other colour in the spectrum. It combats the signs of ageing by replenishing the dermal and epidermal cells, stimulates the natural production of collagen and elastin, and speeds up the recovery process. You'll find near-infrared light in the most advanced at-home LED masks.