Jing Ze Contemporary Asian Restaurant
Culture on Every Plate
By Jacqueline Benita Paul
---
At 30, Chef Nicholas Scorpion has travelled and worked in over nine cities, done jail time for preferring to cook than go through national service, worked in a Michelin-star restaurant, and today he runs his eponymous restaurant in Seksyen 17, Petaling Jaya. He is also in the midst of opening a slightly more minimalistic version of the establishment in Bali. What does the young Singaporean have to offer to Malaysia's culinary scene? We ventured to Jing Ze Contemporary Asian Restaurant to find out.
The interior featured rustic furnishings with wicker accents and live greenery. There are two levels to dine in with a private room upstairs available with prior booking to celebrate your special moments in an intimate space. Chef Nick aims to transform the open kitchen upstairs into a pastry kitchen where his guests can enjoy dessert degustation as an extension of the Jing Ze experience.
With a seat at the Chef's Table, we knew we picked the right spot to understand Chef Nick's unorthodox culinary approach. Our seats gave us the
view of the open kitchen with Chef Nick and Chef Kelvin (junior sous chef) preparing our meal right in front of us. We started off with the Lo Mai Kai Wings, which takes a playful yet brilliantly creative approach to a local favourite by reverse engineering the Lo Mai Kai cooking process. A boned chicken wing deep-friend in breadcrumbs has with fermented pork sausage filling and served with a curry-flavoured sauce to tentalise the tastebuds. Up next was a Filipino-inspired Pork Chicharon, deep-fried pork skin, which seamlessly crumbled in our mouths, bursting with flavour.
The next dish might look simple but the ingredients indicted otherwise. The Chicken Liver Mousse was served with housemade sourdough. The chicken liver was frozen, then grated which gave it a unique airy texture accentuated by the Szechuan oil and locally-sourced mulberry. That's right, Malaysia does have its very own mulberry farm in Pahang. Having Chef Nick and Chef Kelvin gleefully share the story of how they discovered Little Farm on the Hill was priceless. Which is what the Chef Table is mostly about from what I've gathered so far. Creating connections that go beyond food, connecting with cultures and people filled with passion.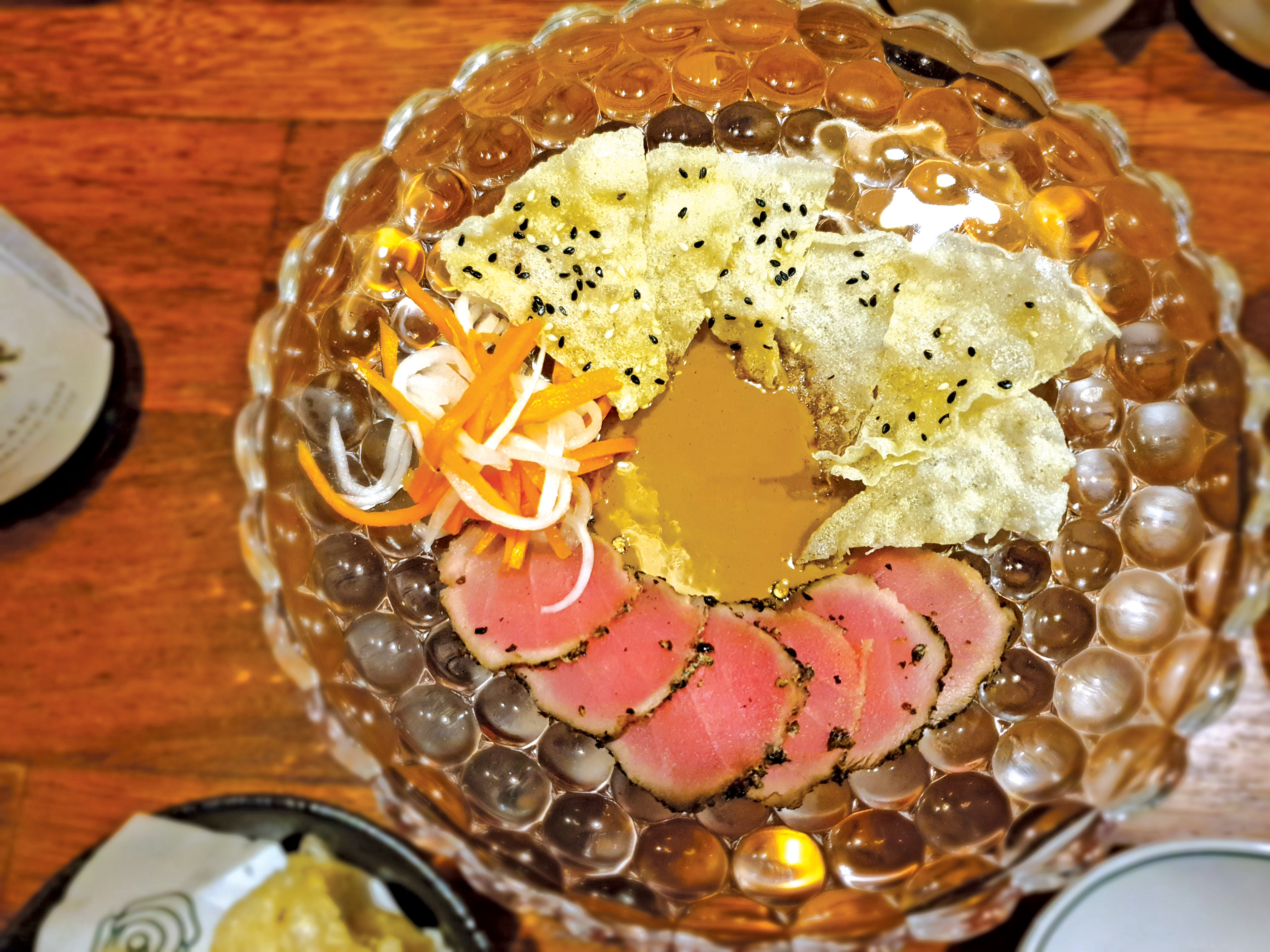 Seared Tuna crusted with pepper served with horseradish cream to add an exciting new way of enjoying wasabi flavours eschew the fear of having too much. For small appetites, the Crispy PorkBelly Bossam is an apt choice. A Korean-inspired dish to be devoured in asam style. First, put the lettuce in your palm and layer with the fresh herbs, then place the pork belly, kimchi, sauce and enjoy it in one bite. We also recommend the Bunga Kantan Seabass, a Balinese-inspired dish served with wing bean salad and doused in Menega Bakar glaze and Kecombrang sauce.
We were pretty glad to end the year with Jing Ze's culinary offerings. We got to taste so many parts of Southeast Asia without leaving Petaling Jaya. The vibe of the restaurant is cozy and inviting so you don't have to worry about dressing up for the occasion. When evening fell, as we savoured each drop of the tipples (Coconut Espresso Martini and Smokey Old Bastard), we realised we had uncovered more than we bargained for given how close Jing Ze is to our office. So, don't be surprised to catch us there stuffing our faces.
Address: Jing Ze Contemporary Asian Restaurant (*Non-Halal *Southeast Asian Cuisine)
No.22A Ground & Mezzanine Floors, Jalan 17/54, Section 17, 46400
Petaling Jaya, Selangor
Tel: 03-7931 4801