AMES HOTEL
Urban Retreat of Comfort and Class
BY HIRANMAYII AWLI MOHANAN
Departing from the hubbub of central Melaka, AMES Hotel swept us into a whirlwind of lush hospitality and splendour from the get-go. Just minutes away from the Ayer Keroh toll, the hotel sits comfortably within an attraction-filled township. Greeting us at the lobby were friendly faces, welcome drinks and sleek aesthetics. The architecture here boasts a juxtaposition of contemporary and classic elegance — staying true to its owner's vision. Gold hues, intriguing prints and marble fittings are seen throughout the space, from the lobby to its restaurants and rooms.
• DINING OPTIONS
A grumble shall never befall the stomachs of guests while at AMES Hotel. Choose from three varying gastronomic experiences at the Laze Lounge, The Munch and Moonbar. The first is a casual space to take a break and relax in between meals. Seek relish through their beautifully-crafted Hi Tea featuring sweet treats such as madeleines, creme brulee and scones to name a few. Alternatively, do like the locals and indulge in the Peranakan & English Set which sees delights including Nyonya pie tee, udang goreng assam, inchi kabin and sausage and corn quiche. The Munch (wittily named) is the hotel's all-day dining spot, serving a cornucopia of international and local cuisines. Saunter in to The Munch during weekends for the 'Lepak' High Tea Buffet and allow the esteemed chefs to tantalise your palate.
• UNPARALLELED ROOMS
AMES Hotel's 298 spacious guestrooms and suites boast verdant views of the township. Ascend through the lifts to live the high life at this hotel. The cool-toned contemporary-chic interior of each room is bathed in natural light and complemented by modern facilities. The heart of the rooms are evidently the beds and AMES boasts mammoth-sized, alluring and plush beds and pillows, taking comfort a notch higher. The lavishly- designed and equipped bathrooms are worthy of a spot in Architectural Digest, offering a large walk-in glass shower with Carrera marble vanity top and exclusive AMES toiletries. Rooms are sophisticated, whether it is a 31 sqm deluxe room or soon to be released club rooms that you choose for your pied-à-terre.
• DISCOVERING MELAKA
When you finally pry away from the cosy rooms, Melaka awaits discovery. Play tourist and make your way first to the Melaka Zoo and Night Safari, Melaka Bird Park, Crocodile and Reptile Park and Bee Museum and Melaka International Trade Centre that are located within the township. Then, merely 20 minutes away, proceed to the heart of the city, where UNESCO heritage site jogs your memory of history, culture and everything in between.
Ames Hotel, Jalan Pkak 2, Pusat Komersial, 75450 Ayer Keroh, Melaka
Tel: +606-318 3999
---
THE CHATEAU SPA AND ORGANIC WELLNESS RESORT
C'est La Vie
BY HIRANMAYII AWLI MOHANAN
A scenic drive it was, discovering the terrain leading up to Bukit Tinggi – surrounded by lush foliage on either side and majestic hills. Erected among sloping hills and nestled amid a tropical rainforest, The Chateau Spa and Organic Wellness Resort is a slice of heaven, boasting impeccable service, award-winning spa treatments and sumptuous dining – all slanted towards health and wellness. This resort delivers a taste of France with its hallowed facade, taking inspiration from the 18th century Haut Koenigsbourg castle in Alsace.
• STYLISH ROOMS
Opulence is the constant theme, seen within the 180 elegant varieties of rooms offered at this resort. Each room brags its own disposition, decorated in neutral, organic theme and European-inspired fittings – a lush space to seek refuge in. The Jacuzzi suite is tastefully designed and opens up to a generous terrace with a private outdoor jacuzzi to stimulate the journey of relaxation. Meanwhile, much needed slumber is induced by the magnificent organic bed, soft cotton pillows and plush linens. Come morning, be awakened by the alarm set by mother nature – the soft streaks of light streaming through the windows, birdsong and rustles of leaves.
• WELLNESS
Supplement the wellness retreat by partaking in a therapeutic morning awakening yoga, which guides you through Pranayama, Surya Namaskar and other asanas. Subsequently, embark on a fitness walk to the Japanese village and discover the myriad of flora and fauna, exclusive to the highlands. Alternatively, one can saddle up and go horseback riding along a hilly trail and bear witness to the beauty of mother earth.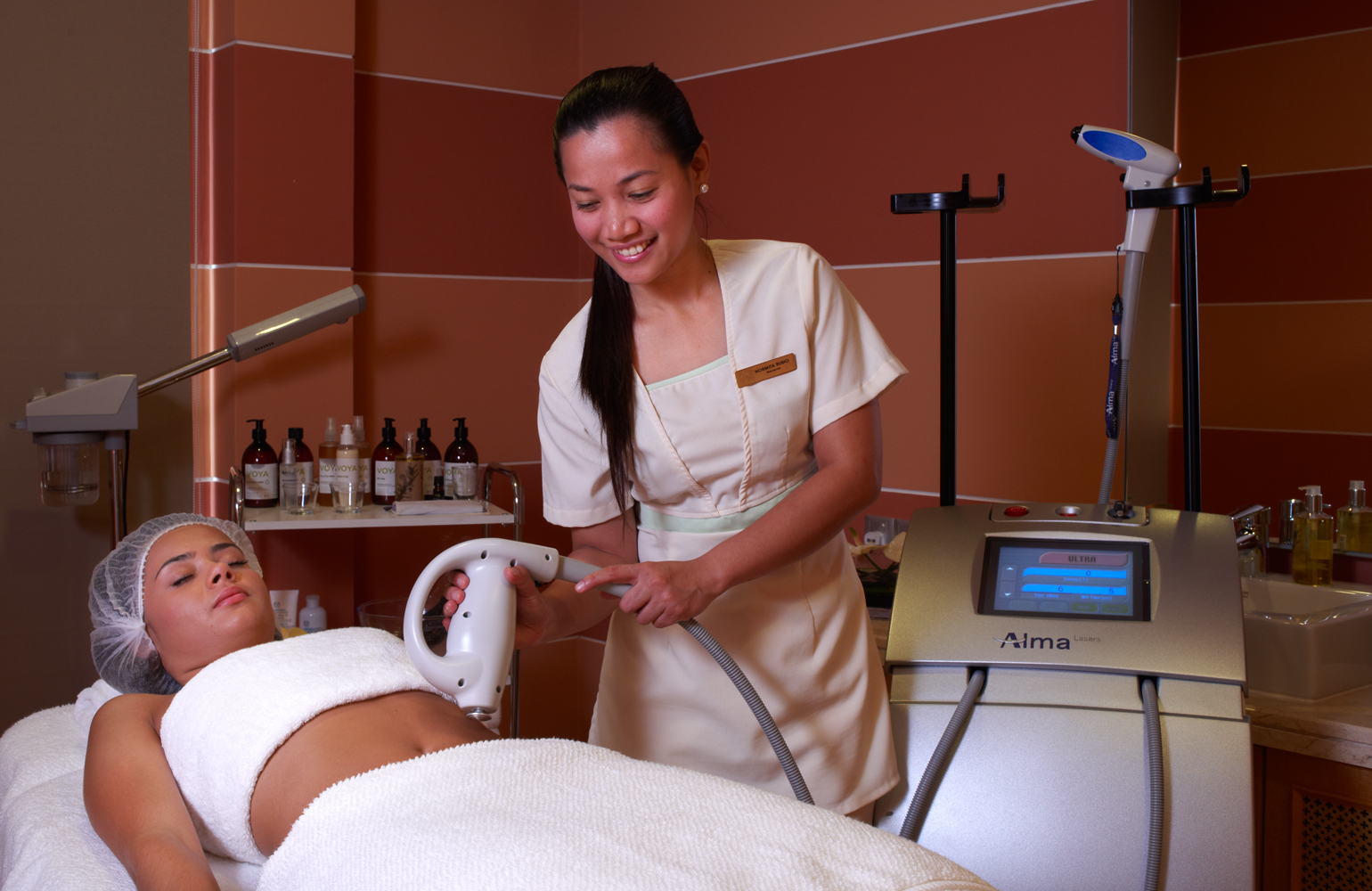 • LA SANTÉ SPA
Be pampered in the seven-star, award-winning facility and The Chateau's crowning jewel, La Santé Organic Wellness Spa — the first of its kind to embody a European concept in Asia. Immerse in a passage of rejuvenation and relaxation in a cosy ambience with an array of impressive treatments including an Herbal Bath in a European heated chamber infused with rosemary, chamomile or lavender, or La Santé Signature massage — a distinct combination of Swedish and Shiatsu massages to improve circulation and reduce muscle tension. The marriage of European spa expertise, warm Asian hospitality and skilled spa specialists bears fruition to unrivalled bespoke treatments, focused on one's wellbeing.
• DINING THE FRENCH WAY
La Vie
"La Vie en Rose dans Chateau." Mornings at the Chateau encapsulates you in nature – from the chirps of the birds, bees and butterflies buzzing to the mist passing by. Bask in this serene ambience while indulging (guilt-free) at the Chateau's resident all-day dining restaurant, La Vie where its culinary offerings are healthy and organic with its outstanding feature being its beautiful salt water pool.
L'asiette
L'asiette is a vision of lavishness – from cascading crystal chandeliers to plush furniture, guests are brought along on a gastronomic voyage through quintessential French fine dining. Personifying the resort's wellness concept, the degustation menu here is skewed to offer guests a wholesome, organic experience.
The Chateau Spa and Organic Wellness Resort, KM48, Persimpangan Bertingkat, Lebuhraya Karak, Bukit Tinggi, 28750 Karak, Pahang.
Tel: 09-221 3888