ARTE BY THOMAS CHAN
Parisian Allure in the Heart of Mont Kiara
BY HIRANMAYII AWLI MOHANAN
Care for a Parisian getaway without having to leave the city? Arte by Thomas Chan checks the ideals of a romantic French getaway and brings it to life. From meticulously handcrafted Baroque-inspired columns, poetic hand-painted frescos and exceptional artistic finesse, Arte by Thomas Chan is a tribute to the French opulence, warmth and joy of life. As the tallest hotel in the international, cosmopolitan enclave of Mont Kiara, Arte by Thomas Chan connects you to a plethora of foreign experiences, premium shopping outlets, newest restaurants, exciting nightlife and key locations such as the Malaysian International Trade and Exhibition Centre (MITEC —the largest exhibition centre in Southeast Asia, perfect for both business and convention travellers).
Where old world splendour meets new world creativity and innovation, Arte By Thomas Chan offers classic French luxury refined for the modern tastes of business, leisure and family travellers alike. Featuring artistically-inspired rooms and suites, a 24-hour fitness facility and a luxurious infinity pool. This distinct hotel offers 74 rooms and suites you'll never want to leave, especially with its stunning views of the Kuala Lumpur skyline from the tallest hotel in Mont Kiara. Immerse yourself in the distinct feel of the renaissance as you stretch out on your pillow-top king bed, entertain in your living room, lounge on the velvet sofas or soak in the oversized tub to the elegant Baroque, Palatial and Parisian-inspired interiors.
Dining
The opulence and aesthetic continues at the Art 66 Bar. Be mesmerised by the embellished hand-crafted Baroque-styled columns and hand-painted fresco ceilings at the tallest bar in Mont Kiara. At Arte 66, be greeted by the stunning views of the Kuala Lumpur city skyline as you order your morning espresso, a relaxing cup of afternoon tea or a signature glass of Arte's premium cocktail. Whatever you desire, the barista-cum-bartender is always at your service. When staying in a French-inspired hotel, it is expected that the dining experience would be an immersive, French flair in modern, Rococo-styled contemporary dining restaurant — Arte 66 Restaurant. Embrace the premium French cuisine and hearty classics delivered with robust and vibrant flavours. Felicia's Lounge or the exclusive La Salon Lounge is for thoughtful reflections and intimate afternoon teas inspired by the ornate French-styled cathedral windows and high ceilings of Notre Dtame. The lounge was lovingly crafted and named after the fair Lady Felicia, the love and life of the architect.
Fitness Centre
Keep to your fitness goals at the hotel's state of the art and fully equipped Palestra gym complete with weights and treadmills. Check on your progress against black marble and be awed by the Kuala Lumpur city skyline through the floor-to-ceiling windows.
Rooftop Infinity Pool
Step through the vines of the rooftop garden to the exclusive Les Belles Piscine, an outdoor infinity pool to the stunning panoramic views. Dive in, unfurl and unwind in the shimmering water or enjoy the sun and relax peacefully on Arte by Thomas Chan's very own sun loungers 59 floors above ground. The rooftop infinity pool is reserved exclusively for guests.
Arte by Thomas Chan, Level 66, Tower 2, Jalan Sultan Haji Ahmad Shah, Mont Kiara, 50480 Kuala Lumpur.
Tel: +603 6211 4888
---
M RESORT AND HOTEL
Your Home Away From Home
BY HIRANMAYII AWLI MOHANAN
M Resort and Hotel Kuala Lumpur is a luxurious oasis in the heart of the bustling city. With its sleek, modern design and top-notch amenities, this hotel is the perfect choice for travellers looking for a comfortable and sophisticated stay in the capital of Malaysia.
Upon arriving at the hotel, guests are greeted with a grand and modern lobby that sets the tone for the rest of the hotel's elegant design. The hotel's guest rooms and suites are spacious and elegantly decorated, with floor-to-ceiling windows that offer stunning a city view. Each room is equipped with modern amenities such as a flat-screen TV, high-speed internet, and a comfortable bed with plush bedding. The bathrooms are also well-appointed, featuring a separate shower and bathtub, as well as high-end toiletries.
One of the hotel's standout features is its outdoor swimming pool and terrace area. The pool is the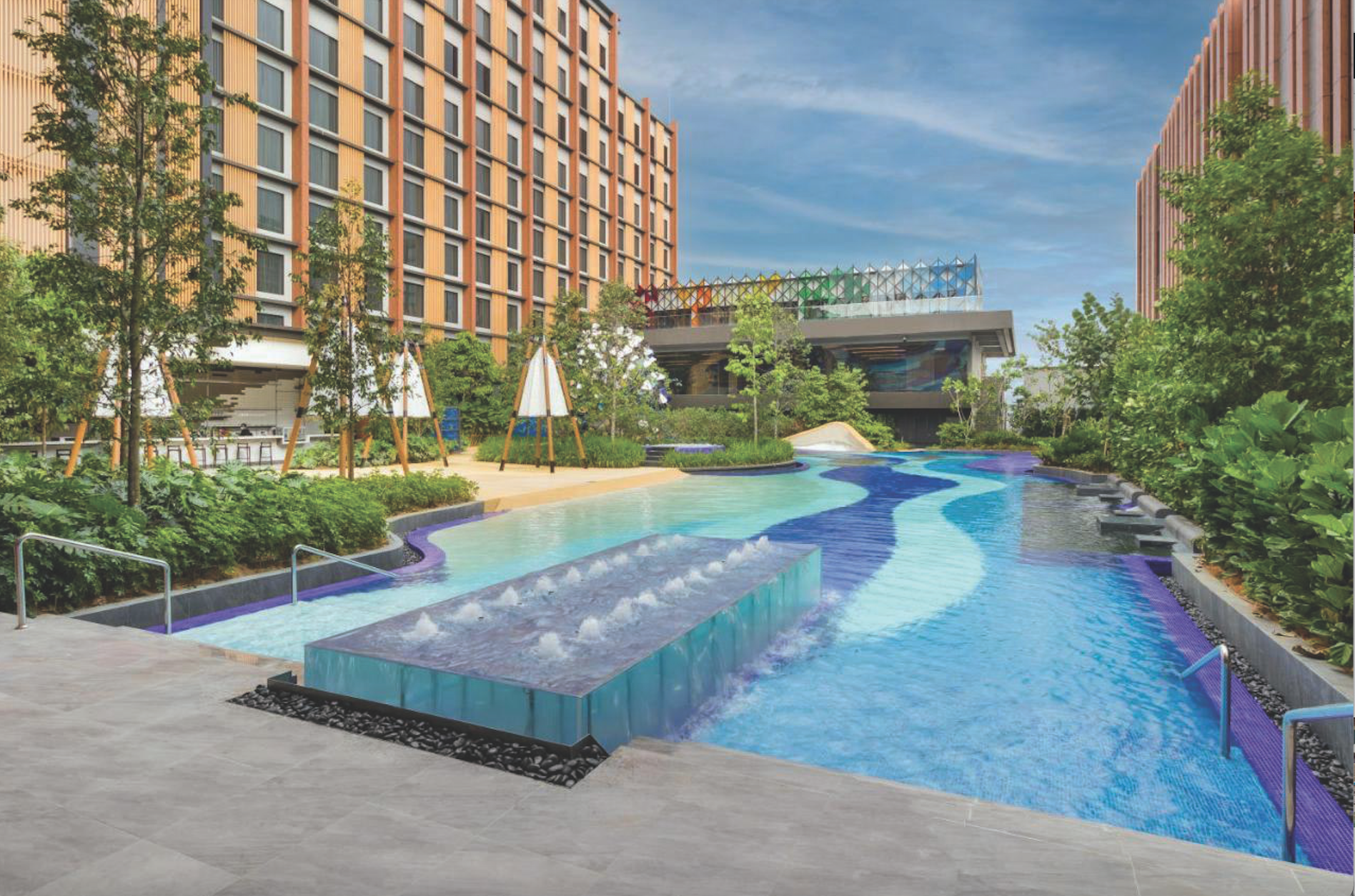 perfect place to relax and soak up the sun, and it offers a great view of the city skyline. The terrace area is also a great spot for enjoying a cocktail or a meal, as it features a variety of seating options and a bar for some sundowners. Guests who would want to keep up with their workout routine would appreciate the fitness centre that is open 24/7. It is well-equipped with a variety of cardio and weight-training equipment.
For those traveling on business, the hotel offers a variety of meeting and conference rooms, as well as a business centre. The hotel's event spaces are equipped with modern technology and are suitable for a wide range of events, from small meetings to large conferences.
The hotel's location is also great, as it is located within walking distance of many of Kuala Lumpur's top attractions. The hotel is also close to a variety of shopping and dining options, making it easy for guests to explore the city.
In conclusion, M Resort and Hotel Kuala Lumpur is a fantastic choice for travellers looking for luxury and comfort in the heart of the city. From the well-appointed guest rooms to the outdoor pool and terrace area, this hotel offers guests a wide range of amenities and services to make their stay as comfortable as possible. Whether you're traveling on business or leisure, this hotel is sure to exceed your expectations.
M Resort and Hotel, No.1, Jln KGPA, Bukit Kiara, 60000 Kuala Lumpur.
Tel: +603-7932 6582