Good Blue Men
The Perfect Infusion
By Agnes Aui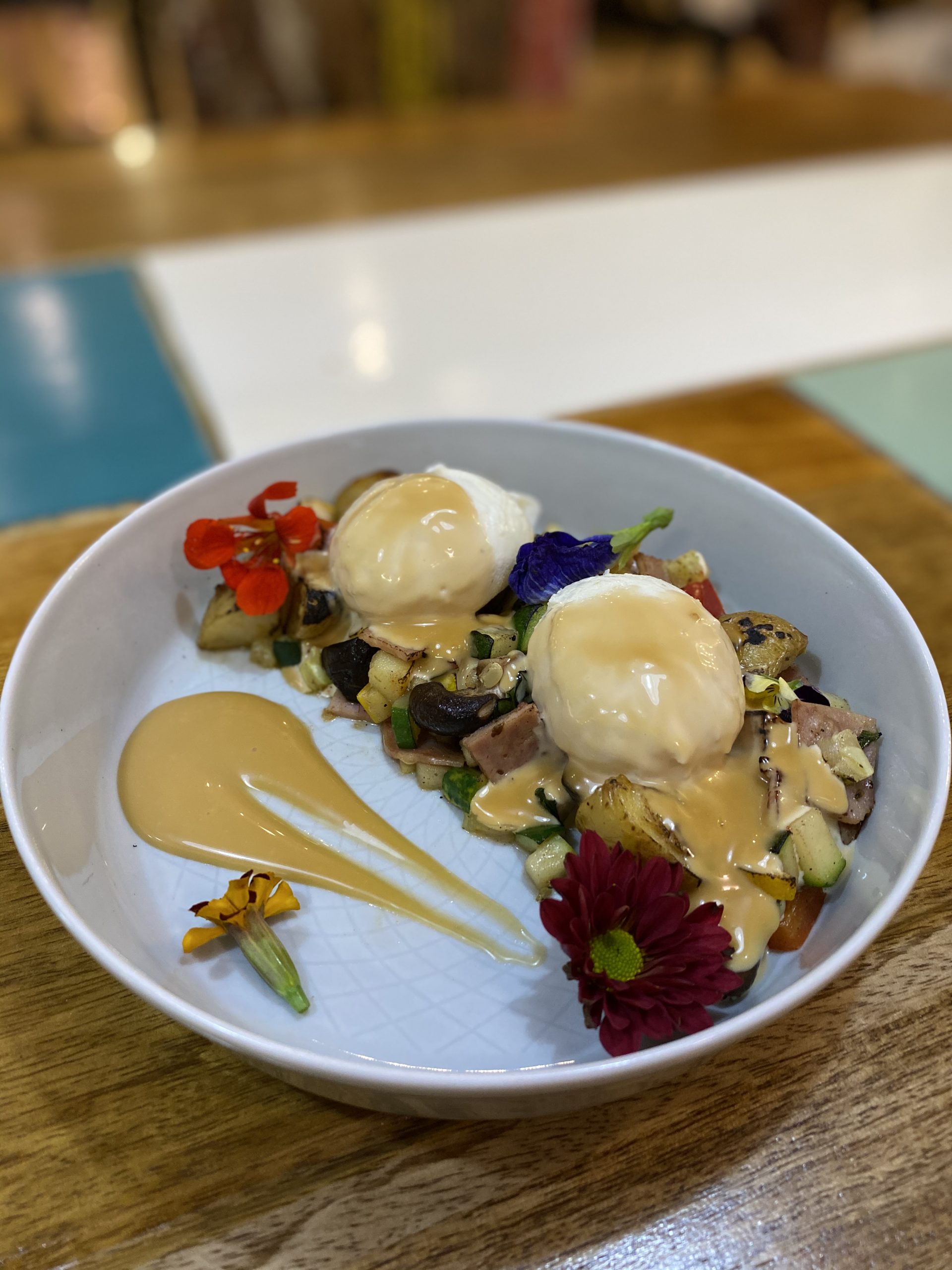 Located at Happy Mansion is Good Blue Men, a homey and warm haven that many would find solace in, be it on a sunny afternoon or a rainy morning. The cafe serves Asian and Western fusion cuisine, sticking to an 80-20 rule 80% Western flavours and 20% Asian flair. Not only are the dishes enchanting to look at, but taste phenomenal and intriguing at the same time.
Presenting the cafe's newest addition to its menu, Stirred Up features a vegetable hash and chicken ham topped with poached eggs and a zesty cream sauce. Pausing to admire its beauty is normal, as the dish is almost too pretty to eat. But as you indulge in the glistening mix, you'll notice the balance of flavours from the silky poached eggs, tangy cream sauce and piquant chicken ham. Alongside are fresh zucchini and velvety potatoes, making it a must-try dish for your next visit.
If you're looking for evident Asian punches, try the Kam Heong Chicken sandwich or the Asam Pasta, both being big and bold in taste. The Kam Heong Chicken sandwich uses kam heong sauce that's homemade with 13 herbs and spices, alongside freshly made oregano toast. Spiced chicken breast sandwiched
between two crispy Western toast may sound unconventional, but the moreish infusion will leave you fascinated.
As for the Asam Pasta, it's a clever play on the popular Malaysian 'asam laksa' dish. We personally recommend it to those who are seeking unique yet flavoursome creations as the sharp sweet, sour and spicy combination will interest your palate. Don't forget to end your meal with the GBM brownies that are warm, oozy and chocolatey brownies layered with hot fudge and topped with sweet vanilla ice cream. Trust us when we say it'll be a sinful treat that's worth every bite.
As for drinks, our favourite may sound odd at first, but the mint cream in Mint To Be was perfectly balanced and added an ideal sweetness to the contrasting bitter coffee. All in all, dining at Good Blue Men was atypical and we can't wait to drop by again.
Address: Good Blue Men *Asian and Western fusion cuisine *halal
AG-01, Ground Floor,Block A, Happy Mansion, Jalan 17/13,
Seksyen 17, 46400 Petaling Jaya, Selangor.
Tel: 03-7499 7394