FOUR SEASONS RESORT LANGKAWI
A Luxurious Hideaway
By Hiranmayii Awli Mohanan
Paradise can be found within Malaysia, at the Four Seasons Resort Langkawi. Enveloped by tropical rainforest, limestone cliffs and the emerald waters of the Andaman Sea, the natural beauty here is as picturesque as it is serene. This beautiful resort is characterised by sun- drenched days, a sandy beach, clean blue waters and ubiquitous tropical palms. Punctuated by luxurious villas and offering top-notch service, Four Seasons Resort Langkawi offers an experience unlike any other, for lovebirds as well as families alike.
A resplendent Moroccan theme is seen throughout the resort, interweaved with local architecture. Towering trees with large foliage and vibrant native blooms shade the walkways, creating a tranquil scene. Surpassing the luxury travel standard, the resort sets itself above the rest with personalised service, 1.8 kilometres of white sand, private beach, private exploration of the mangrove forest, unobstructed views of the Andaman Sea and ancient sea stacks unique to the location.
Bespoke service is one of the hallmarks that makes this resort a class above others. From friendly hellos, delivering fruits to the room to recommending activities throughout the stay, the staff at this haven ensures your stay is an unforgettable one.
PARTIAL SEA-VIEW UPPER FLOOR PAVILION
Made for couples, this romantic, one-bedroom pavilion is characterised by soaring ceiling and gorgeous treetop views of the Andaman Sea from a private upper-floor balcony, providing an enhanced sense of seclusion. Its elegant interior embodies warm shades with rich, tropical woods taking centre stage, only accentuated by Spanish marble with Moorish and Malay artefacts. Beyond the double doors lay a Hammam-style Terrazzo bathtub that immediately transports you to exotic Morocco.
THE GEO SPA
Cradled by lush foliage, The Geo Spa features beautiful, bounteous, wooden pavilions as treatment rooms helmed by esteemed masseuses. Upon arrival, guests are ushered towards a serene pavilion where refreshing, tamarind drinks await. Choose from their extensive offerings such as the Geo Signature Massage – Urut Melayu which features long rhythmic strokes, focused kneading and grounding oils to relieve tension and aid sleep. The skillful movements of the masseuse will immediately put you at ease, subsequently removing the knots and tension that bind the body, rendering you lighter and spirits rejuvenated.
EXPLORING THE MANGROVE FOREST
One of Four Seasons Resort Langkawi's biggest allure lies in its educational Mangrove Tour. On a beautiful, sunny morning, just after a sumptuous breakfast overlooking the turquoise sea, we treaded the buttery beach towards the shore along with the resort's naturalist, where a private boat awaited us. The tour proved very educational as the naturalist introduced us to the myriad of special flora and fauna in Langkawi. The trip became particularly interesting when the boat hove along the mangrove banks, allowing us to witness species of fish, crab, monkey and snake. Needless to say, the scenery along the journey was absolutely breathtaking. It was also through the mangrove exploration where we bore witness to a flock of eagles in their natural element, soaring above us.
DINING WITH A VIEW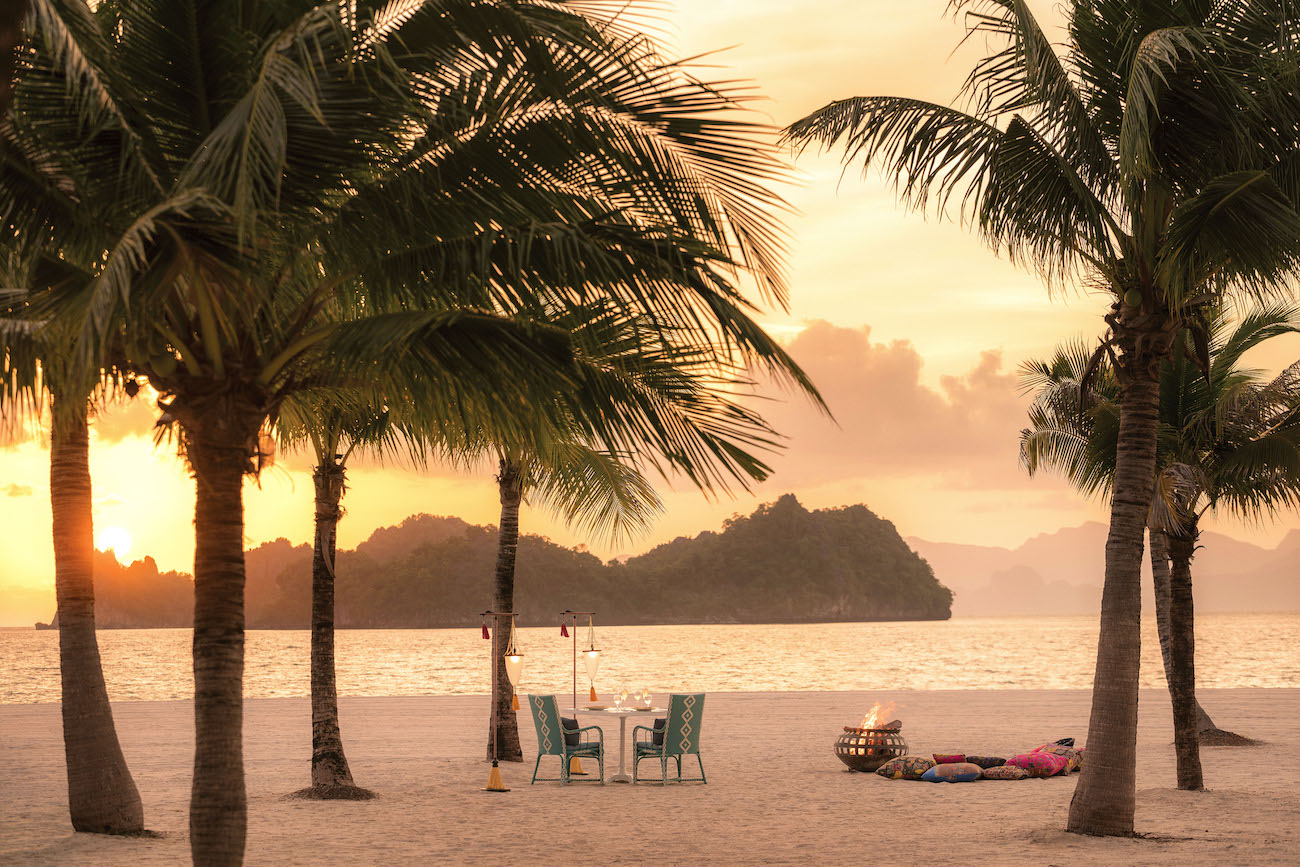 Rhu Bar
The Moroccan trope is seen yet again at the Rhu Bar, boasting Middle Eastern–inspired island lounges with atmospheric wooden screens, cushioned wicker chairs, Turkish water pipes and hanging swings. It makes for a perfect setting to witness the glorious scarlet-hued sunset, paired with inventive, lip-smacking cocktails and savoury bar snacks.
Ikan Ikan
The architecture of Ikan Ikan proudly captures the traditional, Malaysian kampung house, offering award-winning specialties and centuries-old, rural village recipes for dinner. We relished in the flavours of home at the al-fresco terrace, with stars as our entertainment and rolling waves as music. Guests can opt to dine at the beachfront pavilion, an al-fresco terrace or a 16-seat, private-dining spot for a special evening with your loved ones.
Kelapa Grill
Kelapa Grill is is where al-fresco setting bestows an obstructed view of the aquamarine sea. Guests are spoilt for choice between the Asian stir-fries, wood-fired pizzas and other international favourites by day. Come nightfall, experience fresh, local seafood and flame-grilled steaks enjoyed either in the breezy, open-air dining room or as you lounge by the pool.