DC RESTAURANT
A Discovery of the Spring Menu
By Sara Yeoh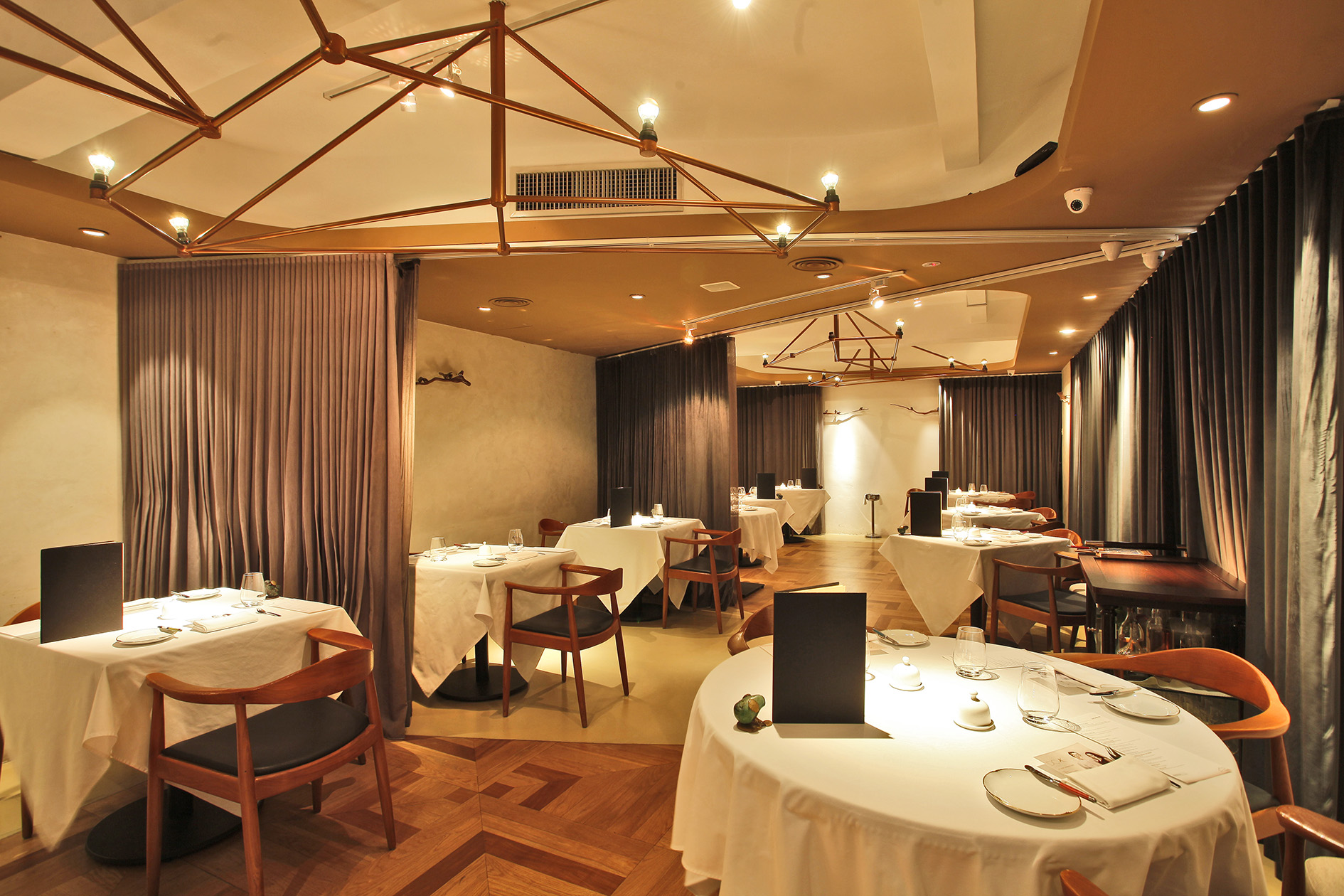 Sitting in an unassuming location at the suburb of TTDI, you will find a quiet fine-dining restaurant. Contrary to their humble black exterior, DC is one of the most celebrated fine-dining experiences in Kuala Lumpur. When you enter DC Restaurant, the dark walls cut you off from the real world outside, and send you off to embark on a gastronomic journey. We were welcomed with bubbles and entertained by the sommelier, Dennis, in the bar area, La Comptoir.
We then adjourned upstairs to La Salle, or the dining room, where we would have our dinner. The dimly lit space is minimalist yet intimate, sophisticated yet cosy. For dinner, we settled on the discovery 7-course for the ultimate DC experience. We were privileged to be one of the firsts to try Darren's new assortment of the spring menu that he had tweaked the night before, after personally tasting the menu as a guest of the restaurant, and not as the chef de cuisine.
A Wonderful Prelude…
As a prelude to the 7-course, we were presented with an amuse bouche of sensational tartlets. In four pretty morsels, there were Crosnes with pearl barley and grated truffle; chopped mussels with king crab and caviar; local kukur mushroom with grated sharp pecorino; and yellowfin tuna tartare with salted kombu and sea grapes. If these bites were a glimpse of what was to come, we were in for a gastronomic discovery indeed.
And Dinner Starts…
The first course was a new take on their signature dish with cold capellini instead of somen. Perfectly al dente, chilled capellini tossed in frothy seafood sabayon, together with the fresh and creamy mélange of uni, king crab and ikura,
is quite a delight when it hits your tongue, opening up anticipation for the next dish.
The next course was quite a reminder of spring, with petals and leaves falling prettily on a Korean live turbot that was poached lightly in Tuscan olive oil. The mild taste of the flounder complemented well with the bed of abalone jus it was sitting on, and the acidity of fermented bilimbi (belimbing buluh).
The third course was Alaskan king crab slightly exposed under a blanket of gellee made from tomato water, and plump, crunchy Landes white asparagus that announces itself with the arrival of spring. A concentrated heirloom tomato comes along for a robust surprise in your mouth, adding contrast in flavour and colour to the dish.
The fourth course, DC's spring seafood medley, was quite the chef's artistic expression on a plate. Various sea creatures such as Hokkaido scallops, Irish bouchot mussels, and a fish delicately dressed in crusted potato skin to mimic fish scales came together to create this melodious ode to the ocean. And in the middle of the assortment was a rich pearl barley risotto, stringed together with the rest with slender streams of Jerusalem artichoke purée.
There was nothing pretentious about the lobster we had for the fifth course – just the tasty purity of the Caribbean Sea crustacean, amplified through poaching in butter, and animated through Sauce Américaine and spring vegetables.
Here Comes the Mains…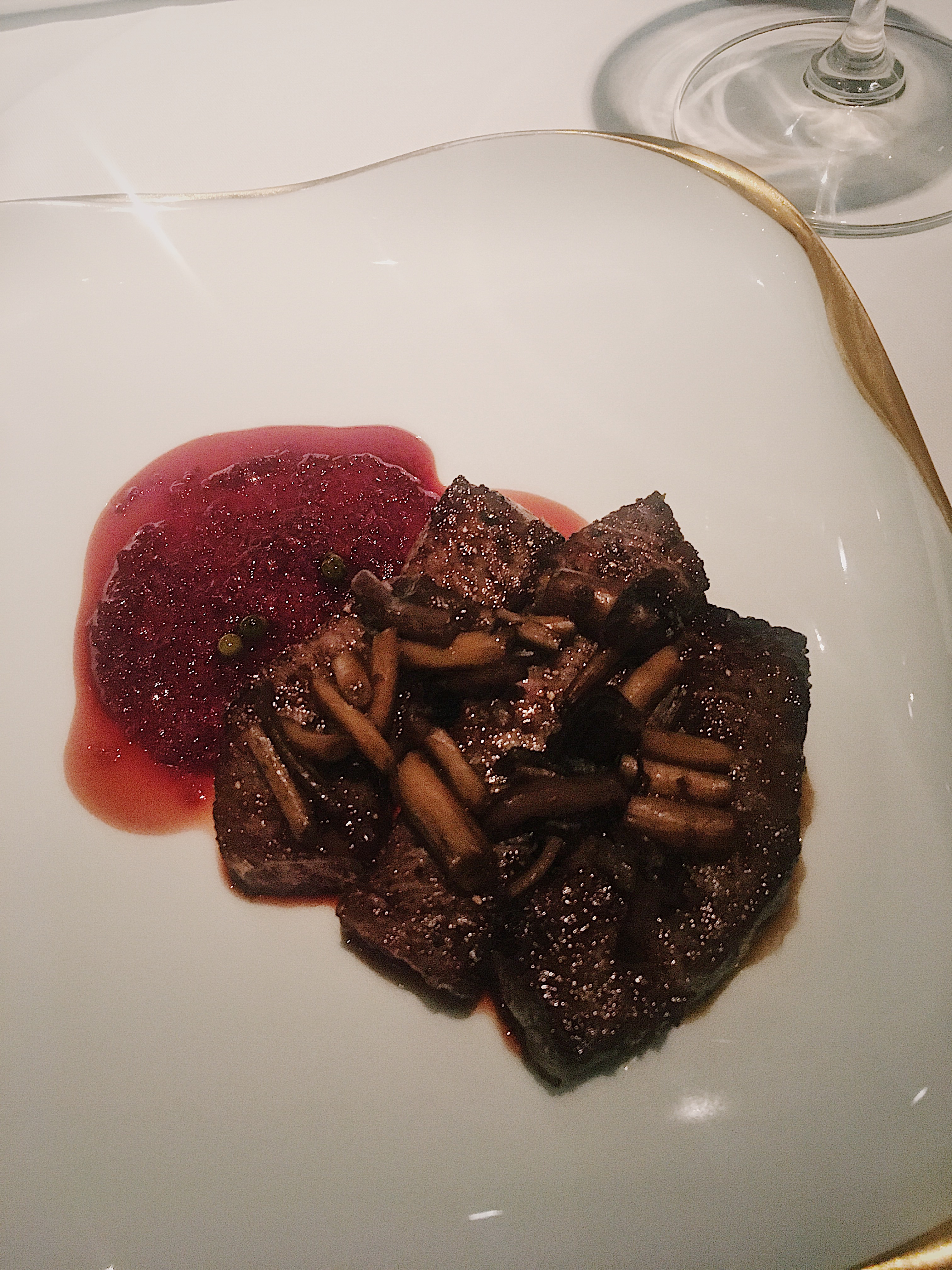 A cold and crisp palate cleanser of mulberry and blackberry granité with four-mint yoghurt marked the intermission of the course. To put an end to the streak of seafood courses, we opted for red meat for our mains. My choice was Japanese Hidagyu full-blood A5 Wagyu, while my dining partner went for a 14-hour slow roasted rack of lamb. Three strips of beautifully marbled Wagyu were presented before me for an inspection before they proceed to the kitchen. The Wagyu is prepared only by the chef de cuisine himself.
While the utterly indulgent Wagyu was certainly a guaranteed temptation, the lamb that my dining companion chose was the real "unsung hero" of the night, as our lovely maître d', Yann put it. Both mains were set on a bed of compote made of apple, beetroot and beef bones. The melt-in-your-mouth-meat, paired with the sweetness of the compote, made a heavenly main course. We also went for the optional pan-seared duck Foie Gras served with a cube of honeycomb, where each bite was lusciously velvety, and indulgent beyond imagination.
And For Dessert…
To conclude the meal, I chose the Black, White, Green – a brittle dome of charcoal meringue that revealed white chocolate ice cream with mulled blueberry, strawberry and boozy cherries when cracked open. At DC, they are passionate about their cheese, and no expedition to DC should end without an experience of their famous cheese trolley. So, my partner went for the Le Fromage – our choice of five AOP cheeses accompanied with fresh honeycomb, its wild flower nectar collected from the hills of Mae Rim, in Chiang Mai Province of Thailand.
Beyond the grandiose façade of fine dining and gustatory luxury, the food at DC is complex, genuine and honest. The high- finesse plates here are expressions of what Darren believes in, and a translation of the energy he and his team inject into it. And as he puts it, "When you put earnest thoughts into something, it becomes a masterpiece."
Address: 44, Persiaran Zaaba, Taman Tun Dr Ismail, 60000 Kuala Lumpur
Tel: 03-7731 0502
Follow us on Facebook and Instagram