MICHELLE JUENEY
Petite Powerhouse
Michelle Jueney is meant for the performing arts. From a very young age, she knew the path she would tread would be of dance. From ballet, to ballroom and finally foraying into Odissi, we learn about her transition from classical Western dance to a traditional Indian one
---
FIRST AND FOREMOST, THE EXPECTED QUESTION. WHAT DREW YOU TO INDIAN CLASSICAL DANCE?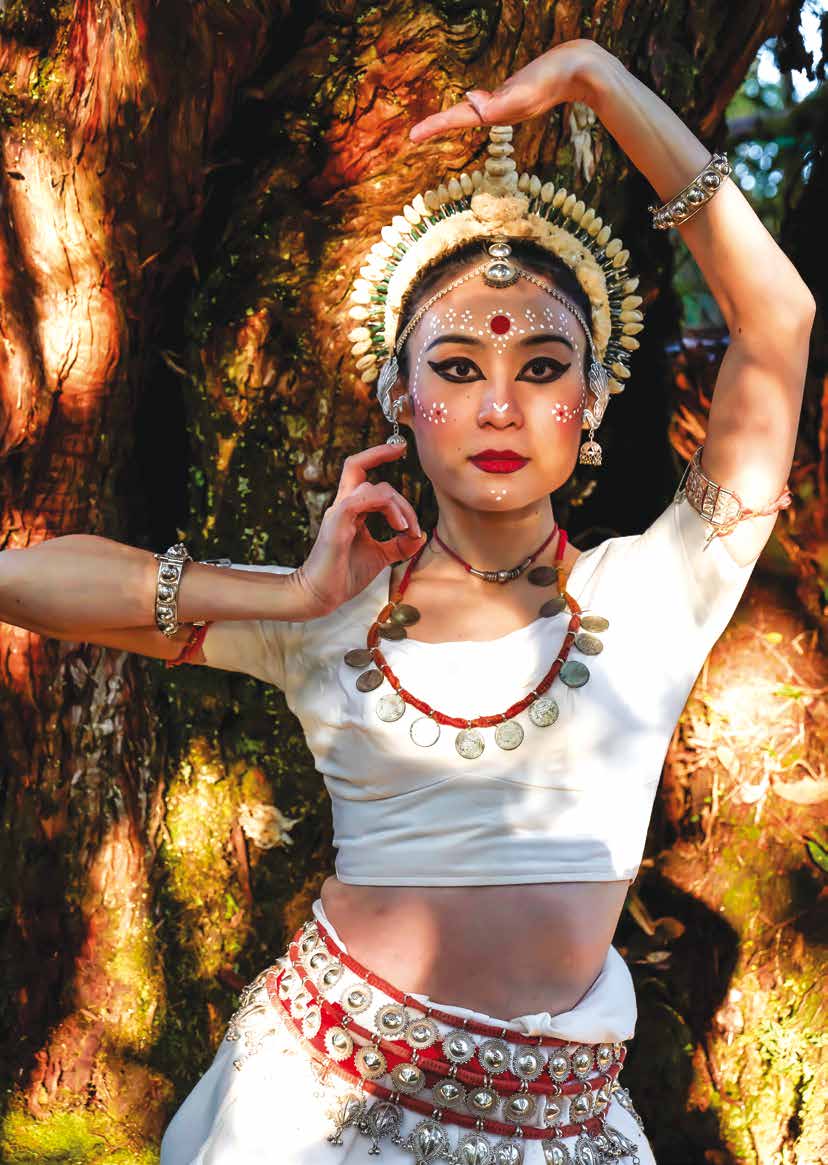 I have always had a love for dance since I was first exposed to the arts and ballet at a young age. Odissi was not something I pursued. It was a dance genre that I took up after returning from the UK. I was drawn to Indian classical dance from my recollection of watching Ramli Ibrahim's performance when I was much younger at 14 or 15 years old organised by my father. From my understanding of what dance and performing arts should be and the requisite standards, I was motivated and drawn to Sutra Dance Theatre. After my first lesson it all clicked, the dance felt natural to me.
WHAT WERE YOUR PARENTS' OPINION OR REACTION WHEN THEY FIRST LEARNED OF YOUR INTEREST IN ODISSI?
They had no choice. When I was six or seven years old, my father asked me why I was always practising so hard – dancing in the house. He questioned if I had intentions of becoming a dancer. I simply replied, "I am going to be a superstar!" And my father half choked on laughter and stifled shriek with zealous eyes and stayed silent. I said, "I'm going to be famous" and carried on while my Dad was tremendously tickled to bits, kicking his legs and my mom giggling too. I think my sister rolled her eyes lovingly, accustomed to my childish madness. My life as a dancer is a combination and culmination of a few critical factors over a long period of time, some positive and some negative experiences. My life was complicated and not as smooth as people saw or wished to believe. My joining Sutra Dance Company was a critical interlude and my family was fully supportive and has since sacrificed much for me. I take to heart what Ralph Waldo Emerson said, "Life is a succession of lessons which must be lived to be understood."
YOU STUDIED ODISSI AT THE REVERED SUTRA DANCE THEATRE UNDER THE TUTELAGE OF GURU RAMLI IBRAHIM. WHAT DID THE
EXPERIENCE ENTAIL AND HOW HAS IT INFLUENCED THE PERSON YOU ARE TODAY?
I was influenced by many people in every stage of my life and dance career. As an Odissi dancer, the Sutra environment gave me the opportunity to nurture and accentuate my abilities as a complete dancer. Ramli influences everyone. From being a good listener to the way he speaks, to his insightful writings to his expressive dance, Ramli is a very sensitive, kind, talented and totally dedicated dancer who has devoted his life to dance and all his dancers at Sutra Foundation.
However, the dance world poses numerous challenges to any dancer who strives to be a professional dancer. Unknown to the public, an aspiring professional dancer must have intense determination, the willingness to make tremendous sacrifices in not having financial security, and the resilience to remain on the path for self-fulfilment and in the pursuit of excellence in dance. Therefore, at every stage of this long journey the dancer needs mentors, teachers, friends, family members to empathise and support for the ambitions and aims of the dancer. However, a prerequisite for a successful dancer to learn a new dance form or new dance is – because there is no one to one, none or little supervision between the dancer and the teacher, the successful dancer must be able to observe attentively and follow simultaneously each and every dance movement executed by his/her colleagues.
YOU STUDIED BALLET AT A YOUNG AGE AND FORAYED INTO ODISSI UPON YOUR RETURN FROM THE UK. TELL US ABOUT THE TRANSITION.
The transition was not a problem at all. Dance is in my blood. I also did ballroom dancing and won medals in competitions. I can easily pick up a dance style that speaks to me and has music that appeals to me.
WHAT ARE THE SIMILARITIES AND DIFFERENCES THAT ODISSI SHARES WITH OTHER DANCE FORMS?
Ballet
Similarity: The 2nd position in ballet is like the 'chauka' square position for the legs in Odissi.
Difference: The nature of the dance forms are total opposites; one is light with emphasis on flight, the other on groundedness and staying low.
Bharatanatyam
Similarity: The stories, abhinaya and mudras. Both grounded forms.
Difference: Odissi is rounded, wavy and curved, softer. Bharatanatyam is polar opposites, sharp, attack, cut, slice, diagonal and straight crisp lines. Odissi music is slightly softer to the ears, Bharatanatyam is harder.
THE ART OF ODISSI IS SO INTRICATE AND DETAILED. HOW LONG DID IT TAKE FOR YOU TO ADJUST TO THE STYLE AND TO BECOME NATURAL TO YOU?
It was very natural. I just did it. Your personality plays an important role too. How you approach your art affects your speed to refinement.
HAVE YOU EVER EXPERIENCED THE MOMENT WHEN THE DANCER BECOMES THE DANCE?
I would like to believe so as per the comments from Ramli that I am almost in a trance, some say I seem in a meditative state. Sometimes, I forget I am on stage. When I dance, I feel like I am in a transitional state of being here and not being here. It's a heightened experience – like you're transitioning between two different mediums.
The most profound wisdom that actress Ida Nerina said to me when I was 21 before I joined Sutra that has shaped me is, "You cannot have any inhibitions." Even though she was referring to acting, I truly believe this value crosses the genres.
Meaning: You cannot have vanity. You cannot have ego.
YOU HAVE PERFORMED IN MANY COUNTRIES. WHAT HAS BEEN THE MOST MEMORABLE PERFORMANCE THUS FAR?
Performing for over 10,000 people in India on their open- air stages and incredible dance festivals. The backstage experience of seeing artistes everywhere getting ready laying on grass in vast spaces of colonial-styled open halls and seas of people in the audience was incredible. Japan is too pristine and the energy there is always perfect for me. Yakutia (Siberia) and Saint Petersburg (Russia) were truly an opportunity and privileged experience.
AN ODISSI DANCER HAS TO BE EMOTIVE AND NARRATE A STORY. HOW DO YOU COME UP WITH CHOREOGRAPHY FOR A PERFORMANCE? WALK US THROUGH THE PROCESS.
To be honest, I perform pure dance items more. For me, it just happens… whenever I am inspired. I can literally imagine myself dancing the steps and creating the choreography in my mind or when I am staring into space in the living room, or driving in the car – my mind is imagining it. For example, when I listen to a part of a music, I start imagining myself dancing it out. Then I test out the steps physically – translating it from my mind and seeing how it feels, whether it works physically or whether it works with the music on timing and aesthetics.
If it doesn't happen or work with the beat of what I imagined in my mind, that's when I start exploring avenues where my movements can go to and for my body to consider. So new steps need to be created, some others have to be modified or scrapped and the play of this creativity happens. It's nice when you have a composer that composes to your choreography. I like choreographing to the music.
For the work I create, I feel like inside of me there's a hidden bag of sparkling magic sweets and when it is the right time, the sweets will come out of the bag. The dance form is the same but the concept, the medium, story or narration and twists are what make the full-length dance productions different.
YOU INCORPORATE JAZZ, PIANO AND GUITAR TUNES INTO YOUR CHOREOGRAPHY. DOES ADDING A TOUCH OF MODERNITY TAKE AWAY THE TRADITION OF USING INDIAN RAGAS?
Firstly, whenever I performed an Odissi dance on the international stage, I had never presented it without the designated Odissi music by the original composer.
Secondly, if I perform Odissi without the Odissi music, it is a new choreography under my name that I create or am presenting it as contemporary even though I stay true to the steps and form of Odissi. This has given birth to one of my most favourite choreographies to date that was performed at (klpac).
Thirdly, this incorporation started because I did not have Odissi music. It was never given to me and I had to go to India and slowly acquire them at a cost but that was also how I got to meet the gurus in India. Because I did not have the music to two 'abhinaya' dance items, I wanted to explore the possibility of 'what if' and I would say, this process was when I started choreographing to match the music that gave birth to a new or refreshed work.
That said, I don't use modern music to dance to Odissi very often. If I do want to create new work, it tends to be just contemporary dance or contemporary dance inspired by Odissi. In Malaysia, I tend to experiment more. Internationally, I feel I am carrying a tradition, a great responsibility and I personally do not wish to present Odissi in other ways. In the future if I do so, it would be under contemporary dance.
Lastly, if you are true to your dance, that's authenticity. Art never lies. No one can say you are abusing art. Odissi is a very rich form of art which I draw inspiration from.
IN 2013, YOU WERE NOMINATED BY PROFESSOR ALKIS RAFTIS AND BECAME THE FIRST AND ONLY MALAYSIAN TO BECOME A MEMBER OF COUNCEIL INTERNATIONAL DE LA DANSEUSE (CID) UNESCO. WHAT DOES THIS ROLE ENTAIL?
To be honest, I've always acted my very best and contributed to the performing arts even before I received this title – not because it's prestigious, but who I stand for as a person. The title created some occasional rivalry and competition even hotter here in the industry including some big names who lead the biggest festivals and arts bodies that thought it was made up, a joke, or a big deal.
The role entails me conferring certificates on my students, nominating those who are worthy, and to establish a section here in Kuala Lumpur.
TELL US ABOUT THE INSPIRATION BEHIND ESTABLISHING KL MOVEMENT AND HOW DOES IT EMPOWER WOMEN?
KL Movement was a spur-of-the moment thing, but I knew I had to do it. I toyed and came up with the name 'The Movement'. The guy at SSM said, "tambah KL" and so I did. That was it. It was purely intuitive and foresight. To my pleasant surprise, one of my works 'The ALL Women Dance' platform paying tribute to 'Women in Dance' in my local production created some impact in Malaysia and overseas. The birth of this particular work in my view has contributed to the recent increase in awareness to empower women to realise their potentials. In the dance scene, the international contemporary dance industry took notice what had transpired in Malaysia.
YOU HAVE ACHIEVED NUMEROUS ACCOLADES AND RECOGNITION FOR DANCE. COULD YOU SHARE SOME OF THE RECOGNITIONS WITH US?
To name a few:
Honouts Award in ISTD Ballet Examination
Silver and bronze medallist in UK Latin Dance Competitions
CID UNESCO – first Malaysian to be nominated to become a member of International Dance Council UNESCO (2013)
World Dance Day – establishing

'World

Dance Day' in the country (2013)
Dance Certification – providing the dance certification to students at The KLMovement Academy (2019)
First to represent Malaysia in a dance performance in Saint Petersburg, Russia and to visit the prestigious Vaganova Russian Ballet School (2013)
-Represented Malaysia as a member of the jury, performer, teacher and participated in live TV interview and performance in Yakutia, Siberia at the International Folklore Festival (2014)
Ambassador for CEC – Being a nature lover and dancer, I use my voice to increase awareness of single-use plastics, circular economy, waste management and pollution. (2019)
MALAYSIA OVERFLOWS WITH TALENT. HOW CAN WE ELEVATE THE COUNTRY'S PERFORMING ARTS SCENE?
The countries in the world that emphasises the importance of creativity; which is imagination and inventiveness are always the richest, most advanced and most humane. Let creativity function; let creative people live to be creative. Support creativity by patronage for the arts to flourish without prejudice, politics and/or personal agenda. If you cannot appreciate arts, love or understand creativity, can you be the one to make the right decisions to help the industry and the nation?
DANCING IS INSPIRATIONAL. IN YOUR OPINION, HOW CAN WE BREAK CULTURAL DIVIDE THROUGH DANCE?
Dance is colour blind. Dance frees the mind. Dance is peaceful. Dance has crosses racial and religious boundaries. The arts are always the mediating factor in any society.
Words by Hiranmayii Awli Mohanan
Photographer: Chen Kim Mun
Venue: Mossy Forest of Gunung Brinchang, Malaysia