GLAMMING UP FOR RAYA
The Best of Local Designers and Their Collections
BY HIRANMAYII MOHANAN
After two years of uncertainties and challenges, Hari Raya celebration is looking more festive and lively this year, and we're here for it. If you've yet to secure arguably the most important element of Raya — shopping for the perfect baju raya, we've got you covered. Read on about our local designers and their Eid collection.
---
ALIA BASTAMAM

Alia Bastamam's Eid 2022 exudes elegance, sophistication and demureness. For a renewed Eid season unlike any other, Alia Bastamam introduced approximately 14 beautiful looks in a collection that breathes fresh vigour and flows seamlessly from Raya to Resort. The looks in the collection stirs modern notes from Asian traditions. It's sleek, modern yet traditional too. Dainty prints are paired with the most feminine looks that exude softness, something Alia Bastamam truly excels at. For Eid 2022, the fashion brand's classics such as the Sophia is recreated with a dramatic caped back and in a sophisticated shade of teal.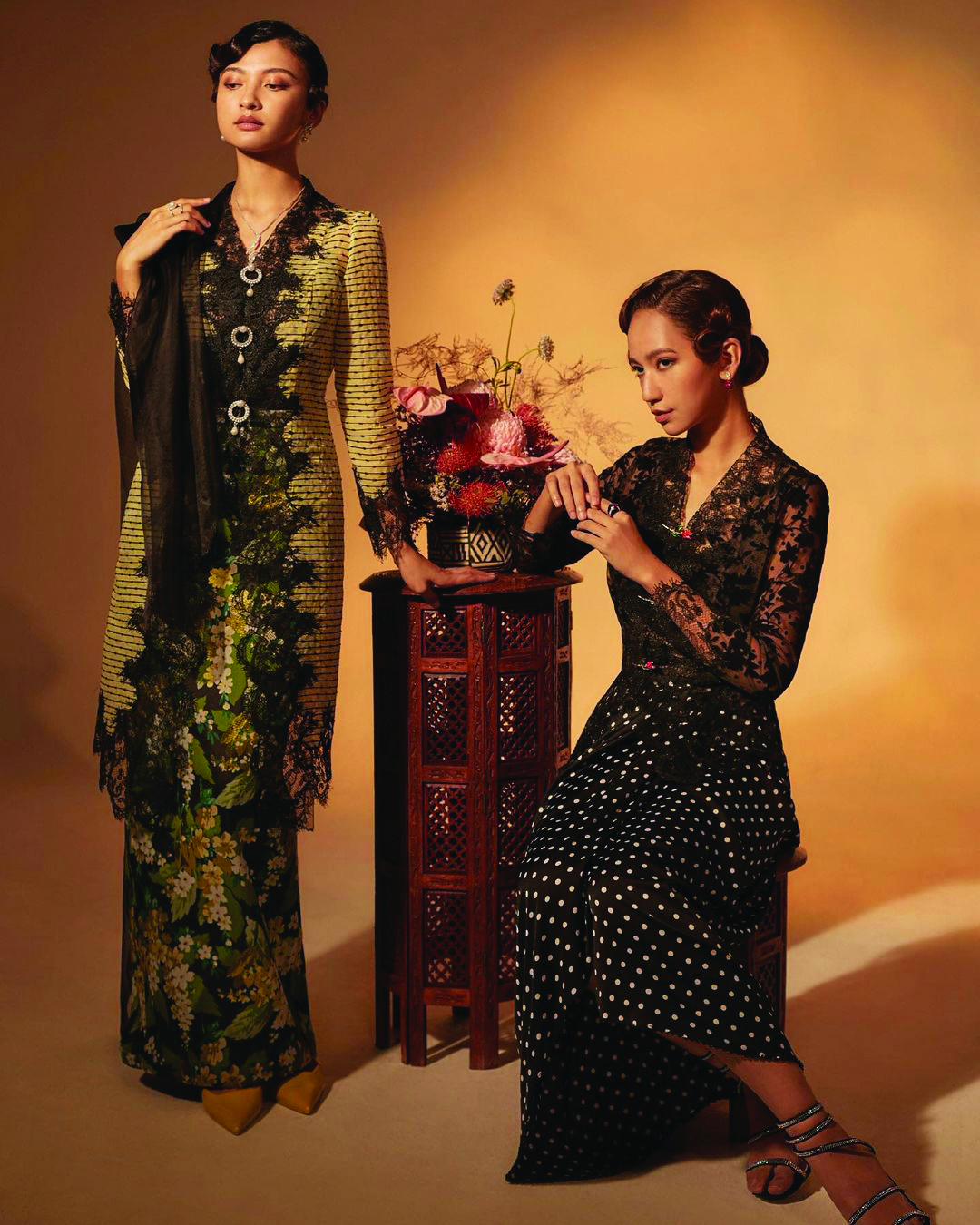 KHOON HOOI
Khoon Hooi evokes nostalgia through its Raya 2021 collection, with a focus on the kebaya. Melding artistry, tradition and grace, the collection features 10 looks that come in different silhouettes and a juxtaposition of colours and materials. In addition, you might be interested in Khoon Hooi's capsule collection that injects oriental inspirations into traditional influences with the likes of Japanese kimono-inspired sleeves, Mandarin band collars and jade buttons. This Raya, Datin Lee's collection of festive clothing takes a nod and celebrates her Peranakan roots with a contemporary twist. Short and longline kebaya tops are intricately designed and juxtaposed with draped skirts in some of her favourite prints in polka dots, florals and stripes. These are embellished with brooches for the finishing touch.
NH BY NURITA HARITH

Their beautiful offerings are available on Zalora
Nh by Nurita Harith is a ready-to-wear Raya 2022 collection that reflects the signature of Nurita Harith on draping pastel hues and dark tones. The collection is soft, feminine and has the essence of elegance. Every piece has the unique touch of draping by Nurita and they can be worn for a more relaxing event or an evening function. The colours were carefully selected and customised accordingly so as to be unique yet still relatable for all the Nh ladies; from the soft lilacs to the emerald greens. There are 58 looks with two colour options from pastels of lilac, mint green, dusty pinks to darker hues of maroon, emerald green and navy blue.
MASLEA
Their beautiful offerings are available on Zalora
House of MASLEA, a home-grown label synonymous with traditional fashionable statements has unveiled the 2022 collection themed 'Jendela Waktu'. This Hari Raya Aidilfitri, Maslea brings vintage back. Expect loose kebaya with pesak gantung and delicate hemline embroidery and worn with sarong by mothers and grandmothers. The theme this year, titled 'Jendela Waktu' is befitting the collection, especially since it takes a nod to the past. This collection bears the beautiful aesthetics of the 50's fashion, like all of Maslea's collection before, screaming functionality and versatility. Focusing on beautiful fabrication, the collection introduced light embroidery and some improvised features, sidepockets for the tops and longer waist tie for the batik wrap and we're loving it. With looser cutting of both the kurung and kebaya, for all shapes and sizes, from the petite to curvy. As quoted by Suraya Sharifuddin, the creative head behind the fashion venture: "The collection is light but glamorous, simple yet classy. We want the wearer to feel effortless yet significantly confident in Maslea, providing grandeur and ease, so they can focus on memory- making moments. We aim to give our customers plenty of reasons to feel excited about fashion again, as wearing pretty clothes isn't all that makes a girl's day particularly exciting. You have to create your moments. You have to live in the moment."
TAS BY TOM ABANG SAUFI

Their beautiful offerings are available on Zalora
For the Sarawakian designer's latest baju raya collection, Datuk Tom Abang Saufi comes up with a line-up of striking designs for ladies and men inspired by Malaysian ethnic motifs which are interspersed with artistically drawn out visuals of Borneo's flora and fauna. "It's a bit like sunshine after the rain," explains the designer on how she likes to bring much needed cheerful vibes to the coming Raya festivities after two years of the COVID blues. Each design is fused with this feeling of joy and freedom when you are able to see the sea and islands from above on a plane.Capturing this spirit, the designer created the collection with the aim of creating a feeling of good vibes for a world which is slowly starting to heal. This collection presented under the designer's second line, TAS is coming in easy to wear kaftans and baju kurung in both vibrant and muted colour palettes, along with the designer's signature loose silhouettes.