JAZEMAN JAAFAR
FROM LOCAL TRACKS TO GLOBAL TRIUMPHS, MEET THE HIGH-SPEED HERO REVVING UP THE NATION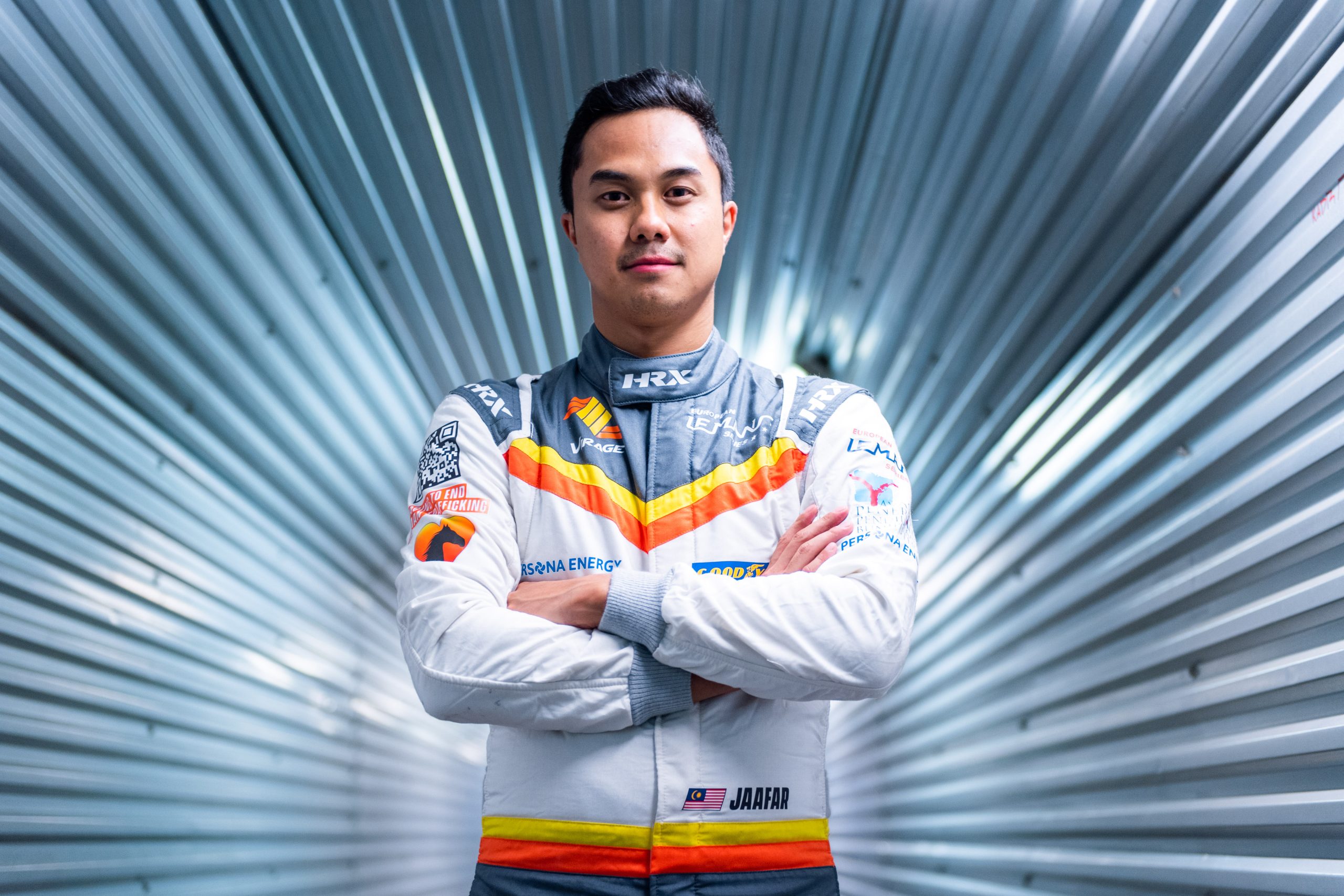 In the world of motorsport, where talent, adrenaline, and unwavering determination collide, one name stands out as the embodiment of Malaysia's racing aspirations: Jazeman Jaafar. With a driving style that merges precision and panache, Jaafar has carved a path towards greatness, propelling himself and his nation onto the international racing stage. Born and bred in Kuala Lumpur, Jazeman Jaafar's journey began amidst the scorching heat of local go-kart tracks. From the tender age of 9, he demonstrated a natural flair for speed, quickly earn- ing recognition as a prodigious talent. Fast forward to the present day, and Jazeman Jaafar is a force to be reckoned with in the world of motorsport. Having made his mark in various prestigious championships, including Formula Renault 3.5 Series and GP2 Series, he has showcased his prowess on renowned circuits around the world. From Monaco's winding streets to the legendary Spa-Francorchamps in Belgium, Jaafar has left tire tracks of success everywhere he goes. Join us as we delve into the extraordinary life and career of Jazeman Jaafar, exploring the challenges, triumphs, unrelenting pursuit of excellence and his new role and adventure of being a parent.
Can you tell us about your journey into motorsports and how you developed a passion for racing?
I started at a tender age of six years old, in a small Go Kart track in Shah Alam, when we were invited by friends of my father. I arrived there and I was truly very shocked to see kids between seven to nine years old, racing each other in little go karts. So I was amazed, because I never knew there was such a platform for young passionate talents to start their career. So, it started off as a weekend hobby which then evolved into driving at a national level and later started participating and winning in regional championships across Asia. I then did some races in Europe which led me to win the Belgian championship. So yeah, it's a hobby turned career. I knew it was what I wanted to do at eight years old – I told my mother I wanted to be a Formula One driver. My mom was totally against it in the beginning, but she saw my dedication towards the sport and how I balanced my homework, reciting my Quran and racing and later agreed.
What are your future goals and aspirations in motorsports? Are there any specific races or championships that you dream of participating in or winning?
I would love to be back at the FIA World Endurance Championship. I was there in 2018 and to race for 24 hours of the prestigious Le Mans which is celebrating their 100th year anniversary. It's not a race that you can just enter; you have to be invited to the race. So there are only 60 teams allowed to race, with only three drivers per team. So I would love to be back racing in the championship in Le Mans. In 2018, we had an all Malaysian line up, and finished fourth in Le Mans despite having issues, and we were leading the championship until our backers pulled out with only three races to go, which is really a shame. So I feel like we have unfinished business and have more to achieve in the championship. Besides that, I have created an education platform that allows young boarding technicians and engineers to enter into motors sports. Upon my return from Europe in 2018, I created a syllabus and a platform in which young Malaysian talents can further their careers, via our platform. I hope that it will grow and continue to be a sustainable platform for future talents.
Congratulations on becoming a new father! How has this new role in your life
impacted your perspective on motorsports and racing?
The birth of my son was so special, although I never thought that I would've become a father at 30. But it's been a huge blessing for me. This hasn't faltered my commitment towards racing and the development and the growth of the sport. I'm still truly passionate and that has not lifted off. I'm still at full throttle and I'm excited for big plans coming up this year and years to come.
Parenthood often brings about a shift in priorities. Has your motivation for racing changed since becoming a father? If so, in what ways?
I think the challenging aspect is that being a race car driver is not a nine to five job. There's always the training element, representing the sponsors and a lot of travelling involved. So I prioritise and make my schedule a little more compact and efficient so that I'm away for 10 days instead of two or three weeks. Of course with having a newborn baby, we're in the throes of figuring everything out so it's all about teamwork both on and off track. I try to be as present as I can to help my wife and be in the moment to witness my son grow, which has been incredible. About a month ago, my son came to one of my races in Sepang and he was about four months old then. It was such a great feeling to have him there.
Has becoming a parent influenced your approach to risk-taking in motorsports? How do you maintain a balance between pushing the limits on the race track and ensuring your safety as a father?
Well, my wife and my mother always remind me to be careful all the time. I'm an adrenaline junkie, and I love extreme sports. For example, although I'm afraid of heights, for my birthday, I decided to jump off a plane. Wakeboarding is another element of extreme sports which I love. I love activities that are full of adrenaline and fast paced. But having said that, now that I have a kid, my training approach differs. Maybe the risk factor is less at the moment, but the overall approach to racing is still the same. I'm there at 120% fully motivated because I approach every, every race as though it's my last because you never know when your last race will be – if opportunities cease to arise or it's time for retirement, so, I approach every race with everything I've got and enjoy every aspect of it.
In your opinion, what sets Malaysian motorsports apart from other countries? Are there any unique aspects or challenges specific to the Malaysian racing scene?
I lived in the UK for nine years, where I progressively furthered my career. I noticed while being there that motorsports is so much more approachable. There are established programs specially designed for kids aged eight to 12. Then there are big names like Redbull and Ferrari with respective academies that furthers a career in the industry from age 15 onwards. So there are more establishments to nurture young talents there. Then, on the technical and engineering side of things, people are too concerned about having qualifications, when my Formula 3 and 4 mechanic was a school dropout who then earned a technical certification because he wanted to further his career in motor racing. Today, he's one of the data performance engineers in Formula One. So, in the industry, qualifications don't necessarily matter when you're climbing the ranks. Moreover, there's a missing gap, especially in Malaysia, and that is the support from the manufacturers. As aforementioned about Ferrari and Redbull and their academies, I feel that if there are more platforms recognised by manufacturers, more Malaysians can enter the sport in a more sustainable way.
Motorsports can be physically and mentally demanding. How do you prepare yourself both physically and mentally for races? Do you follow any specific training routines?
You see, being a racing driver, you've gotta be an all-rounder. Being an all-rounder means taking into account your schedule, when to train, what to eat, your travel plans, your jet lag, etc. So, I think first things first is time management. Some drivers or teammates have overtrained and want to be the fittest guy out there, but it won't matter if you can't communicate and spend time with engineers who are developing the car. You also can't be over analytical and forgo your training, which results in getting tired easily. So my routine is always planned months in advance – from my training to sponsorship appearances, I always pre-plan. Right before my races, I like to listen to music with a lot of bass like Hip Hop and R&B to calm me down. Okay. And, you know, I, I do it like I say, I do it because of my passion and, and and for the country, right? So, that's my motivation to every, every time I prepare for my race. One thing that many are not aware about race cars is the heat. It's about 60 to 65 degrees in the car and you're wearing a fireproof suit and helmet which can lead to heat exhaustion, so acclimatising to the heat and drinking plenty of fluids is important. Diet is also an important aspect of preparing for races. If you've done all the work and prepped everything beforehand, everything becomes second nature the moment you jump in the car.
Can you describe a memorable race or moment in your career that has had a significant impact on you as a driver? How did it shape your approach to racing?
There are two major races that I still remember as though it was yesterday. Number one was Formula BMW Asia, when my career had just taken off at the time. The criteria for the next stage was to first, win the Asia championship. We didn't have much funding at the time, we had just enough funding to attend and race. I was in second place in the championship and needed to win three races to win it. I had a very poor qualifying score because I made mistakes and was under a lot of pressure at 14 years old. I continued making mistakes only to be encouraged and motivated by my late dad. The pressure was tremendous because if I didn't win, I would have stopped racing as I didn't have any funding to proceed further. I kept my perseverance and my focus which led me to win the three races and won the championship by just one point. Then, the following Monday, I received a phone call from Petronas and the rest is history. The other major memorable race for me was the Monaco Grand Prix. I raced in Monaco three times before finishing in third place, twice qualifying the front rule for both years.
The final year in Monaco, I was determined to check all the boxes in order to win the race. I was qualified and in pole position, in the front of the grid. Leading up to the race, I was on the flag to the grid and started having problems in my car – I couldn't shift gears and immediately thought, "Oh man, this is over". But my team did an incredible job – they swiftly replaced the geometric pump which typically takes half an hour to change, but they did it in eight to 10 minutes. My heart was pumping through the roof, and dad was calling my then manager every two minutes to ask if I was going on with the race. So I missed one of the green flag laps in which I then continued for the race with warm tires. I had an average start, but I managed to wheel off, let the race pull the gap and won the race. So, yeah, winning the Formula BMW Asia in 2007 and winning the Monaco Grand Prix was the highlight of my career. Negaraku was played in Monaco and the goosebumps were unreal.
What is it about motorsports that fascinates you the most? How does it feel to be behind the wheel and competing at high speeds?
There are two sides to it. On one hand, it's adrenaline for me. The adrenaline is really something and you can't get it elsewhere. The moment you get your helmet strapped on, your heart is already beating at 160 beats per minute, your hands are sweating and there are thousands upon thousands of people there in anticipation of the race weekend. It's not like an ordinary event, you know what I mean? So, you're in the thick of the action and one of the main acts per se. That experience is something money can't buy. The second part about motor racing is the advanced technology that comes with it. The automotive manufacturers use motorsports as a research and development platform which means there are always new technologies introduced like smaller engines, new sustainable materials, bio-ethanol. There's always something new to innovate and I love the technical innovations that come with the sport.
What are the major challenges you have faced as a Malaysian racing driver, and how did you overcome them?
The major challenge has always been that there are only a handful of us who are racing internationally. So, it surely took time to gain recognition at an international stage. The fact is that everyone is talented and equally as good as you. Eventually, when you're recognised and accepted in the top field of drivers, it becomes a totally different ball game altogether. The second challenge is always the hunt for funding and in motorsports, you can't run away from it. It is an expensive sport. But I was very lucky in the sense that after school, with my school uniform still on, I would run about and offer sponsorship packages to attract the sponsors. I remember I was in standard three, I just finished my exams and in the evening, dad and I worked on my sponsorship decks. There was one instance, after school, when my dad brought me to Menara TM to do our proposal and we got our sponsorship. The hunt for sponsorship was and is never easy. That said, when I turned pro at 14 and had won the Formula BMW championship, I received a phone call from Petronas because Petronas was nurturing their talent development program. They were nurturing talents from the ground up. So that's where I furthered my career internationally. So, without Petronas, I wouldn't be where I am today.
What are your strategies for adapting to different race tracks and varying weather
conditions? How do you analyse and make adjustments to optimise your performance?
Before the race, we would normally do quite a bit of simulator work. There are simulators that can mimic different tracks so we can practise and learn. There's also a pre-brief and debrief which gives us insight on the technical side of things, which is important because acclimatising to racing in Japan and racing in Bahrain, for example, are totally different. It's different because the car reacts differently to the terrain like the hilly landscape of Fuji in Japan to that in Bahrain which is almost under sea level and its weather is hot and dry. So we try to simulate the races in a simulator and complement that with physical training.
Are there any particular racing drivers, past or present, who have been a source of inspiration for you? How have they influenced your approach to racing?
The late Ayrton Senna has been my inspiration on track. I think his approach to being ahead of others, being the strongest, the most competitive driver, religious and all rounder himself, that is the dream, for me. He died when I was very young, but his racing legacy lives on. Off track, my inspiration is my late father. Prior to his passing, we spent so much time on and off track trying to get my career on track. He passed away in 2017, when I was tied to McLaren at the time. We went through so much, from karting, racing regionally and then internationally. My late father has been and will continue to be my true inspiration and the backbone of my career.