JOE FLIZZOW
Standing the Test of Time
WORDS BY HIRANMAYII AWLI MOHANAN
PHOTO CREDIT BY DEF JAM SEA
---
"Persistence is key," Joe Flizzow says. It takes passion and perseverance to make your dreams come true. So is the story of Malaysian hip hop maestro, Joe Flizzow. He paved his own path in what was an underrated industry — hip hop, and emerged a prominent force with a record label under his belt, along with numerous awards. What's even more inspiring is that Joe convenes rappers across Malaysia, through his Youtube show, 16 Baris. In an exciting phone interview, we gained insight into the day in the life of Joe's during the MCO, his thoughts on the hip hop scene today, future ventures and a song that is currently on repeat.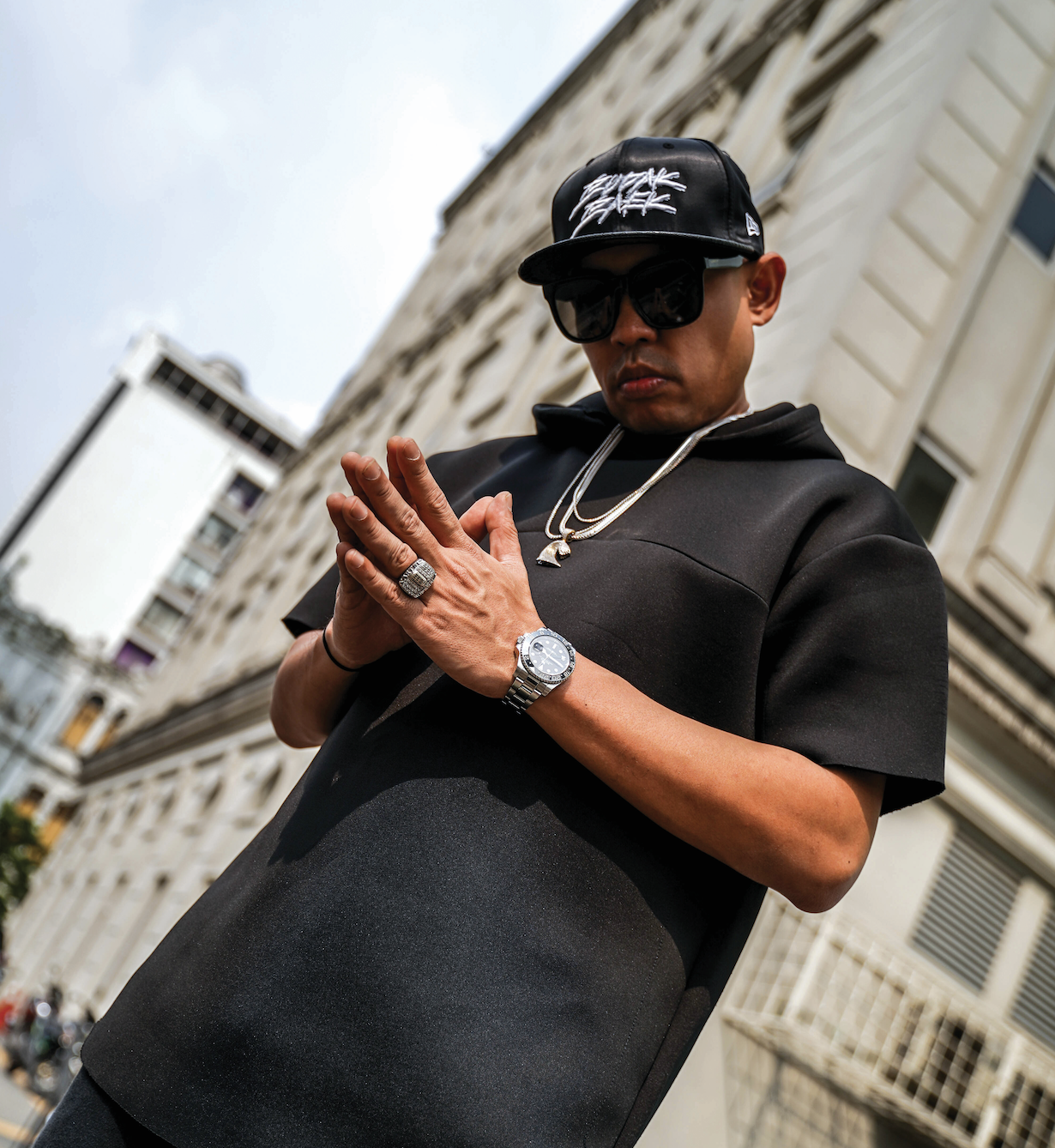 Tell us something your fans don't know about you.
When it comes to my body of work, it's pretty descriptive of the person I am, so I've pretty much bared my soul in each of every track for the past 20 years. But my fans might not know that I like gardening. I'm starting an edible garden in my backyard, from brinjal, salad vegetables, banana tree, papaya and more. It's something I picked up during the MCO and my fans will know when the garden is ready.
Music is evidently your first passion. Tell us about your journey into music.
I come from a very musically-inclined family. I think one of my first toys was a Fisher Price microphone and a guitar. My parents were working in London in the early 1980's so the living room would be my stage every time people would came over. That's kind of how I started. Then I started singing in family bands and concerts but it wasn't until I was in high school when I started performing on the regular — started representing school at talenttimes. I was trying to establish myself as a solo artiste but it wasn't until after school, when my best friend Christopher Kang, who studied at the School of Audio and Engineering (SAE) needed to produce a recording and he called me up saying how his classmates were doing bands and rockers but being a hip hop fan himself, he wanted me to record something. His assignment was my first demo; it got passed around and eventually landed in the hands of some promoters and got a call for a show. The rest is, as you know, history.
You are a legend in the hip hop scene. What is your opinion of the current hip hop industry in Malaysia?
I wouldn't say a legend, but yeah, I have been around for awhile. We have worked hard to bring it to a place where it's its own industry. The scene has evolved into an industry. At any given time today, the number one song on rim charts, meaning the most streamed and listened to, would be a hip hop song and it's very common to see five to ten songs that are hip hop. There are these new generation of hip hop artistes like Kidd Santhe, Lil J, K Clique and I'm just happy to be a part of growing the industry. Through 16 Baris, I've been lucky to be able to work with big artistes, who we've discovered and are big stars today, and artistes discovered on Instagram. I feel the unique thing about Malaysian hip hop is that it's a tight-knit community, from the fans to the artistes, DJ's, B boys and graffiti artists — it's a movement. I can't say the same about pop music.
How different is the hip hop scene then and now?
The difference was back then, hip hop was perceived as something Western and as if we were mimicking a different culture. But it takes time for a person to cultivate his or her identity and own sound, and the same applied to the Malaysian hip hop scene. It didn't start 20 years ago with me; it probably started 30 years ago with artistes like Crash Course, Nauttius Maximus, Niko and KRU. When I started around 1998 or 2000's, the torch was passed to us and we kind of ran with it. Back then, we didn't get support from the government like permits to conduct a harmless P Dance kind of gig and brands didn't want to collaborate with us — there wasn't money in hip hop. I remember going to some shows and there wasn't a stage. So we had to go to the hardware store, get some wood and build our own stage. I don't think a lot of people can say the same. Back then, we had to really fight for our place in the industry. Now you see hip hop being more accepted, with artistes like SonaOne on a big Touch 'n Go billboard. Now, there are even dedicated wall spaces for graffiti artistes to express themselves. A lot of graffiti campaigns in town now are government campaigns. Today, it wouldn't be crazy for Tourism Malaysia to employ a graffiti artist to do a project for them as it wasn't possible 20 years ago. Again, I think that my generation of hip hop artistes knew that we had to prove people wrong and change their perceptions about hip hop. We started incorporating local traditions into our songs, old instrumentation, blending B Boy moves with zapin and silat. This is what makes Malaysian hip hop unique.
What inspired you to launch 16 Baris?
I was toying with the idea of having my own YouTube show for the longest time, since I opened my first barber shop. The first episode comprised Aman RA, Airliftz and Balan Kashmir and I knew the show was going to change the game. I'm grateful to the artistes from the first few episodes for joining the show because they didn't know what to expect, we didn't have any sponsors and just trusted me. I think that was a historic moment in Malaysian hip hop because over two years, each episode had three rappers, 15 episodes, 45 rappers per episode, two seasons and 90 rappers. We have brought 16 Baris to Thailand, Australia and New Zealand. I'm proud to say that this is a Malaysian product that has had success in other countries. What is special about 16 Baris is that I hand-picked each and every rapper for the show.
One thing that I wanted to achieve through the show was to bring together rappers from across the country first, and some regional rappers. I wanted to put up Tamil-singing rappers with Mandarin- singing rappers and send a message that we need to be united to be stronger. For some artistes like Lil J, it changed his life. He was rapping in his car and his best friend took a video of him. He didn't even enter his submission for 16 Baris auditions but his friend did in his stead. After seeing it, I immediately hit him up and told him that I needed him on the show. Not only that, I told him that he would be performing on the same episode as SonaOne and Radio3000 who are established artistes. It was basically sink or swim. This kid had never performed in front of a camera before and he took a shot and rode that wave.
Are you planning to feature another season?
We're in the works right now but I can't say anything about it yet.
16 Baris has spread to Thailand, New Zealand and Australia. Are there any other countries you're planning to introduce this to?
I've been in talks with a couple of people in Japan who are interested in doing 16 Baris Japan, a Dutch 16 Baris in Amsterdam, and also 16 Bars in New York. The growth of this brand is very organic — I don't really force it, but rather let it go. I also don't want to exhaust the talents.
What is your most memorable milestone to date?
I think Anugerah Juara Lagu, simply because it was the first time a rap song won the Anugerah Juara Lagu. For me, it was breaking the dominance of rock and pop songs. If you watched that show, it was very poetic because at the end of the show, Altimet punches his fist in the air and it was a strong image for me because it was receiving love as well as representing the entire hip hop community. There have been so many more milestones too like winning an MTV Europe Music Award in 2018 — the first Malaysian to win. What I'm doing right now, like running Def Jam Southeast Asia — that's something pretty big for me too, growing up a fan of the label. So for me, it's pretty big being in charge of this regional label, and it gives me the opportunity to work with artistes from Thailand, Indonesia, Vietnam, etc.
What are the biggest challenges you've faced in the music industry?
When Too Phat ended and I started my own label, Kartel Records in 2006 with not a lot of money and zero knowledge of how to run a label, that was tough. It took me three to four years to figure it out but that first few years were pretty difficult. It was a feat to position myself as a label; owner at the age of 26 years and wasn't taken seriously. I would be laughed at in the boardroom but that only made me more determined to prove them wrong. If it wasn't for all the rejections, I wouldn't have worked as hard. Sometimes you can use negativity and turn it into something positive. Persistence is key.
You have travelled quite a bit and have met international artistes from the music industry. Who's the most interesting person you've met thus far?
Snoop Dogg. I met Snoop in Bangkok through this guy called DJ Ono who was close to him. I grew up wearing a Snoop Dogg T-shirt everyday that my nickname became Joe Snoop. People just perceive Snoop as a stoner but he is actually a good businessman too, worth at least US$ 200 million and you don't just survive in this game that long without doing something right. He is just so humble and friendly.
Someone that I look up to from the local sphere would definitely be Amy Search. He was the first star to talk to me when I was a nobody in 2002. I remember walking up to him saying I was a fan of his and he has been nothing but nice. He is one of the most genuine individuals I've had the pleasure of working with. He's one of the people I just call and chat on the phone. He's such a legend, so cool, humble and nice. I've never seen him raise his voice, scowl or anything like that. He is in a class of his own and a true rockstar.
What does the day in the life of Joe Flizzow look like before and during this pandemic?
I had been constantly travelling almost every two weeks so it was tough for me for the first two months. Not being able to travel and meet people. Instead of playing games, I started gardening, playing chess again online on chess.com against random people. I think the MCO has given everybody a chance to reevaluate on what's important. Everything has a silver lining and in that sense, it has done some good. On a regular day, I would take my freshly-squeezed orange juice or fruit in the morning and black seed oil. If anything, I have been eating better but the only thing I miss is going to the gym, but you make do.
What are you looking forward to once the pandemic clears up?

I miss performing. You get a certain high on stage, performing for thousands of people and I feel it's on stage where I get to be me.
What is the one song that is currently on repeat?
I've been playing Miles Davis 'Kind of Blue' album a bit. I have it on vinyl and on my Spotify playlist. It's that song that I'll play at some point during the day. It's a dope album.
Beyond music, you have also established a contemporary barbershop for the modern generation. Do you have any plans to launch something similar in the near future?
No, not really. We started with one shop six years ago and we have 26 shops thus far, but my goal for now is getting it to 50 or 100. I would love to take Joe's Barbershop internationally, granted if there is a suitable partner. But right now, I want to get into more neighbourhoods. I'm trying to open one in Sabah and another island.
What are your passions besides music?
Football. When I was growing up, all I wanted to be was a footballer, playing for Malaysia. I started playing football at 9 or 10 years old and used to play for my school. Throughout my childhood, it was all about football. I still enjoy football and I'm a fan of the Johor football team. I would drive down for matches, attend the training sessions because I know many of the national footballers. I have done lots of projects for Nike and was even included in the Malaysian contingent. Football was a big part of my life. My late grandfather was a football referee so I used to go to games and watch him referee, so I think it all started from there. My favourite football club is Liverpool and have been a fan since I was seven years old. This is the year we will win it again.