AMBER CHIA
Model Maven
By Hiranmayii Awli Mohanan
Amber Chia's career started with a dream — a dream to be a model. Armed with a fervour for modelling, she stepped out of her comfort zone and made a bold move, moving from the small town of Tawau in Sabah to the city of Kuala Lumpur. Then, she participated in a Guess campaign that changed her life forevermore. She became a supermodel from sheer passion and perseverance. She has since expanded her career as an actor, brand ambassador, an entrepreneur upon the establishment of the Amber Chia Academy and the organiser of Face of Asia Pacific. For the Icon edition, it was only fitting that we invite this maven to grace our cover and reflect on her journey thus far.
---
TELL US SOMETHING PEOPLE WOULD BE SURPRISED TO LEARN ABOUT YOU.

I believe that people would be surprised to know how friendly I am, how good is my EQ and how much passion I have for fashion. I would say I'm pretty lucky that I have a group of friends who love me and whom I love too. People who don't know me would probably assume that just because I'm a model and celebrity, I'm unfriendly.
HOW DID YOUR MODELLING CAREER BEGIN AND WHAT HAVE YOU LEARNT FROM IT?
My modelling career started when I was 17 and it has been my lifelong dream. One big lesson that I've learnt is that if you never give up, one day, you will realise your dreams and this applies to anything that you want to achieve in life. It doesn't matter how many challenges that come your way, you have to remain steadfast in chasing your dreams. Believe me, your dreams will come true.
WHAT ARE SOME OF THE PROUDEST MOMENTS OF YOUR MODELLING CAREER?
I think that I wouldn't have been able to achieve my dream if I hadn't taken the first step to move from Tawau, Sabah to Kuala Lumpur. Before I came to KL, I was helping my father, who was a fishmonger. I think that was the proudest moment for me that I moved from a small town to a big city. In 2003, I joined the Guess model search, got selected and managed to prove to everyone that if you never give up, your dreams will be realised. It was a proud moment as well as I was the first Asian model to become a Guess ambassador. These are the two moments that hold a special meaning to me and one I will never forget.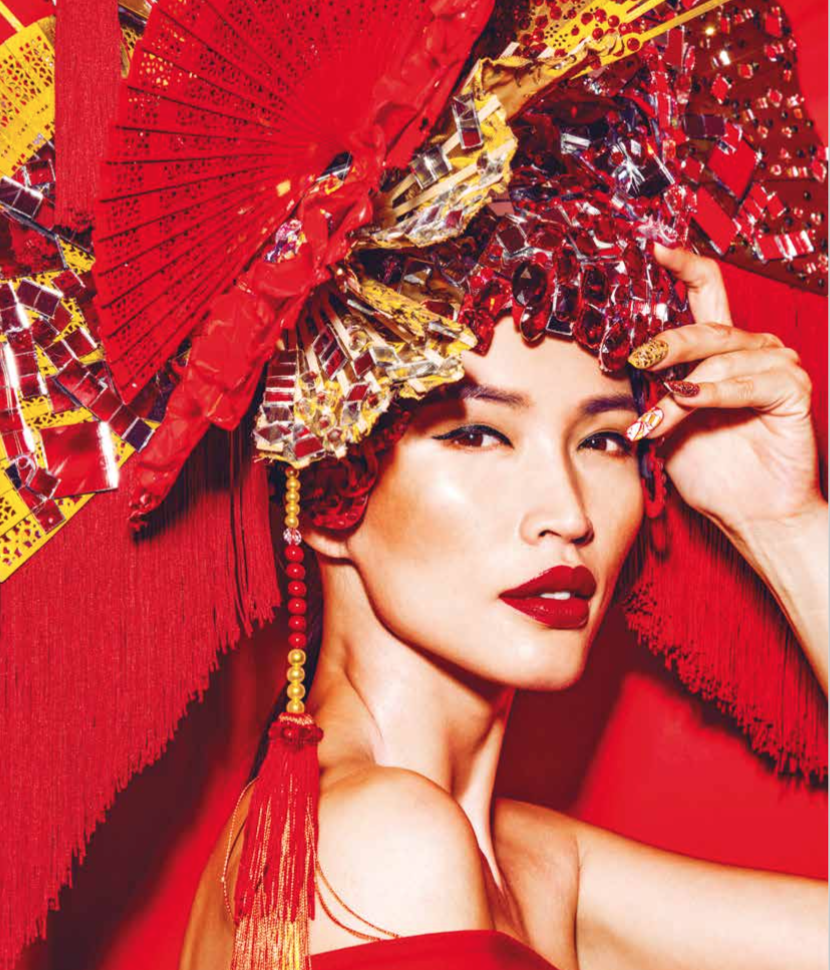 YOU HAVE WORKED WITH A LOT OF BRANDS. WHAT MADE YOUR COLLABORATION WITH GUESS SPECIAL?
Well, to be honest, without my collaboration with Guess, I wouldn't be able to be where I am today. I wouldn't be able to travel the globe and people wouldn't even know who Amber Chia is without Guess. After winning the Guess ambassador title, they brought me overseas which catapulted my career as a model, in various countries. The brand will forever hold a special place in my heart.
WHAT WAS IT LIKE BEING A MALAYSIAN MODEL IN NEW YORK CITY?
I was in New York for two years, from 2006 to 2008. It was a great experience for me and today, I miss it. That said, it wasn't easy as well because back then, there weren't many Asian models so I had to work extra hard. I was surprised to experience many assignments then — lots of casting calls and confirmed modelling gigs. I was surprised that I was selected as the first Asian model for Victoria Beckham's fashion campaign during New York Fashion Week in 2007. I also did various commercials and campaigns during my time. I was initially worried before moving to New York but with hard work and persistence, I'm proud that I achieved a lot during my time there.
WHO ARE YOUR BIGGEST STYLE ICONS?
I remember back in 1999 going on 2000 when I first stepped into the modelling world, there was an Asian model named Ling Tan and she was thriving in New York. She was my style icon. I loved her style and I think she is someone we should be proud of because she was the first Malaysian model to move to New York City. Another icon whom I've loved since I was young until today is Angelina Jolie. She has class, she is beautiful, she has her own style and personality, and what's more important is her contribution to society and the world is amazing.
WHAT IS THE SECRET TO YOUR SUCCESS?
I think having a good attitude and passion is very important for all industries. When I talk about a good attitude, I mean having the willingness to learn, professionalism and know how to you carry yourself. To be successful, you have to have passion because success doesn't happen overnight, it will take time. So, a burning desire to be successful will motivate you to achieve your goals.
WHAT IS YOUR ADVISE TO ASPIRING MODELS OUT THERE?
Well, for aspiring models, my advice is stop thinking, just get out there and chase your dream because if you keep thinking and don't put any action into it, your dream won't materialise. The modelling and entertainment industries are constantly seeking young aspiring models so if modelling is your dream, take the first step; get out of your comfort zone. At Amber Chia Academy, our doors are open and ready to welcome you too. Unlike today, when I was starting out, things were a lot harder as there was no Google, no Internet or modelling academy to help me out. The world we live in today, where information and everything is at your fingertips makes it much easier for aspiring models. I hope to see them on the runway and in the industry.
TELL US ABOUT AMBER CHIA ACADEMY AND WHERE DO YOU SEE IT IN 5 YEARS?
When I opened the Amber Chia Academy a decade ago, my goal was to help those with similar dreams as mine and give them a hand. After so many years, I'm blessed and proud to have students that have gone on to do very well and that's why our hashtag is academy of winners. Hopefully in five years, we would produce even more winners and offer courses for creative presence because when I established the academy, I believed that not everyone could do well in theory, so if they're not, they can be like me and excel in the entertainment industry.
IT'S NOT EASY JUGGLING MOTHERHOOD, MODELLING AND YOUR ACADEMY. HOW DO YOU STRIKE A BALANCE?
Well, I always believe that life is about give and take so to do something more, you've to give something up, hence balancing is very important. It really depends on what kind of life you want for yourself. For me, having a balance is very important like a triangle, all parts are equal and balanced in terms of family, motherhood and business. Having good health is also important because with good health, you have the physical ability to carry out whatever you want to.
WOULD YOU ENCOURAGE YOUR SON ASHTON TO FOLLOW IN YOUR FOOTSTEPS?

It really depends on whether it's something he likes and wants to pursue. Whatever it is, I would definitely support him. Although, I do feel like Ashton is leaning towards being a gamer. It doesn't matter what he does, I will support him. I hope he contributes back to society in the future.
WHAT'S YOUR FAVOURITE ACTIVITY WITH ASHTON?
I always look forward to having a pillow talk with my son where he shares everything that happens in school, about his friends and his thoughts. So yeah, this is what I Iook forward to every night.
YOU LOOK THE SAME AS YOU DID WHEN YOU WERE 20. WHAT IS YOUR SKINCARE TIP?
I always believe that in order to look good, you have to lead a good lifestyle feeding your body with good nutrients, being physically active and having a positive mindset. When you look good, you feel good and it translates on the skin. If you want to look good, you need to put in the effort.
WHAT ARE YOUR THOUGHTS ON SOCIAL MEDIA AND HOW IMPORTANT HAS IT BEEN FOR YOUR CAREER?
Yes, definitely. Social media plays a big part in all industries, especially entertainment. If it weren't for social media, I don't think I would be able to continue my career today. I always tell friends around me that it's important to adapt to the changes happening in the world, social media being one of them. Accept the world of social media, learn from it and assimilate.
ANY PROJECTS THAT YOU'RE CURRENTLY WORKING ON OR ARE IN THE PIPELINE?
Due to the pandemic, we have been transitioning some things online, as well as the courses. I'm the organiser of Face of Malaysia every year and because of the pandemic, we are moving it online. I'm waiting for the pandemic to pass because I still believe that the human touch is important. I hope that we can go back to things as they were before COVID-19. Right now I'm busy juggling motherhood, business and small online business as well. We're also offering new courses such as the Influencer's course at Amber Chia Academy and would be offering more courses in the future. I would like to take this opportunity to thank all my supporters without whom I wouldn't be where I am today — my family, friends and fans. Last but not least, although 2020 was a challenging year, we have learnt something from it and move forward to this new year with new hope and positivity.