UNG YIU LIN
AN INIMITABLE STYLE-STAR
Yiu Lin is a master of many trades; She is a doting mother, a successful entrepreneur and a social maven. Just before a fun-filled photoshoot, KL Lifestyle magazine sat down with this beautiful mum of three and gathered her thoughts on sustainability through fashion and her efforts in being sustainable.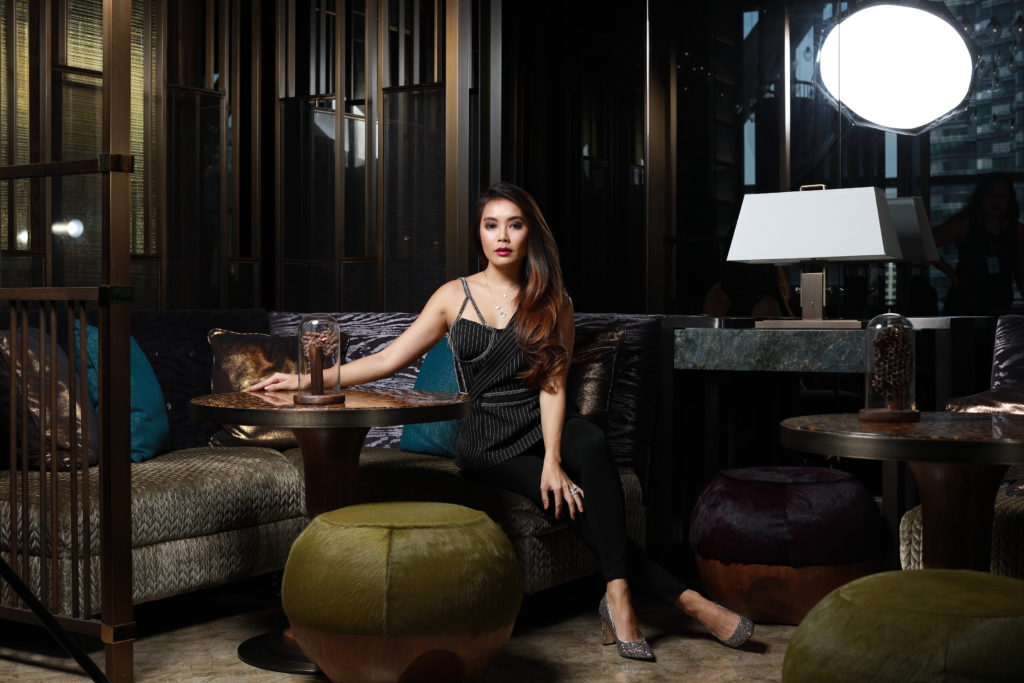 TELL US SOMETHING ABOUT YOURSELF THAT OUR READERS DON'T KNOW.
Most people don't know that I'm very adventurous and low maintenance. People tend to think that due to my line of work, I'm very glamorous and hard to maintain but that's not true. Especially being a mum who's running her own businesses and running a social life, I need to be more efficient and snappy about things. I am not obsessed with going for facials and things like that.
YOU ARE A MOTHER AND AN ENTREPRENEUR. HOW DO YOU FIND A BALANCE BETWEEN THE TWO ROLES AND FIND TIME FOR YOURSELF?
It's a daily challenge; you'll never hear a working mother saying that she has everything under control. It's always a struggle and something has to give. I always tell mums, do what is within your environment and what makes you happy. One should never compare with what other working mothers are doing, because everyone has different priorities. What's important to me, as a working mother, is spending enough time with my kids in a day, week and month. It's a shifting balance and at the end of the day, when you sleep at night, you should be contented and happy with the choices you are making. But if you are not, do something about it. Nowadays because of social media, things tend to look more put together than it actually is, so leave within your own means and lifestyle.
YOU RECENTLY TURNED 40. WHAT IS YOUR TAKE ON TURNING 40 AND YOUR JOURNEY SO FAR?
I'm turning the big 40 in September. I've always had milestones in my life; at 30 I achieved career-focused milestone, 35 was finding a balance between career and family, and 40 now is about refocusing on myself. I dedicated five years of my life to having children and bringing them up, so this is my time to reconnect with my husband, spend quality time with him and essentially, just being myself.
WHAT DO YOU SEE YOURSELF ACCOMPLISHING IN THE NEXT 10 YEARS?
In the next 10 years (I'll be 50). I think as an entrepreneur I'll be looking for more opportunities. Being an entrepreneur, you need to always be evolving and being ahead of the curve but at the same time looking for different business opportunities to diversify. At the end of the day, I want to be working towards the quality of my life, ideally, doing 20 per cent work and 80 per cent returns compared to when I was in my twenties, when it was 80 per cent work and 20 per cent returns. It's really all about the quality of life and spending it with family and friends.
APRIL 22 IS EARTH DAY. WHAT ARE YOUR EFFORTS IN BEING SUSTAINABLE?
Right now since Marie Kondo is a big sensation, I find that what she preaches makes sense, to be conscious consumers. In this day and age of fast fashion, everyone is just buying without thinking about its impact. As a consumer, I'm more conscious about my purchases. I want to buy and invest in pieces that I feel a connection with. When buying into a brand, buy into one that has a story to tell, that is born from passion and in that sense, we wouldn't have to live in clutter. Currently, I'm working with Samsonite; I just decluttered and traded in my old luggage for a newer one, at a discounted price. Isn't that great rather than hoarding. Morever, Samsonite has a proper recycling programme and portion of the proceeds go to World Wildlife Fund.
WHAT ARE YOUR THOUGHTS ON SUSTAINABILITY THROUGH FASHION?
Sustainability through fashion starts from using the right materials. We are exploring the concept of using recyclable materials such as fishing nets. But at the same time, these materials are still very pricey so how do we translate that to customers to be able to afford it? So Hopefully, the industry progresses so we as designers or fashion houses can purchase these materials at good prices to offer them to consumers.
TELL US ABOUT THE NURITA HARITH LUXE 2019 RAYA COLLECTION.
At Shoeshoesshoes, we have evidently evolved from just shoes to a multibrand store. We're proudly Malaysian and love to showcase local talents. We retail all the top and emerging designers in Malaysia and Southeast Asia. Now that we're moving towards the Raya season, we are showcasing the made-to-measure bespoke collection for Nurita Harith, Alia Bastamam, Afiq M and Linda Rahim. We also have bespoke batik brands coming in, a Singaporean brand called Baju by O Nyata with batik tulis coming in April. It's really interesting because this period allows us to showcase different stories which are really special. Nurita Harith is just a darling in the fashion scene. She offers an amazing silhouette, catering to Malay girls who are sweet and 'ayu' during Ramadan and Raya. Everything is made to measure and she has the most amazing cut. Afiq M also has an interesting take on Raya wear because he's not so mainstream, rather, more relaxed and contemporary.
DO YOU HAVE A PROCESS IN DESIGNING THE PIECES THAT GO INTO SHOESHOESSHOES?
Yes, of course. Shoeshoesshoes comprises in-house brands from shoes to clothing, as well as retailing other brands. I'm very heavily involved with shoes; it's our staple and we have new designs that are released every month. We also have to stay ahead of trends at the same time. We really focus on producing quality products that are comfortable. Clothing comes in every month in limited numbers and they're unique, interesting statement pieces, so we try to stay ahead by offering out-of-this-world kind of pieces. We have ready-to-wear clothing as well as American and Australian brands. We try to give customers what they want or will want.
YOU SHINE THE LIGHT ON VARIOUS LOCAL DESIGNERS. DO YOU HAVE A FAVOURITE?
he work that I'm doing currently is to incubate local designers. I've been in the business for 10 years now and we have honed the business model quite well, knowing exactly what to do from the back-end, PR, etc. I noticed that a lot of designers are equipped with creativity and the vision but some of them don't have time to focus on the management side of the business, or lack funding. So this is where I come in and merge the creative and the management aspects of the business, so designers can focus on the right things. Afiq M is the pilot case and is a brand I've invested in for two years now. It has grown by leaps and bounds, from being a small, untapped potential to now producing ready-to-wear collections that are bought up by online platforms. We're selling these in Southeast Asia and the Middle East. This pilot case was about experimenting how to marry a designer with an entrepreneur like me as well as showcasing to the Malaysian market that collaborating with an entrepreneur is an avenue to elevate their brand and bringing it to a different level. I'm very biased, so my favourite designer is Afiq. We have been working together from a seed of an idea to growing the designs in a collection. He's very inspiring.
IF YOU HAD TO CHOOSE A FAVOURITE GARMENT OR LOOK FROM SHOESHOESHOES, WHICH WOULD IT BE?
It would definitely be heels. I wear a lot of booties and love how they make a statement and make me feel good.
WHAT'S COMING UP FOR SHOESSHOESSHOES?
I'm working on an interesting project which is rethinking retail. A lot of brands of late aren't opening retail stores, instead, they're moving to online. The issue when moving online is that there is a disconnect with customers, especially concerning product launches and getting customers to know the collection. At the same, I understand why brands don't set up retail stores because of the overhead cost that kills brands, in my opinion. So what I'm working on is trying to marry the aforementioned issues by offering a really great space in Jalan Telawi, Bangsar. The establishment is on two floors, the first is our office space and the ground floor our showroom. We are in the midst of transforming it into SSS Exhibits, a space for brands to showcase their offerings, be it a product launch, or a pop-up store just for Raya without having to commit to a store lease for a short period of time. The space will also work great for a pre-loved popup shop, a good means for sustainability.
HARI RAYA IS JUST AROUND THE CORNER. WHAT ARE YOUR FAVOURITE RAYA TRADITIONS?
Our tradition involves lots of food. My mother-in-law is from Kuching and she is an incredible cook, she makes the best Sarawak laksa. During Raya, we also have close friends and family over as well as attend open house and get dressed up in matching outfits with my kids.
ANY HINTS TO WHAT YOUR FAMILY IS WEARING FOR RAYA THIS YEAR?
We're going to wear Nyonya kebaya this year, which I've always loved. It's handmade and uniquely Malaysian. I'm part Nyonya, so it'll be nice to see my girls in kebaya. But then again, there are so many days and open houses we have to attend, so I'll also be wearing Afiq M's ready-to-wear Raya collection which is linenbased, comfortable and breathable for the hot weather. He'll be making a matching outfit for my girls too. With Afiq M, we have our own workshop, so we take on bespoke orders and matching sets for the hubby too!
YOU AND YOUR HUSBAND ARE A UNION OF TWO DIFFERENT CULTURES. HOW DO YOU INSTIL THESE CULTURAL VALUES IN YOUR CHILDREN?
We're not overly conscious about it. Culture is after all, ingrained in us. My kids would observe us, naturally and at the same, we practise celebrating all the different cultures and celebrations in Malaysia, from Chinese New Year to Christmas. This shows them our open-mindedness to embracing all cultures and that's the beauty about Malaysia. They're also in a kindergarten that is multicultural and diverse. For me, it's important to see that from a young age and not be culturally segregated.
YOU ARE ALSO AN AVID TRAVELLER. WHAT IS YOURDEFINITION OF A PERFECT HOLIDAY?
You know what, there's no definition of a perfect holiday. If you go on a holiday and you're excited, inspired and re-energised, then that's what travelling is all about. I believe that travelling is important for everyone because sometimes we get entrenched in what we do on a daily basis. At the end of the day, we need to feed our soul and the best way to do that is by having new adventures, going to new places, opening our eyes to the rest of the world and taking a leap. Travelling allows me to detach from the various things I do and to rejuvenate to get back into the daily grind.
FINALLY, ARE THERE ANY PLANS IN OPENING ANOTHER BUSINESS OR UNDERTAKING ANY PROJECTS IN THE NEAR FUTURE?
Besides our Jalan Telawi space, we are growing Afiq M. We wentgone to the Middle East last year, only to receive great response from them. We're really trying to grow that market because we feel his designs will be appreciated there. It's really about understanding the culture there, the women, their body shapes, how to work with them and want they want. It's a steep learning curve but the Arabs are very open to emerging brands. We're visiting the Middle East again in April for Ramadan to showcase Afiq's festive collection. That's my focus for now. I believe that when starting a business, we need to do it justice and see it through before venturing into anything else. That said, I'm always open to diversification and new opportunities.
---
WORDS BY HIRANMAYII AWLI MOHANAN
PHOTOGRAPHER : BARATHAN AMUTHAN @ FRAMESBYBARATHANAMUTHAN
VIDEOGRAPHER: SAMUEL GOH U-WEI @ SAMGUW
HAIRSTYLIST : DEREK TAN @ ANAGEN
MAKE-UP : RYEN @ SAYAP_REPUBLIC
VENUE : FOUR SEASON KUALA LUMPUR
WARDROBE: AFIQ M, SHOESSHOESSHOES
Follow us on Facebook and Instagram