Cocodry
Wash Blow Style
By Hiranmayii Awli Mohanan
COCOdry, the first blow-dry bar in Malaysia joins the hubbub of activities and offerings in Bangsar. Leave your woes and bad hair days behind and cross the threshold to the embrace of positive energy and tropical ambience at this blow-dry bar. Steered by two best friends whose passion is beauty and entrepreneurship, COCOdry transcends a beauty parlour to a space where women can convene, connect, as well as evoke confidence.
Inside, eyes immediately wander about the commodious space and settle on the u-shaped bar where the magic happens, while large oval-shaped mirrors embellish the walls for the final reveal after a blow-dry. It can be discerned that thought and passion went into the execution of every nook and crevice of this blow-dry bar. We appreciated the attention to detail – compartment to store your handbag, wires to charge your phone, small pouch to store earrings, hot towels, refreshments and Netflix for the ultimate relaxing experience.
Unlike a typical salon, a blow-dry bar specialises in just blowouts, no cuts and colour. The CocoServices offered here come in two categories, one for the everyday metropolitan like us, hence named The Hustler, while the second is Hijabista, meant for hijab-donning Muslim women. In a private, cosy room, Muslim customers can choose from five hijab styles – Two Chill, Turbaniser, Khimar, Instagrammer and Side Knot to slay any event.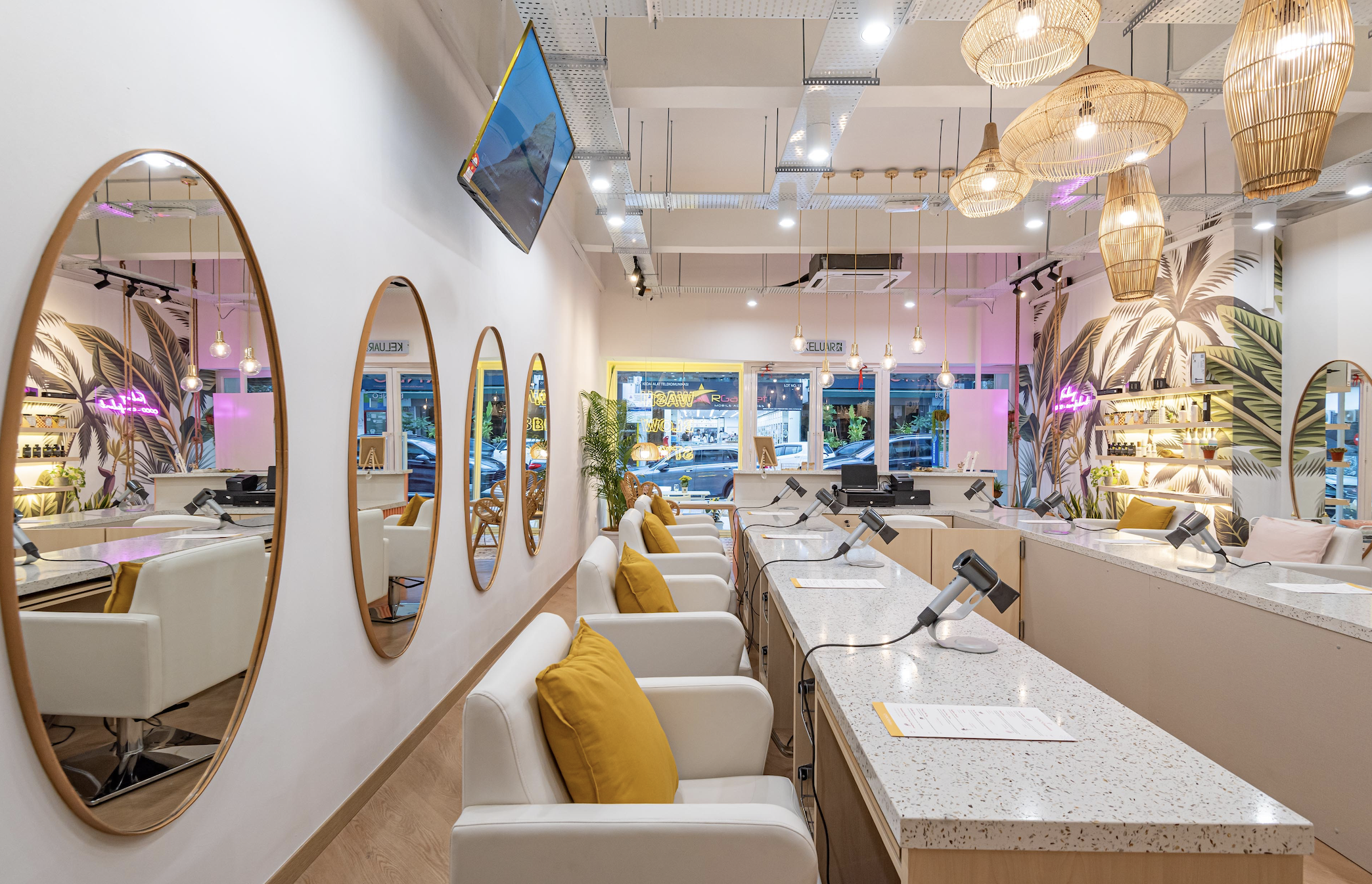 Our manes in dire need of pampering, we opted for the Tai Tai Life. The Tai Tai Life, as you probably guessed, prolongs the indulgence, compared to The Hustler. Friendly staff, Faye and Kai Xin began the process by draping our shoulders with towels and proceeded to comb the scalp with a wooden brush, massaging it while removing foreign particles and dirt from our hair. It is known to promote hair growth and a healthy scalp. Between sips of cold earl grey tea, they began lathering a natural shampoo, safe for our scalp as well as the environment.
Impressed with their natural products and efforts at sustainability, the regime continued with a head massage, wash and then, the apex – a blowout using a Dyson hairdryer. We opted for Beach Please and Crazy Rich Asians from the 10 blowout and updo styles from The Hustler category. In mere 10 -15 minutes of blowout and styling, it was time for the big reveal. Our chairs swiveled to the mirror with excitement to reveal shiny, beautif lly-primped hair that was ready to take on the world.
Address: COCOdry
No. 8, Jalan Telawi 3, Bangsar, 59100 Kuala Lumpur
Tel: 016-488 6609