Blogger Eats
Compiled by Hiranmayii Awli Mohanan
---
For the October issue, we turned to food experts, bloggers Elana Khong, Nicholas Ng (of Food For Thought) and KY Speaks for their recommendations on the best restaurants in town. Happy reading and eating!
FRANGIPAANI
By Elana Khong @elanakhong
Located in the newest eating locale called The Republik, Frangipaani is a brand- new restaurant that boasts authentic Indian cuisine, which aims to take diners on a culinary
journey through one of the most colourful sub-continents in the world. Not your typical fine dining restaurant, Frangipaani offers popular Indian fare along with carefully curated Anglo-Indian recipes native of Goa. Walking into the restaurant, you'll be welcomed with decor inspired by British-India colonial charm whilst set in the background of a tropical rainforest.
Our amazing gastronomic journey started with a bowl of piping hot mouth-watering crab rasam. Spicy and tangy, the rasam was truly flavour-packed, absolutely delish. Our next dish was the lamb chop. Grilled in a clay
oven, the succulent lamb cutlet paired wonderfully with the tasty and spicy rogan josh lamb gravy. But what really impressed me was the Mutton Dum Briyani! Fluffy and fragrant briyani rice loaded with delicious, tender chunks of mutton, cashews and raisins. A medley of flavours and textures with each bite, it was divine. Highly recommended!
We concluded our meal with a traditional dessert, Gulab Jamun. The heavenly milky ball dessert was filled with pistachio and almond, soaked in saffron honey syrup. If you are looking to indulge in some sugar or spice, or take your loved one out on a romantic evening, or even just a c riends, Frangipaani is the ideal restaurant for all occasions.
FOOD FOR THOUGHT: HOW DC RESTAURANT REDEFINES CUISINE IN MALAYSIA
By Nicholas Ng @foodforthoughtmy
The name DC Restaurant is no stranger to those who are acquainted with fine dining in Malaysia, and for those who don't know it, it is not the first foray by Darren Chin into the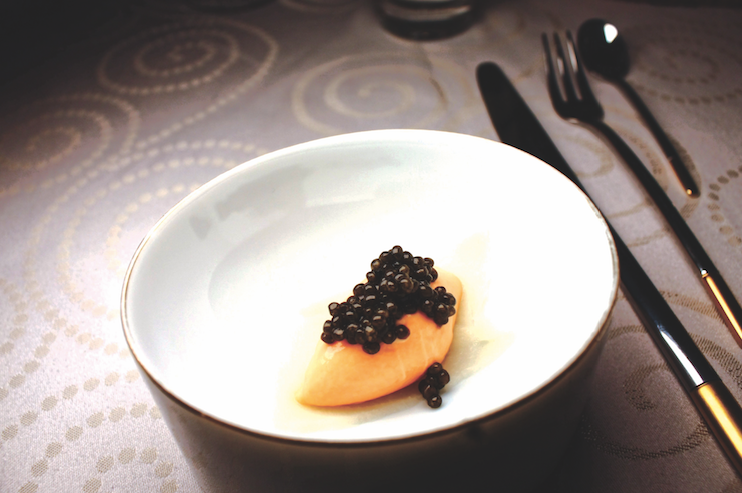 culinary business. With a legacy of being the scion of David Chin of Dave's Deli and Dave's Bistro Bar Grill, Darren is no amateur to the business. With a combination of French techniques and some of the best local ingredients, the cuisine at DC can hardly be considered coming from a certain country, but a combination of some of the best.
Darren's cuisine has evolved through the years, with his early years paying homage to his French culinary schooling with emphasis on traditional French and Japanese ingredients and techniques, while in current years we see a shift towards using more localised offerings such as single origin chocolate from Pahang, herbs and vegetables from Cameron Highlands and sturgeon sourced from Perak itself.
As a big supporter of local ingredients, Darren takes some of the best of that the Malaysian terroir has to offer and marries them on a plate in interesting ways such as the pairing of local Tanjung Malim tropical sturgeon caviar with crab ice cream and young bamboo shoots. The mix of sweet, sour, savoury and a number of interesting temperature and textures makes this forward-thinking chef keep to modernity, yet respect tradition where it demands it. He will not use ingredients if they are of a lesser quality, and this is a promise to patrons.
In addition to its amazing wine list, DC Restaurant has arguably the best cheese selection available in Kuala Lumpur, such as the chalky Tête de Moine that is cut using a spiralising girolle cutter, one of the best you will find. The overall experience offered at DC Restaurant is one that many French patrons in Kuala Lumpur will vouch for, so if you're looking for something that tickle your fancy in the right way, you know where to go.
B & BEST RESTAURANT
By KY Speaks @kyspeaks
Being a foodie myself, I love discovering hidden gems. While I have many favourites, if I had to choose just one, it would be B & Best hidden away in Taman Rasa Sayang, Petaling Jaya. This unpretentious kopitiam is one you can wander into for some good hawker fare but be prepared for a wait because it can get busy during weekends.
Choices here are aplenty, offering fresh quality seafood, no- nonsense preparation method, bits of pork lard strewn into it and an awesome sambal belacan to pair. I've had seafood noodles at many restaurants before, but none can come close to this scrumptiousness.
Visits to this restaurant always leave me spoilt for choice, between the jewel garupa with raw oyster to go with mee suah, giant garupa liver, fish lips, or scallops. If you' for some seafood noodle, you know where to go!