BEST FATHER'S DAY MOVIE TO ENJOY WITH DAD

You've probably secured a thoughtful gift for Father's Day. But now comes the hardest challenge: planning a fun activity to supplement the occasion. Should you treat your dad to an outdoor picnic or perhaps beer tasting? The options are pretty much endless, but if you're looking for a simple bonding activity that doesn't require expert-level planning, consider watching a great dad-themed movie together.
BY HIRANMAYII AWLI MOHANAN
---
ONWARD
Teenage elf brothers Ian and Barley embark on a magical quest to spend one more day with their late father. Like any good adventure, their journey is filled with cryptic maps, impossible obstacles and unimaginable discoveries. But when dear Mom finds out her sons missing, she teams up with the legendary manticore to bring her beloved boys back home.
Cast: Tom Holland, Chris Pratt, Julia Louis-Dreyfus, Octavia Spencer
THE PURSUIT OF HAPPINESS
Grab the tissues because this poignant drama is sure to bring the waterworks. Based on the true story of Chris Gardner, a businessman who previously struggled with homelessness while raising a toddler, the movie chronicles his efforts to land a job and secure a better life for his son. Smith gives an Oscar-worthy performance as Gardner while Smith's real-life son Jaden plays his movie son.
Cast: Will Smith, Thandiwe Newton, Jaden Smith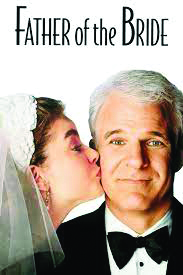 FATHER OF THE BRIDE
You can't go wrong with a classic such
as Father of the Bride. George Banks (Steve Martin) and his wife, Nina (Diane Keaton), are the proud parents of Annie (Kimberly Williams), but when she returns from studying abroad and announces that she's engaged, their whole world turns upside down, especially that of overprotective George. From meeting the in-laws to wedding plans with an over- the-top consultant (Martin Short) and his flamboyant assistant (B.D. Wong), it seems as if the troubles never end in this update of the classic Spencer Tracy comedy.
Cast: Steve Martin, Diane Keaton, Kimberly Williams
THE GAME PLAN
Bachelor football star Joe Kingman (Dwayne "The Rock" Johnson) seems to have it all. He is wealthy and carefree, and his team is on the way to capturing a championship. Suddenly, he is tackled by some unexpected news: He has a young daughter (Madison Pettis), the result of a last fling with his ex-wife. Joe must learn to balance his personal and professional lives with the needs of his child.
Cast: Dwayne "The Rock" Johnson, Kyra Sedgwick, Morris Chestnut
DEFINITELY, MAYBE
Perhaps you've asked your dad about the
first time he met your mother, but we bet he never told the story quite like this. Will Hayes (Reynolds), who's in the middle of getting a divorce, decides to tell his daughter the story of how he fell in love with her mother. The only catch? He refuses to use real names, so his daughter has to guess which woman in the story becomes his wife.
Cast: Ryan Reynolds, Isla Fisher, Derek Luke
DADDY DAY CARE
Sign us up for literally any movie where Regina King is the breadwinner in the family. In Daddy Day Care, her character's husband, Charlie (Murphy), decides to open a daycare centre after getting laid off from his job. However, Charlie struggles to keep the business afloat and it certainly doesn't help that his top competitor, Gwyneth Harridan, is trying to shut them down.
Cast: Eddie Murphy, Jeff Garlin, Anjelica Huston, Steve Zahn
FENCES
Washington and Davis both deliver powerful performances in this period drama film, which is inspired by August Wilson's Pulitzer Prize- winning play of the same name. Set in 1950's Pittsburgh, Washington plays Troy Maxson, a sanitation worker and aspiring athlete who grapples with a harsh reality: that he'll never become a pro baseball player. Meanwhile, both his wife (Davis) and son have to deal with his bitterness and anger, which creates tension in the family.
Cast: Denzel Washington, Viola Davis, Stephen McKinley Henderson
THREE MEN AND A BABY
Whether you've watched it once or a million times, actors Selleck, Guttenberg and Danson will always be hysterical in this classic. The
film follows three successful roommates who
go from being single bachelors to single dads when an abandoned baby suddenly appears on their doorstep. Although caring for the little girl proves to be extremely challenging, they all grow quite fond of her.
Cast: Ted Danson, Tom Selleck, Steve Guttenberg
CHEAPER BY THE DOZEN
It's the film that'll make your dad feel extra grateful that he doesn't have over a dozen kids. Steve Martin and Bonnie Hunt are Tom and Kate Baker, parents raising 12—yep, 12 children. But when the family moves and Kate has to go on a book tour, Tom is left to care for the kids on his own. Naturally, a series of misadventures ensue.
Cast: Steve Martin, Bonnie Hunt, Piper Perabo
DADDY'S LITTLE GIRLS
Monty (Idris Elba), a mechanic, struggles to make ends meet and raise his three young daughters alone. When his drug-dealing ex-wife wins custody of the girls in court, he enlists the help of Julia (Gabrielle Union), a successful attorney, to get the girls back. Romance unexpectedly blooms between the pair, but the couple must come to terms with their very different lives and find a way to keep Monty's family together.
Cast: Idris Elba, Gabrielle Union, Louis Gossett Jr.