Acting Group CEO Speaks
A leading corporate leader with strong financial background and extensive experience in various fields , he is currently steering Malaysia Airports to greater heights.
This month, Raja Azmi Raja Nazuddin looks at the airport operator's 2018 performance based on its latest released data and projects what to expect in the coming months.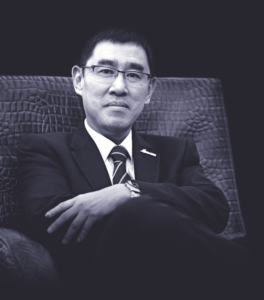 I am happy to announce that our total network of airports grew 4% in 2018 to achieve a record 133.1 million passenger movements, with both international and domestic passenger traffic up 5.9% and 2.3% to 63.3 million and 69.8 million respectively. Despite 2018 being a challenging year for the aviation industry with US – China trade tensions and a fluctuating oil prices, 20 foreign airlines and 60 international routes managed to post double-digit growth at our airports in Malaysia.
Although our passenger movements in Malaysia amounted to only 99 million passengers in 2018, our international passenger movements remained robust. Our airports in Kota Kinabalu, Kuching, Tawau, Sibu, Bintulu, Kuantan, and Ipoh registered double-digit growth in passenger movements, thanks to more direct international traffic and improved domestic connectivity.
For instance, TUI Airways started its maiden scheduled charter operations from Birmingham, Gatwick and Manchester in the United Kingdom to Langkawi International Airport last December. That same month saw AirAsia introducing new direct flights for Tawau-Kuching, Ipoh-Singapore while Malindo Air commenced the Kota Kinabalu-Tawau sector and AirAsia X its KL-Tianjin route.
December also saw the relaunch of Royal Brunei's Bandar Seri Begawan-Kuching sector and Citilink Indonesia's inaugural Banyuwangi-KL flight into our flagship KL International Airport. Through our joint initiative with Tourism Malaysia and Kompas, we also received charter flights from Sunday Airlines from Kazakhstan to Langkawi in December 2018. All these efforts, including that of our stakeholders, will not only help raise the awareness of our local destinations but will also boost tourist arrivals.
With China and India being our key markets, we welcome the government's recent announcement to extend the 15-day visa exemptions to December 2019 for tourists from these two most populated countries in the world, as this would help spur more passenger traffic into Malaysia.
As fuel price is expected to remain relatively low in 2019, we see this also as a positive sign for air travel and anticipate our Malaysian passenger traffic will grow by 4.9% this year, while our operations in Istanbul Sabiha Gokcen International Airport in Turkey is also expected to grow by 4.3%.
Taking advantage that Asia Pacific will continue to lead in the global economic growth with an average gross domestic product growth forecast of 3.9% annually over the next 20 years, we will put into place infrastructure and policies that will support such traffic growth. While we acknowledge that competition among the world's airports have intensified, we are confident that we will thrive as we put our best feet forward to meet the market's challenges.
As a multiracial country that celebrates many festivities throughout the year, I would like to take this opportunity to wish our passengers, stakeholders and travellers a Happy Chinese New Year. Do enjoy the many joyful experiences we have created for everyone at our airports. We encourage you to check-in early in view of the festive holiday crowd and have a safe journey!
Follow us on Facebook and Instagram