Noorfuji Anggara
MARGATULUS SOLO EXHIBITION
8 DECEMBER TILL 31 DECEMBER 2022
VENUE : KLAS @ 150, JALAN MAAROF, BANGSAR KUALA LUMPUR
---
Noorfuji Angarra, who is affectionately known as Fuji, is a young, emerging artist who was born in Kuala Selangor and currently resides in Klang. The artist graduated and holds a bachelor's degree in Fine Arts from UiTM, in January 2019. Upon his graduation, Fuji has been catapulted into the Malaysian art industry, full steam ahead, by participating in numerous exhibitions and competitions. He juggles between multiple bodies of work almost simultaneously, exploring a variety of styles and forms that expresses his thoughts about all things nature through the means of pop figuration, semi abstract and semi expressionism.
Of late, Fuji has found himself returning to one of his favourite themes, which explores semi expressionist paintings. He has a fondness for combining space, composition and figuration and stylising it into abstract lines. Besides producing artworks, the artist is also actively involved in painting art murals and participating in various mural art competitions. He had an internship and exhibited his artwork in Sangkring Art Space, Yogyakarta for almost 3 months. He was involved in collaboration projects with Galeri Petronas as a panel artist and Art talks during workshop events in Galeri Petronas.
Noorfuji Angarra holds multiple awards under his belt, starting with him snagging the 1st Prize in Rediscovering Nature & Environment (Vision Petron Art Competition) in 2016. The next year, in 2017, the artist participated and won the Jury Pick Art Against's Aids Competition. The revelry continued in 2018 when Fuji won the consolation award for the 2018 IMU Competition Consolation Art Against AIDS Competition. Then, in 2019, as the world came to a screeching halt from the COVID-19 pandemic, so did Fuji's participation in exhibitions and awards, but it didn't stop him from producing paintings. The winning streak resumed in 2021, with a consolation for Art Against Aid Karex Competition and in 2022, won by the online visitor Winner Bakat Muda Sezaman 2021. Most recently, Fuji participated in the Emerging Artist Award 2022 under the CIMB Artober event that took place in Glo Damansara.
Margatulus
The term Marga is an Indonesian word that refers to a clan, family or particular community. It can also refer to a family's ancestry, from grandfather to father, to son, to grandson, to great grandson and so on. Marga is often used by the nobility and in present day, has been adapted by the community. The word Tulus carries the meaning of sincerity, honesty and pure-heartedness, or wholeheartedness.
The combination of the two words culminates to Margatulus — a series of works that is a representation of my family, where I started, my development as an artist, my process of creating and the inspiration and experiences I seek around me. In addition, I produce one painting at a time, in various sizes, enhanced by positive expressions driven towards a visual spectacle that conceals a story within each painting.
---
In Conversation with Fuji Anggara
On Passion and Perserverance
WHAT MADE YOU PURSUE AN EDUCATION AND EVENTUALLY A CAREER IN ART?
I've always had the inclination to draw since I was in primary school. I started drawing cartoon animation when I was 10, and even won an award at a watercolour competition. My father is an artist and he worked on portraits at Central Market KL for the longest time. He played a part in influencing my path in art. My father inspired me to pursue a diploma education in Fine Arts at UiTM. During my time there, my lecturers exposed me to art exhibitions and competitions, in which I participated in. I was selected to exhibit my work at the Vision Petron Art Competition and secured first place. From that moment on, I was convinced of my journey and aspired to be a successful artist. Then, I continued my studies and graduated with a Bachelors degree, also in Fine Art, at UiTM Shah Alam.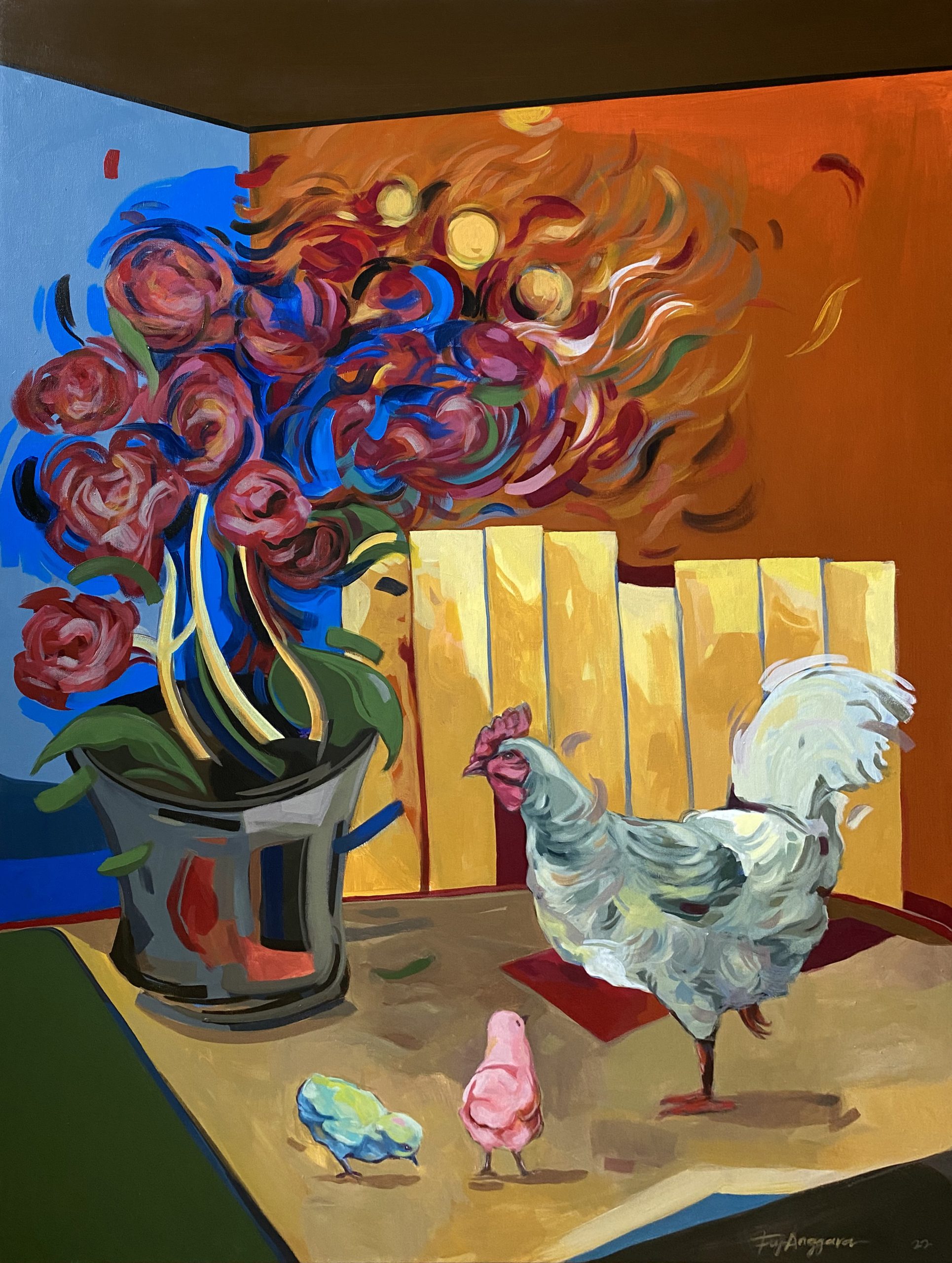 WHAT OR WHOM INSPIRES YOU AND YOUR WORK?
There are many people who inspire me. Throughout my education in fine art, I've been so fortunate to have crossed paths with fellow contemporaries as well as famed artists who have always inspired me. My participation in the Sangkring Art Project "Ikhlas Untuk Jogja" at Sangkring Art Space in Indonesia in 2019 was truly an eye opener and an incredible stepping stone for my career. After my stint under the tutelage of Pak Putu Sutawijaya in Jogjakarta, I received lots of invitations to showcase my paintings at various art galleries. The opportunities I received paved the way for me to set up a studio space with 10 artist friends who were contemporaries. We constantly brainstormed on ideas on a regular basis and formed a great working relationship. This studio we formed together essentially became a space for us to create our individualistic ideas and styles.
My main inspiration to create comes from the reflection of the life from my father and family, the most important people and closest and dearest support system to me. My work is a narrative of life living in the city and being part of urbanisation. For example, my works typically centralised and was themed around struggles that come from living in the city, the loss, degradation and abuse of the natural environment. I also reflected often on the family struggles and social predicaments which can be seen in my works in this exhibition.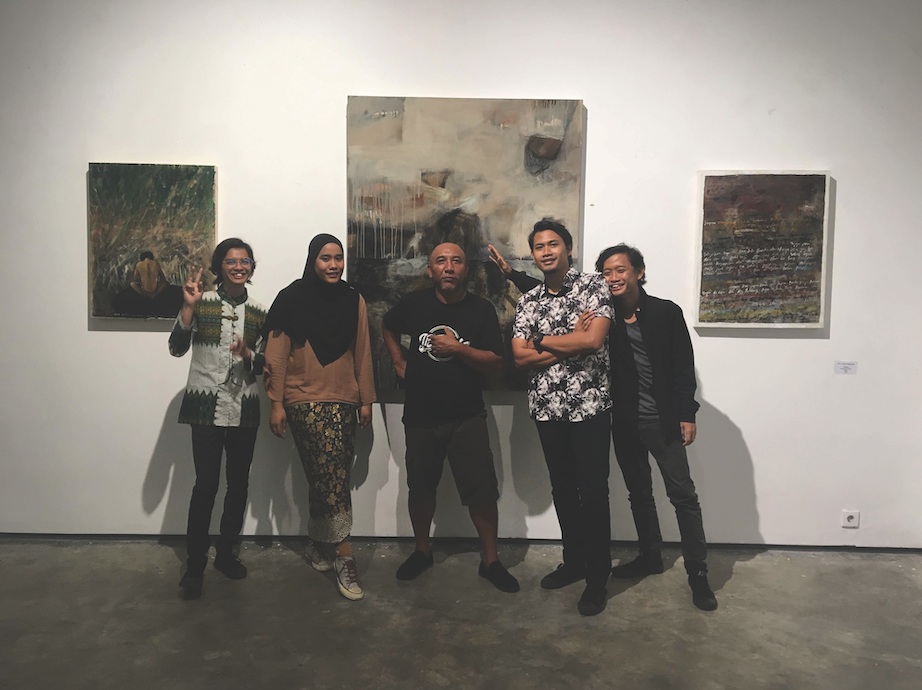 My paintings often narrate and depict the subject of struggle. It's a theme that I often revisit, especially since my father, who hails from Indonesia, struggled to provide for his family. He undertook multiple jobs as a fisherman, contractor, factory worker and street artist in order to support and provide for his family. My father is my biggest influence and is a constant reminder of my identity as a Javanese Indonesian. We have always retained our culture and traditions.
COULD YOU WALK US THROUGH YOUR PROCESS OF CREATING AN ARTWORK?
For the past three years, I have illustrated the subject of social realism and everything involved in that regard. With every artwork I produce, there's a story I wish to convey through the pieces. Each, according to my muse and influence, varies in subject, from the struggle to survive, as well as the appreciation of nature and living. I'm inclined to stylise my paintings, using the method of expressionism. All of my paintings contain various elements of my Javanese Indonesian identity. My surroundings have a big impact on me too. My experience working as a resident artist cum gallery assistant in KLAS since 2021 has surely given me an insight and undoubtedly shaped and contributed to the new style of my works the past year.
WHO IS YOUR BIGGEST ARTISTIC INFLUENCE?
The greats inspire me. My soul speaks to the late Khalil Ibrahim's works and Datuk Ibrahim Hussein. Considering that I'm a young artist, there's so much inspiration to look forward to throughout my journey. Yusof Ghani is another artist whose works transports me to another world, and creates a unique experience for me. His works and style of painting gives me confidence to be brave in keeping my unique identity and style as an artist.
IN YOUR OPINION, WHAT ARE SOME OF THE SIMILARITIES AND DIFFERENCES BETWEEN A PAINTING ON CANVAS AND MURAL?
There's much differences and similarities to canvas and mural painting. Canvas is a type of fabric or material in which various painting styles are exclusively shown. Mural is also a method of expression, to which it shares similarities with canvas. Murals are executed on a grander scale, which means it's a big production. It's also typically commissioned- based. Another significant difference between the two is the type of paint used, as murals tend to require heavier duty, industrial paint.
WHAT IS YOUR PREFERRED MATERIAL OR MEDIUM OF CHOICE?
My favourite material is acrylic and oil painting. Acrylic dries faster, while oil painting is more laborious because it depends on layering and mixing with other ingredients such as turpentine and linseed oil to create a beautiful effect. I lean mostly towards acrylic medium as it's easier to manipulate and control to create the desired colours.
HOW WOULD YOU DESCRIBE YOUR ARTISTIC STYLE?
My works are more figurative, comprising a fraction of lines over lines, breaking away from creating the perfect shape and form. I would say my paintings are semi figurative abstract.
WHAT THEMES DO YOU ENJOY WORKING ON?
Nature and people are among the themes that pique my interest. I enjoy employing vibrant colours, with a beautiful transition of bright that overlaps to dark and light again. This, paired with the spontaneous creation of lines that I feel works for the composition and to balance out the colours.
DO YOU STILL REMEMBER YOUR FIRST PAINTING OR ART THAT YOU PRODUCED?
I would say that the very first artwork that I produced and was recognised was a piece for the Vision Art Petron Competition at The Curve, Damansara. It was entitled, 'Lonely Environment' and depicted the story of struggle.
"I hope to be an established artist, carve a name for myself and for my career to follow the same path as other celebrated artists, with my works exhibited all over the country and internationally. I want to make my family proud. It would also be incredible to have my works displayed alongside the greats, legendary artists including Pak Putu Sutawijaya, Heri Dono, Nyoman Masriadi, German artist Neo Rauch, Pak Yusof Ghani, Rafiee Ghani, Jailani Abu Hassan, Ahmad Zakii Anwar, Haafiz Shahimi and many more. Not forgetting my contemporaries, who are incredibly talented in their own respect, whom I also look up to and they are Shafiq Nordin, Fadilah Karim, Syed Fakaruddin, Najib Ahmad Bamadhaj, Hirzaq Harris and Hishammudin Abdullah to name a few", said Fuji.