A leading corporate leader with strong financial background and extensive experience in various fields, he is currently steering Malaysia Airports to greater heights.
This month, Raja Azmi Raja Nazuddin rejoices how Malaysia Airports' partnership with Malaysia Airlines Berhad has taken off ground to draw more tourists to the legendary island of Langkawi following the launch in March of the RM5 million Langkawi International Tourism Promotional Fund (LITPF) which also includes working with travel agents, tour operator destination arketing companies."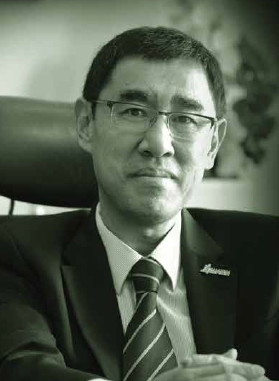 "I believe our strategic partnership with Malaysia Airlines' Discover Langkawi Campaign will enable us to gain greater traction in enhancing the economic value of our tourism pie based on the multiplier effect of undertaking promotions and sustainable marketing with key industry players.
I would like to thank my airline marketing team which initiated this collaboration with our national carrier. The six-month long contest under this campaign is open to passengers travelling to Langkawi from all the airline's network from 1 July 2019 until 31 January 2020 where they write a slogan on why they would like to discover Langkawi in less than 30 words on Malaysia Airlines' website.
Apart from the five monthly winners for flight tickets to domestic or ASEAN destinations, three grand prize winners will each walk away with a business class ticket for two to Langkawi and a five-day/four- night holiday package at a prestigious hotel.
The double-digit growth by Langkawi International Airport last year, which saw almost 30% of international traffic movement, clearly shows how aggressive promotion of the island has paid off. I envision working with more potential partners and airlines in the months to come on the RM2.5 million budgeted for 2019 under LITPF with another similar amount for 2020.
Currently, we have six airlines flying into Langkawi to international destinations such as Singapore, Guangzhou, Phuket, Kunming and Chengdu besides the domestic routes. We look forward to welcome Qatar Airways' inaugural flight from Doha to Langkawi in October."
"We also welcome the special RM5 million Galakan Melancong Malaysia or Gamelan Malaysia fund in short for this year recently announced by the Minister of Tourism, Arts and Culture to support the local tourism industry players' promotional efforts, which will help to boost more domestic and international arrivals into the country.
Our latest statistics show that the total network of airports managed by us, including Istanbul SGIA, grew in June over the previous corresponding period to 12.1 million passenger movements. This is the second highest passenger movements handled by us for a month after December 2018. On the last-twelve-month basis, we recorded the highest passenger movements of 136 million for our network of airports.
Let us all work more closely together and tap into the available funds and resources in the run-up to Visit Malaysia 2020. The recently announced January-May tourist arrivals by Tourism Malaysia showed 4.8% growth to 10,954,014 while the first half figures for 2019 at our airports in Malaysia monitored by us registered 4.7% growth to 51.1 million passenger movements. It is indeed heartening to know that we are all working towards the same goal of making Malaysia the preferred and ultimate destination."