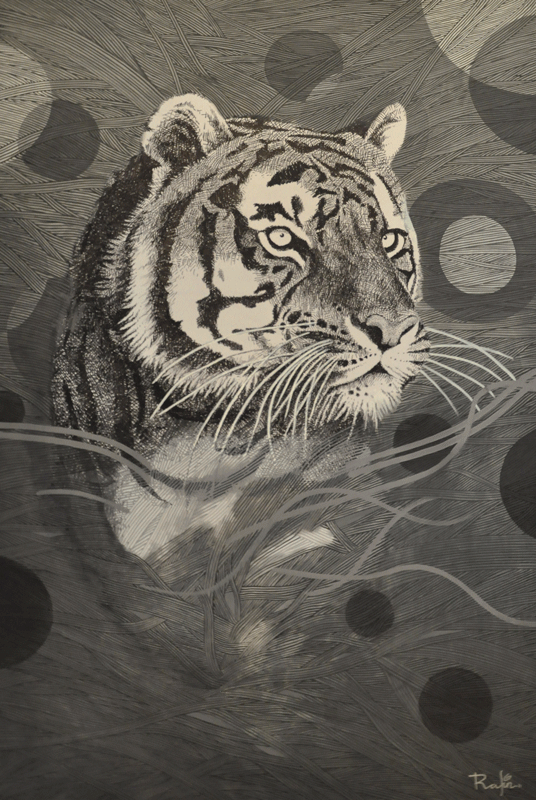 LOT 39
NIK RAFIN
(B. Selangor, 1974)
Sumatran Tiger, 2011
Signed and dated "Rafin 11" on lower right
Acrylic on canvas
182 x 122 cm
Provenance
Private Collection, Kuala Lumpur
SOLD – RM 2,240
He captures a quiet, serious mood in this piece, as he captures a regal Sumatran tiger staring into the distance with constant vigilance, as if watching a prey or looking out for one.
The shadowy, dim palette resonates well with the subject, amplifying the rigor of the tiger's persona. The graphically comprehensive lines that the artist habitually incorporates into his painting are also present here, adding a more uniqueness and complexity to this piece, contrasting beautifully with the equally graphic depiction of the Sumatran tiger. In entirety, it seems as if the tiger is stalking his prey from the bushes.
Nik Rafin studied Advanced Photography in the USA and pursued a Minor in Fine Arts at the Milwaukee Institute of Art and Design. He was an illustrator for Milwaukee's newspaper, The Marquette Tribune, before Walt Disney offered him a seven-year contract to work as a graphic designer and illustrator. However, he turned it down after his father insisted he return home and contribute to Malaysia instead.